DIY Natural Sunscreen Recipe
A simple, natural sunscreen recipe that actually works and is safe for the whole family using ingredients like zinc oxide, coconut oil, shea butter, beeswax and more!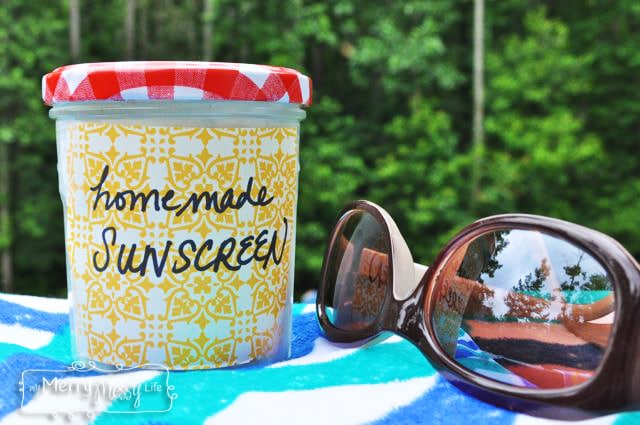 This Natural Sunscreen Recipe is Ready as Soon As You Apply It!
I've long had a recipe for homemade body butter that contains zinc oxide, which I was using as a thickening agent. But that fabulous mineral is also a natural sunscreen. Almost all sunscreens on the market today contain chemical sunblockers (like oxybenzone) that are absorbed into the skin, which is why they suggest you wait 20 minutes before getting out in the sun so your skin has time to absorb it. Non-nano (non-nano particle) zinc oxide is not absorbed into the skin because the particles are too large to enter the bloodstream, so this sunscreen is ready as soon as you apply it!
How to Make Sure You Have a Safe Natural Sunscreen
The EWG (Environmental Working Group) has a really helpful sunscreen guide they publish each year. I use them all the time to look up ingredients in cleaning and cosmetic products to see if what I'm using it safe. Here are the basics of what they published this year:
No spray sunscreens – The FDA has already expressed concern that although these are the most convenient to use, they are not as effective and are dangerous to inhale.
No super high SPF's – The high SPF doesn't apply to UVA rays, which are the dangerous cancer-causing ones. The FDA is considering putting a cap on the number companies can use to 50 SPF, as is already done in many other countries.
No oxybenzone – This is the chemical used to create the sunblock. Prelimary studies show it is absorbed into the body and mimics estrogen, which is very dangerous – it caused endometriosis in some women and low birth weights in daughters of pregnant women who used it.
No loose powder sunscreens – Dangerous if inhaled.
No retinyl palmitate (Vitamin A) – Government studies have shown Vitamin A in sunscreens speeds up the growth of lesions and tumors in sun-exposed skin.
No combined sunscreens/bug repellents – Studies show that combining the two increases the absorption of the bug repellent chemicals into the skin and body – dangerous ones like DEET.
No tanning oils – Encourages risky behavior and high risk of skin cancer and sunburn.
How the Toxins in Sunscreens Affect Your Health
Here's another great article from the EWG – 9 Surprising Facts About Sunscreen. Some of the facts I find interesting are that skin cancer, in particular, melanoma, is on the rise even though more people use sunscreen and are educated about the dangers of too much sun damage.
Funny enough, many people like myself, have low levels of Vitamin D and are having health problems due to it. So, we find ourselves between a rock and a hard place – too much sun causes skin cancer and damage, too little results in low Vitamin D. I think the answer is in the middle – it's a bad idea to lay out in the sun and get prolonged exposure, but getting our 15 minutes a day is healthy. So, while outside, I like to wear a hat and sunglasses and allow my limbs to get about 15 minutes of sun before applying this natural sunscreen recipe. Then, I stay in the shade when possible.
All About The Secret Ingredient – Zinc Oxide
Zinc oxide is derived from the mineral zinc. It absorbs the sun's rays and then scatters them, making it safer and more stable than titanium dioxide. Chemical sun blockers are absorbed into the skin and body, but non-nanoparticle zinc oxide is not because the granules are too large to be absorbed in the pores. Read more about the importance of using non-nanoparticles here.
Zinc oxide offers full range protection (UVA and UVB) and, according to the EWG, many of the chemical sunscreens do not because it is not strictly regulated by the FDA to back up the broad-spectrum claims.
Physical sun blockers like zinc oxide are also better for sensitive and young children's skin, are non-comedogenic, non-irritating, and the FDA actually lists it to be the one of the most effective active ingredients for sun protection. Zinc oxide is also antimicrobial and wound healing!
How to Use this Natural Sunscreen Safely
Use it liberally and reapply every one to two hours.
The beeswax in this recipe helps to make it more waterproof, but not completely so. If in the water, I would reapply every hour instead of two, at least on the most exposed parts, and especially after drying off.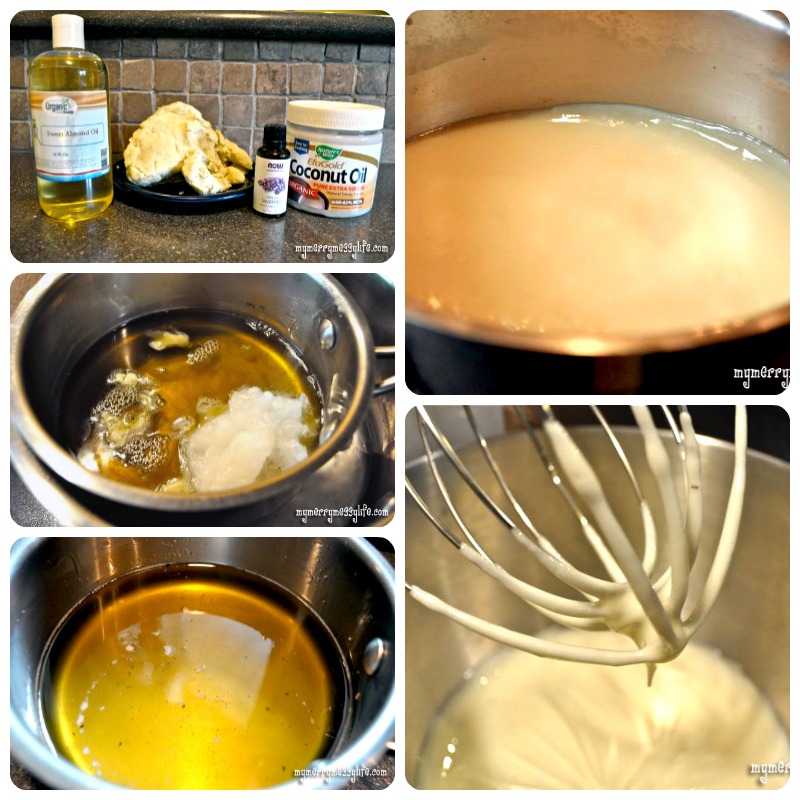 Short version – take the above ingredients, melt them in a double boiler, let them cool and harden in the fridge, then whip it in a mixer to emulsify. For a more detailed photo tutorial, check out my Homemade Lotion Recipe.
Print
DIY Natural Sunscreen Recipe
A safe and healthy natural sunscreen recipe using nontoxic ingredients like coconut oil, shea butter, beeswax and non-nano zinc oxide. Safe and effective for the WHOLE family!
Author:
Yield: Makes

2 cups

1

x
1 cup

unrefined, raw shea butter or cocoa butter if you have a nut allergy

1/2 cup

raw organic coconut oil

1/2 cup

sweet almond oil, olive, sunflower or other similar carrier oil

2 tablespoons

beeswax pastilles (for waterproofing, I like the tiny pastilles)

4 tablespoons

non-nano zinc oxide (more if you want a higher SPF than 20, but it will make it SUPER thick)
Optional – 2 tablespoons water (this makes it more thin and like real lotion. Otherwise, it'll be thicker and like a salve.
Optional – essential oils for fragrance like lavender, cedarwood, and frankincense – but NOT citrus oils as they attract the sun. Citronella keeps the bugs away and it would be a great addition to the sunscreen!
Instructions
In a double boiler (or a smaller pot inside of a larger pot that has water in it), melt together the shea butter, beeswax, coconut oil and almond oil together.
Once it all turns to liquid, let the oils cool in the fridge (I put the pot in the fridge once it returns to room temperature so I don't have to clean more dishes)
Once it has returned to being hard (an hour or more), whip it with a hand mixer or a standing mixer for a few minutes.
Then, add the water, zinc oxide and optional essential oils.
Whip for about five minutes to emulsify the ingredients.
Scoop into a jar and you're done!
More Helpful Natural Sunscreen Resources
My blogging buddy, Amanda, from Natural Living Mamma, has an excellent Safe Sun Tips and Sunscreen Guide that is very helpful, too!
More Natural Summer Posts from My Blog