DIY Natural Linen Spray – Non-Toxic with Essential Oils
Here is a simple, natural, non-toxic spray for linens like bed sheets, mattresses, upholstery, carpet, curtains, and more! Comes with a free printable label.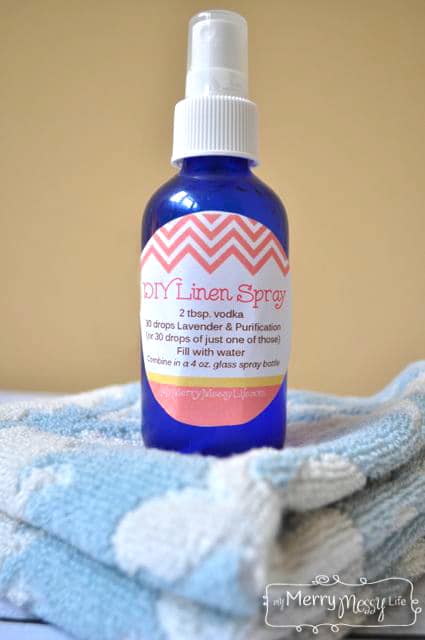 This spray is so versatile and it's super easy to make! Took me about a minute to put it together.
Safe and Pure
Think of it like Febreeze, but WAY WAY less toxic. This is the perfect and safe alternative, especially when there are folks around who have asthma, allergies, sensitive skin, or are sensitive to chemical fumes. It harnesses the power of essential oils (learn all about EOs here) by deodorizing and killing bacteria, viruses, mold, mildew, fungi, and even dust mites!
How to Use This Spray
Just spray directly on the fabric to freshen:
Mattresses (Can also kill bed bugs by increasing the ratio of essential oils!)
Pillows (especially great for those that can't be washed)
Bed sheets (Know how they get that oily body smell, even after washing in hot water? Use this to kick that smell to the curb!)
Curtains (especially great for those that can't be washed)
Furniture upholstery  (Stinky spot, stain, or spill? Use this to get rid of the smell.)
Carpet and rugs (get rid of that stinky spot or just keep it smelling fresh)
Car seats & upholstery (perfect since it can't be washed)
Another idea to use in conjunction with this spray is my homemade baking soda sprinkle (see recipe here) to get out really stinky stuff.
The Recipe
Yield: 4 ounces
Mix all in a glass bottle (not plastic, essential oils destroy plastic!). Shake before using and spray to your heart's content!
Best part about this spray is that it fills up the whole room with a heavenly scent and smells like you've diffused the oils. It puts me in a great mood!
The Free Printable Label – Click Here
How to print: Make sure to unclick, Print to Fill Page, and print with Avery Labels 80508 – round scallops (where to buy). Or, just print it as I did on plain paper cut out a circle or a square from the label, and tape it on. Either will do!