How to Have Superhero Immunity with Essential Oils & Supplements
Come and learn a little bit of essential oils basics and the oils and supplements you need to stock up for winter, because the holidays and cold weather, where we are stuck inside and germs are shared like crazy, is coming!

If you like, you can view my webinar on this topic in its entirety here:
For essential oils basics, please click here to read my Essential Oils 101 class.
Oregano includes the naturally occurring constituent carvacrol. I suggest Googling carvacrol and you'll see the amazing things it does in our bodies! Oregano, when taken as a dietary supplement, supports a healthy lifestyle regimen and may also be used to enhance the flavor of foods and your favorite savory recipes. Oregano is an important ingredient in ImmuPower™ and a key oil in the Raindrop Technique®.
Sacred Mountain is a blend of spruce, ylang ylang, Idaho Balsam Fir, and Cedarwood. This oil is very stabilizing and grounding and has such a relaxing, peaceful scent! The spruce, fir and cedarwood are wonderful for the respiratory system and overall immunity. As an added bonus, it helps balance emotions and deal with stress!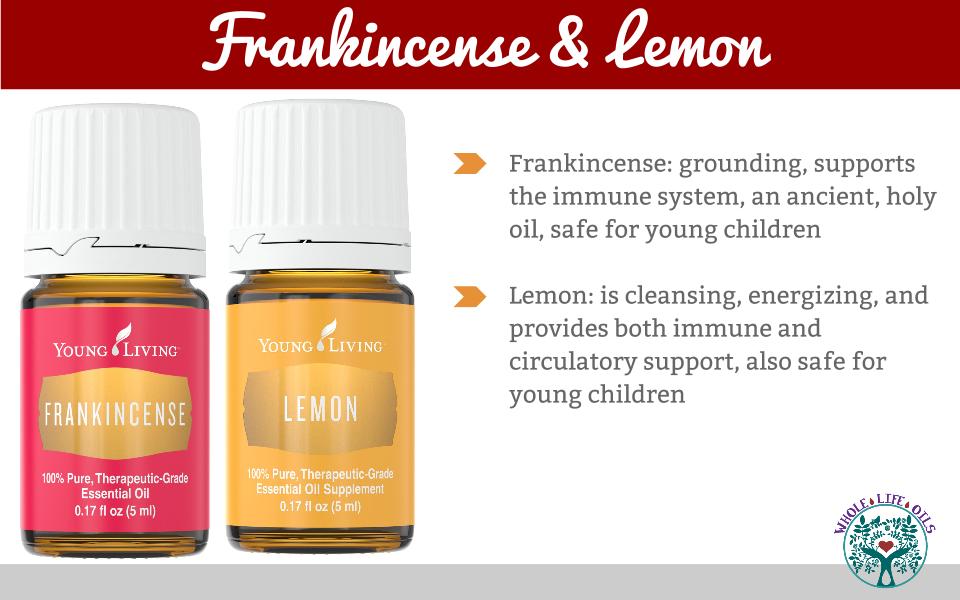 Frankincense (Boswellia carterii) includes the naturally occurring constituent boswellic acid (which again, I suggest Googling that constituent), and has a woodsy, warm, balsamic aroma. Diffuse Frankincense during meditation for grounding and purpose. Applying this oil topically may help smooth the appearance of healthy-looking skin especially on the face of those who are aging, and is excellent to use for massage after activity.
Inhale frankincense essential oil after lunch to spiritually refocus.

Rub frankincense essential oil on the bottom of your feet to help alleviate nervous energy and support the immune system
Lemon (Citrus limon) essential oil includes the naturally occurring constituent limonene. Lemon may also be used to enhance the flavor of foods. It is cleansing, energizing and provides both immune & circulatory support
Mineral Essence™ is a balanced, full-spectrum ionic mineral complex enhanced with essential oils. According to two time Nobel Prize winner Linus Pauling PhD. "You can trace every sickness, every disease, and every ailment to a mineral deficiency." Ionic minerals are the most fully and quickly absorbed form of minerals available.
Blend of Hyssop, Mountain Savory, Cistus, Ravintsara, Frankincense, Oregano, Clove, Cumin and Idaho Tansy
This is one of my go-to oils for when I don't feel right. I put it on the bottoms of my feet 4 times a day until all feels right again.
Suggested Application:
Topical – around navel, chest, temples, wrists, under nose, or on Vita Flex points on the bottoms of the feet

Aromatically – diffuse up to 30 mins/3 times a day
Raven – Blend of ravintsara, lemon, wintergreen, peppermint, and eucalyptus radiata
I love this oil because it is uplifting with the lemon, peppermint and wintergreen and the eucalyptus really helps to support my sinuses.
Great blend for head tension and for the respiratory system.
Due to the wintergreen and peppermint, this is considered a hot oil, so dilute heavily.
Longevity™ essential oil contains antioxidants. May help protect the skin with applied topically. ESSENTIAL OILS: Thyme, Clove, Orange, Frankincense. 
Antioxidants help the body fight off free radicals which we are constantly coming into contact with through the chemicals found in our foods, homes, offices, cars, and from stress.
Contains clove, oregano, thyme, lemongrass, lemon, eucalyptus radiata, rosemary and cinnamon bark.
Packed full of powerhouse essential oils that are strong germ fighters. Diluted in virgin coconut oil and beeswax, this is a way to take the oils internally when you feel an illness coming on. Take 1-2 capsules a day or more when immune support is needed.
Super C combines pure Orange essential oil with a proprietary blend of camu camu, acerola, cherry, and rose hips fruit powder to create a powerful immune-supporting supplement. Together, these premium ingredients deliver desirable polyphenols, carotenoids, and optimal amounts of vitamin C in a convenient chewable tablet.

Here are two easy and convenient ways to stop germs, and they are natural and safe! Unlike antibiotic products in the store that contain triclosan (a carcinogen), these germ-fighters are powered by the Thieves essential oil blend.
Thieves Waterless Hand Purifier – it smells wonderful and works to cleanse and purify the hands when there is no access to water.
Thieves Spray – can be used on grocery shopping carts, toilet seats, doorknobs, countertops, and the hand to protect from dust, mold and undesirable microorganisms and some even use it in their mouths when they have a sore throat! This small bottle is perfect for traveling or keeping in your purse or backpack.

The Premium Starter Kit – the Cheapest and Easiest Way to Get Started
Now, I want to share with you how you can get these oils, because they are not sold down at Whole Foods or your corner Walgreens. The oils sold there are much less potent, and some are even adulterated. But Young Living's oils are very high quality, therapeutic grade oils.
The way that Young Living has decided to sell them is through individual members sharing with others – they don't pay for an advertising department and use us instead so we can offer you support. When you buy oils in store or online from just anywhere, you won't get a team of support helping you learn how to use the oils. And especially when you join my team! We offer monthly Facebook classes, webinars, promotions, giveaways and blog posts so you are always learning!
You can purchase the oils we just discussed for $163 and that would be the retail price. No sale or discount. But there's a much cheaper way to get them and that's as a wholesale member!
You can actually get this Everyday Oils set, plus a home diffuser, PLUS this little starter kit with an extra oil in it, Stress Away, Ningxia Red samples, and little sample sachets you can share or throw in your purse, all for $160! You save over $150 this way. At the same time, you automatically become a wholesale member which means you get 24% off everything!
Now, don't let the term member scare you. There are no monthly minimums or order requirements. In order to keep your membership after one year, you just need to purchase about $50 worth of products the next year. If you don't want to, that's fine! No one is going to hunt you down – there are no penalties or cancellation fees and you could reinstate your membership at any time.

All the Options to Get Started with Young Living with a Premium Starter Kit
There are now six Premium Starter Kits that Young Living offers. The only thing that differs between the first four you see in the picture are the diffusers – one is a Dewdrop (reaches about 200 sq. feet), next is the home (250 sq. feet), Bamboo (350-400 sq. feet) and the Aria (reaches about 400 sq. feet, plays yoga music, has LED colored lights, and a remote!).
The other two kits are the Thieves Starter Kits and the NingXia Red Premium Starter Kits.
The Essential Rewards Program – Save Money, Get FREE Oils and Products!
Another way to save money that you'll want to look into, is the optional, and I stress optional, Essential Rewards program. You get a monthly shipment on your doorstep of your favorite products from Young Living and earn store credit and get reduced shipping at the same time!
Think of Essential rewards like a frequent flyer program, or like Kohl's cash. When you're purchasing every month (which is easy to do when you see how well these oils work!), you'll earn points back from your purchases that you can use as cash in the Young Living store. For instance, this past year I've earned about 700 points, which is $700 worth of FREE products! I have saved so much money, and am saving even more now that my percentage is at 20%
I'm also giving everyone who joins this program an aromatherapy necklace as well!
DISCLAIMER: Yep, I gotta say it. So, here it goes! I am not a medical professional. The information shared in this class is not intended to treat, cure, or diagnose any illness, nor is it meant to replace professional medical attention or advice. Advice and testimonies are all based on use of Young Living brand of oils specifically. Use and application of this information is done solely at your own risk.
I am not an expert, and the great news is, you don't need to be an expert to make better choices for your health and wellness! It just takes some research and experimentation. There are many wonderful reference guides, books and resources available about how to use essential oils. Find them at places like Amazon, Life Science Publishing, and abundanthealth4u.com. Ask your sponsor for more details and which books are their favorites!
I believe that when you give the body the support it needs, it can then heal itself.