Natural Pillow Spray Recipe using Essential Oils
I'm sharing a natural pillow spray recipe using essential oils that you can make in just a few minutes! I'll also teach you how to use essential oils for a good night's sleep. Pillow sprays make great gifts and are so easy to make and use. They can help you to fall asleep faster and keep those dreams sweeter.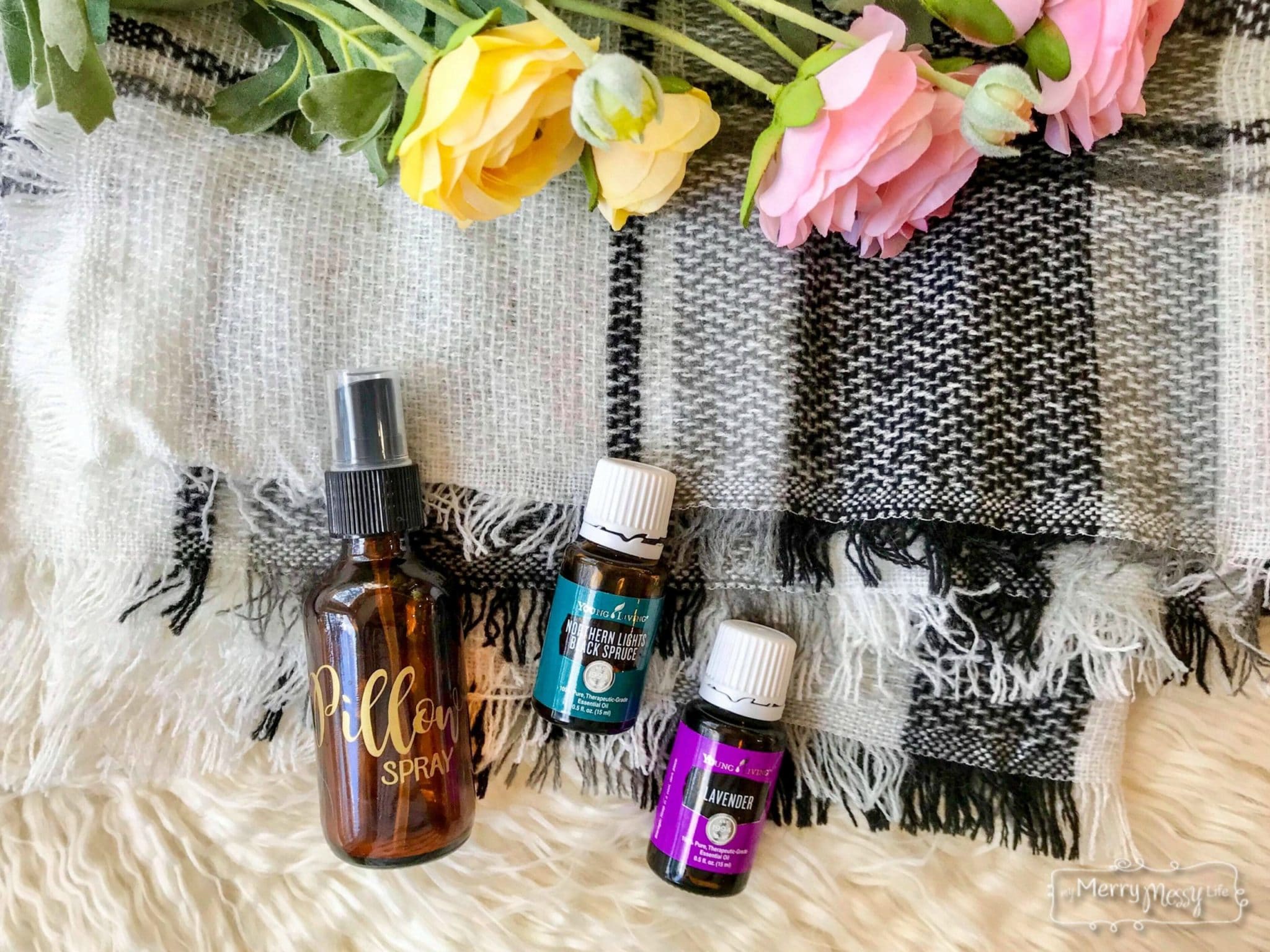 I love keeping this sweet-smelling pillow spray on my bedside table to use before I crawl into my cozy bed at night. It makes falling asleep that much easier and so pleasant!
This is so easy to make and use, and is actually effective when you use high-quality essential oils like the ones I use from Young Living!
Essential Oils Affect the Brain
The aroma of essential oils affects the limbic system of the brain, which is the part that controls memories and emotions. We can literally calm anxious, worrying thoughts, and help to change negative thoughts into positive ones.
Northern Lights Black Spruce
Northern Lights Black Spruce is one of my favorite essential oils! I like to say that it smells like a magical fairy forest (LOL). But for real – it really does! I feel like deep in the woods. It comes from Young Living's farm in British Columbia, Canada where the Northern Lights, the Aurora Borealis, literally dance over the spruce trees…wow!
Lavender Essential Oil
Lavender is good for everything! Young Living has lavender farms in Mona, Utah; St. Marie's, Idaho, and in France! You can really tell the difference between a Young Living lavender and a cheap one – as it's one of the most adulterated essential oils on the market. I digress.. lavender is very calming, relaxing, and soothing and makes for a great linen spray.
Print
Natural Pillow Spray Recipe using Essential Oils
Use this natural pillow spray recipe using essential oils to create a calming atmosphere in your bedroom so you can relax and fall asleep more easily. Also doubles as a linen spray.
Instructions
Put the pinch of salt in the bottom of the spray bottle
Add the essential oils
Add the water
So easy a baby can do it!
Just spray right onto your pillow! I like to also spray my pajamas and the sheets as I just loooove the aroma and it really relaxes me. You can also make a few sprays for your kids and have them spray their own pillows before bedtime.
Other Calming Essential Oils to Try
The recipe I'm sharing here is my FAV one. But there are many calming essential oils out there that would work very well! Here are some other ideas (click on the link to learn more about the oil and/or purchase it):
*indicates the oil is also in an essential oils starter kit. Check it out here!
Another idea would be to just diffuse these oils, which is super dee duper easy!
Get a Set of 12 Essential Oil Spray Bottle Recipe Labels
Get a beautiful and functional set of 12 essential oil spray bottle recipe labels in my Etsy shop here! They include recipes for 2 oz. and 4 oz. bottles, plus a bonus set that is blank so you could write in your own recipe!