12 Essential Oil Spray Bottle Recipes for Everyday Life
These 12 essential oil spray bottle recipes are enough to take care of most issues you would encounter in everyday life! From bugs to too much sun, these recipes have you covered.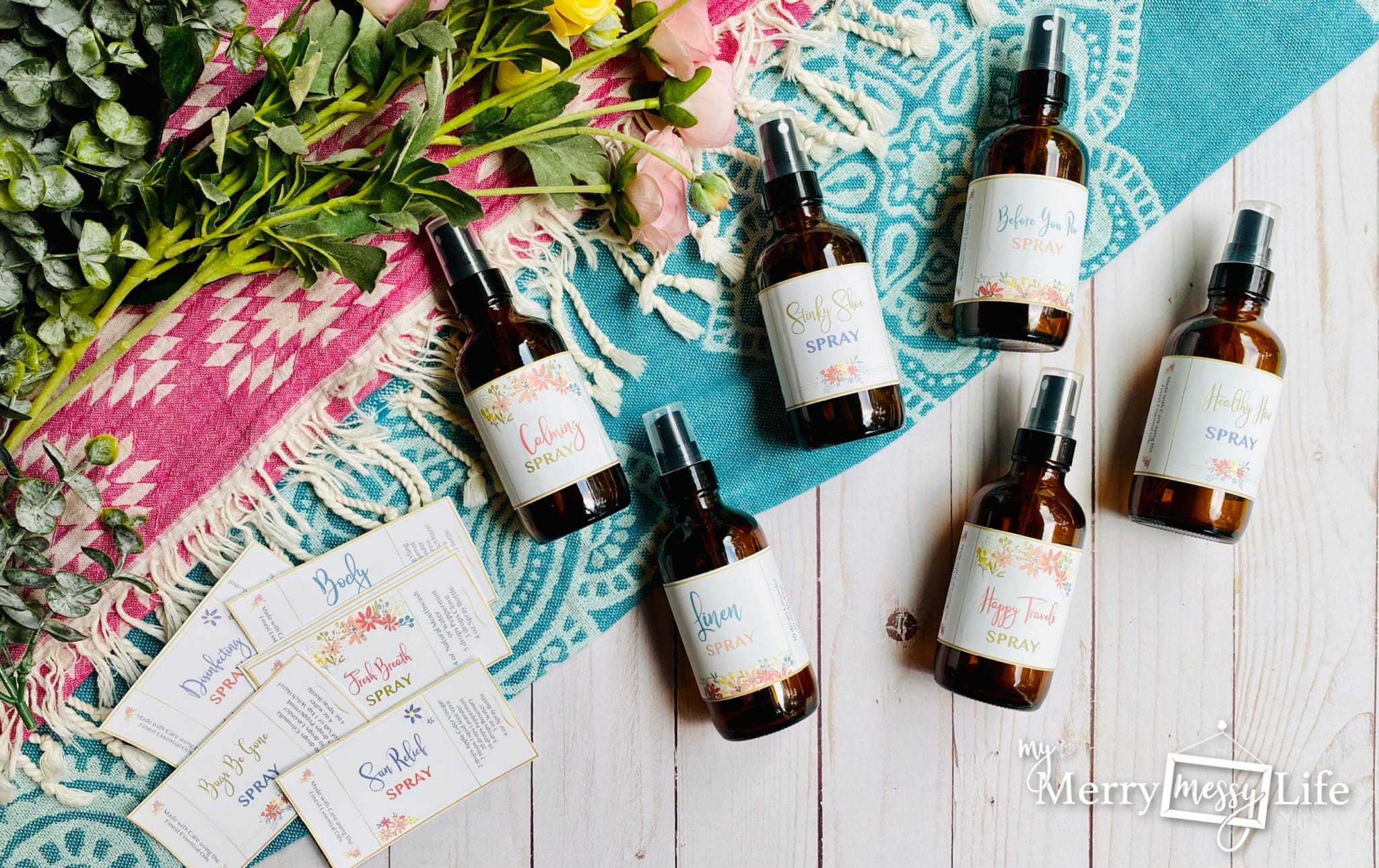 Essential Oil Spray Bottle Recipes are SO Easy to Make!
It's so very easy to make an essential oil spray bottle recipe. You only need a few supplies – a spray bottle (glass preferred), water, 5-15 drops of essential oils (depending on the size of your bottle), and an emulsifier like a pinch of salt or 1 tsp. of Witch Hazel.
Spray Bottles
There are many different styles and sizes of glass spray bottles on Amazon. I normally make my recipes in either 2 or 4 oz. bottles. Any smaller and it's not enough, any larger and it takes a long time to finish. I've listed many options for you here below.
Keep Out of Heat and Direct Sunlight
Keep in mind that essential oils do lose their potency and therapeutic properties in sunlight and heat. So brown or darker bottles are best, but if you like the style of the clear ones better, make sure to store the bottle in a cool cabinet, away from sunlight and heat.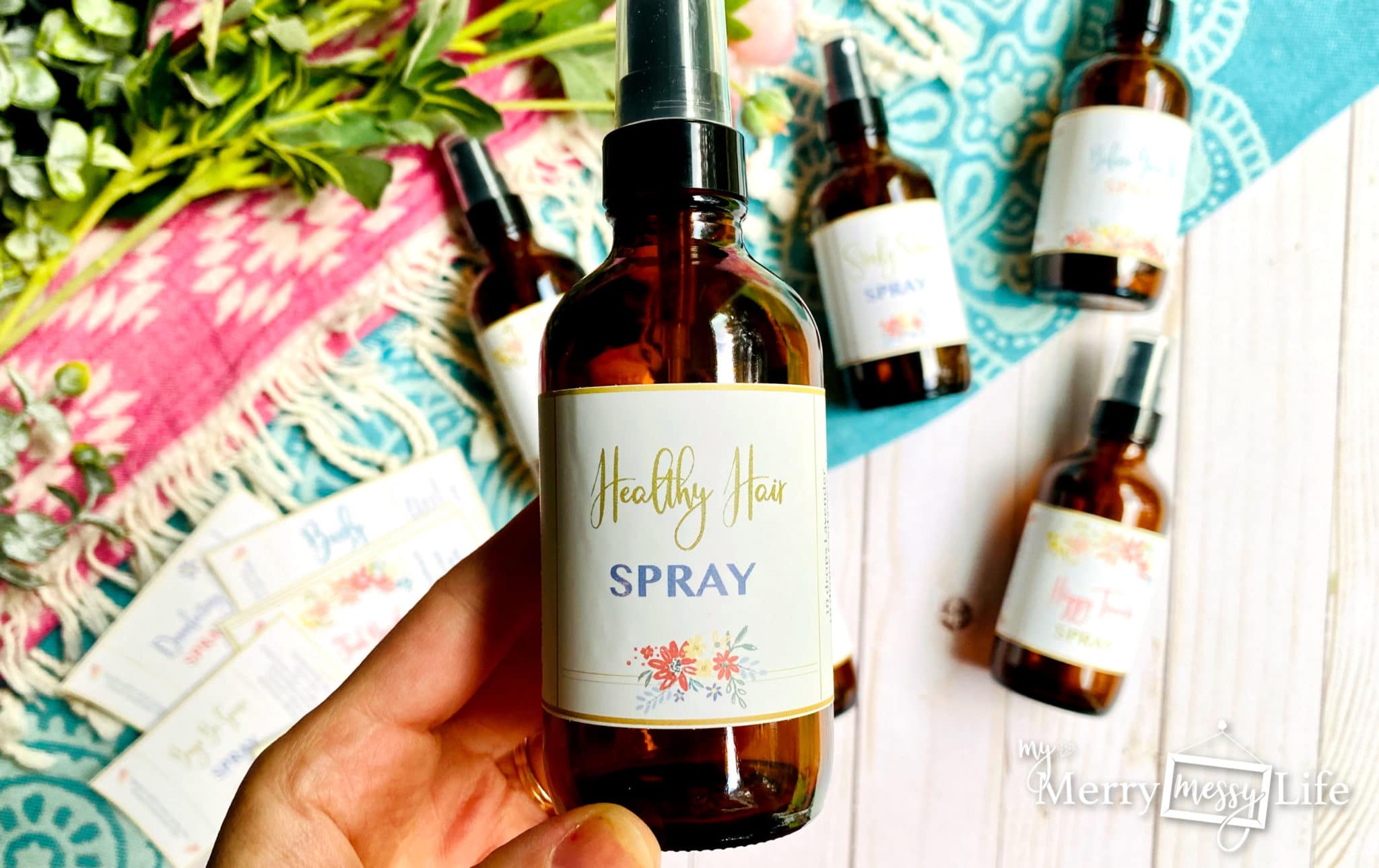 2 oz. Bottles
To make recipes with these bottles, you need about 5-10 drops of essential oil, a pinch of salt, or 1 tsp. of Witch Hazel, and water.
4 oz. Bottles
To make recipes with four-ounce bottles, you need about 10-15 drops of essential oil, a pinch of salt, or 1 tsp. Witch Hazel, and water.
Get the Printable Labels In My Etsy Shop!
Make it much easier to make and refill your spray bottles with my printable recipe labels! You can purchase them in my Etsy shop by clicking here.
12 Essential Oil Spray Bottle Recipes for Everyday Life
Here I'm sharing 12 essential oil spray bottle recipes for 2 oz. bottles. Double the recipes to make them work for 4 oz. bottles. I sell printable recipe labels in my Etsy shop that correspond with these recipes! See them here.
Click on any of the links to purchase the supplies. They are my affiliate links – if you purchase, I make a small commission at no additional cost to you.
Bugs Be Gone Spray
Use this while you're outside to keep the bugs away! Spray on the legs and arms. To make it gentler for kids, you could cut the recipe in half. You can also spray this inside the house to keep ants and spiders from coming in.
Pillow Spray
Spray on your pillows, bedsheets, linens, stuffed animals, pajamas – anything that you want to help you fall asleep and stay asleep.
Before You Poo Spray
Spray this in the toilet bowl before going poo to help trap the odors. The glycerine is the ingredient that creates a film on the water to trap odors, so don't leave it out!
Fresh Breath Spray
Use this to keep your breath and mouth fresh! Squirt 1-2 times directly inside the mouth. Peppermint and Clove are both considered "hot" oils, which means they can irritate the skin more easily.
Healthy Hair Spray
When lice are going around the school, spray your kids' hair with this before they head off in the morning to keep the critters away. You can also use it for yourself to help your scalp and hair to be extra healthy. Many have found that cedarwood essential oil helps to grow hair.
Sun Relief Spray
When you've been out in the sun too long, and your skin isn't happy, spray this directly on the affected areas and gently rub it in. Use 3-4 times a day if needed to give your skin some support.
Enjoying these essential oil spray bottle recipes so far? We've got six more to go.
Stinky Shoe Spray
My kids' shoes can smell SO bad! Spray this inside their shoes and put them in the sun to dry. Or spray it in the bottom of trash cans, diaper pails, or anything else that's super stinky to deodorize.
Disinfecting Spray
Disinfect your surfaces with this spray. Works on anything but wood, as the alcohol and essential oils could destroy paint and varnish.
Linen Spray
Freshen up linens, clothes, pillows, upholstery, couches, cushions, car seats, etc. with this linen spray.
Happy Travels Spray
When you're driving in the car and feeling queasy, spray this in the air to calm your stomach.
Body Splash
Spray this on your clothes or skin as a natural perfume.
Calming Spray
When things are getting stressful and crazy, get this spray out to calm things down! Just spray up into the air and enjoy the sweet aroma.
See My Other Essential Oil Spray Bottle Recipes Here on the Blog!