DIY Natural Makeup Setting Spray
Make a DIY natural makeup setting spray to help set your makeup and to take advantage of the powerful therapeutic benefits of essential oils, witch hazel, and rose water. It'll leave your skin feeling fresh and dewy, you'll also smell amazing!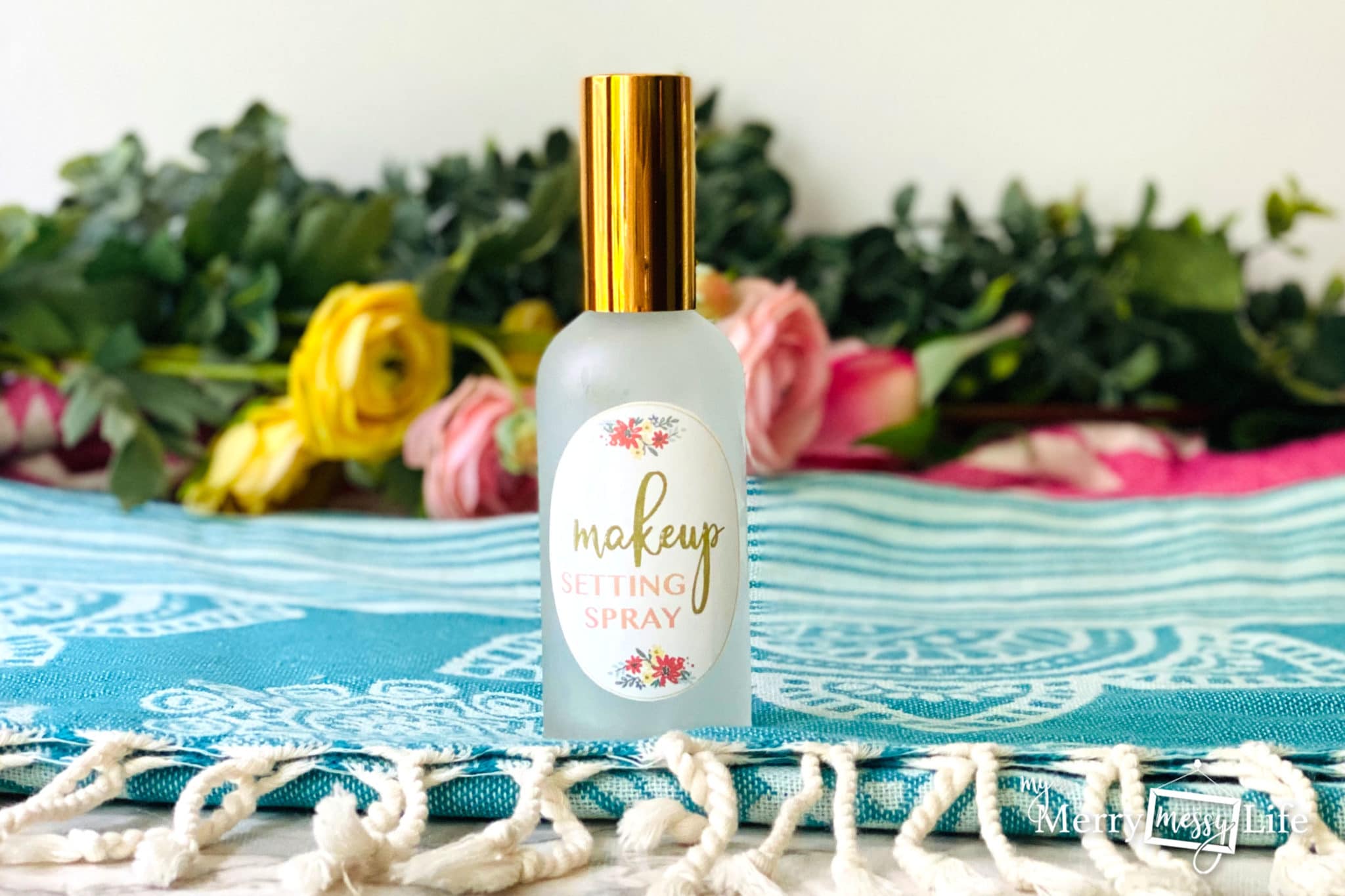 Why Witch Hazel Is So Good for Your Skin
I chose to use witch hazel and rose water in this DIY natural makeup setting spray because they are both so good for your skin and help to keep makeup in place!
Natural Toner
Witch Hazel is a wonderful natural toner for the skin. It is most known for its ability to ease inflammation due to the gallic acid, antioxidants, and tannins it contains. It also helps to soothe sensitive skin.
Relieve Scalp Irritation
In one study of 1,373 people, Witch Hazel was shown to relieve scalp irritation when applied before shampooing the hair. Many people have successfully used it to soothe psoriasis, dandruff, and eczema on the scalp as well.
Rich in Tannins (Antioxidants)
Tannins are a natural plant compound with powerful antioxidant properties that can help protect your skin against damage when applied topically.
Several animal tests have been done with Witch Hazel that has shown that it acted as a barrier to prevent inflammation-causing substances from entering the skin cells (source). A test-tube study showed that it helped to neutralize free radicals and prevented the spread of skin cancer cells (source)! A study with mice that were exposed to radiation showed that it was able to slow skin tumor growth (source).
More studies are needed to show if Witch Hazel will also heal free radicals and slow tumor growth in humans, but those animal tests sure are promising!
Helps to Shrink Pores (Astringent)
It is also an astringent, which means that it causes the tissues to contract to help shrink the pores. It may also be able to help fight bacteria, so I also use it on bug and ant bites, poison ivy rashes, acne, cuts, burns, etc. I use it in other recipes on the blog, like this natural hand purifying spray. It works really well to use as a natural toner, along with Apple Cider Vinegar, like I have in this recipe here.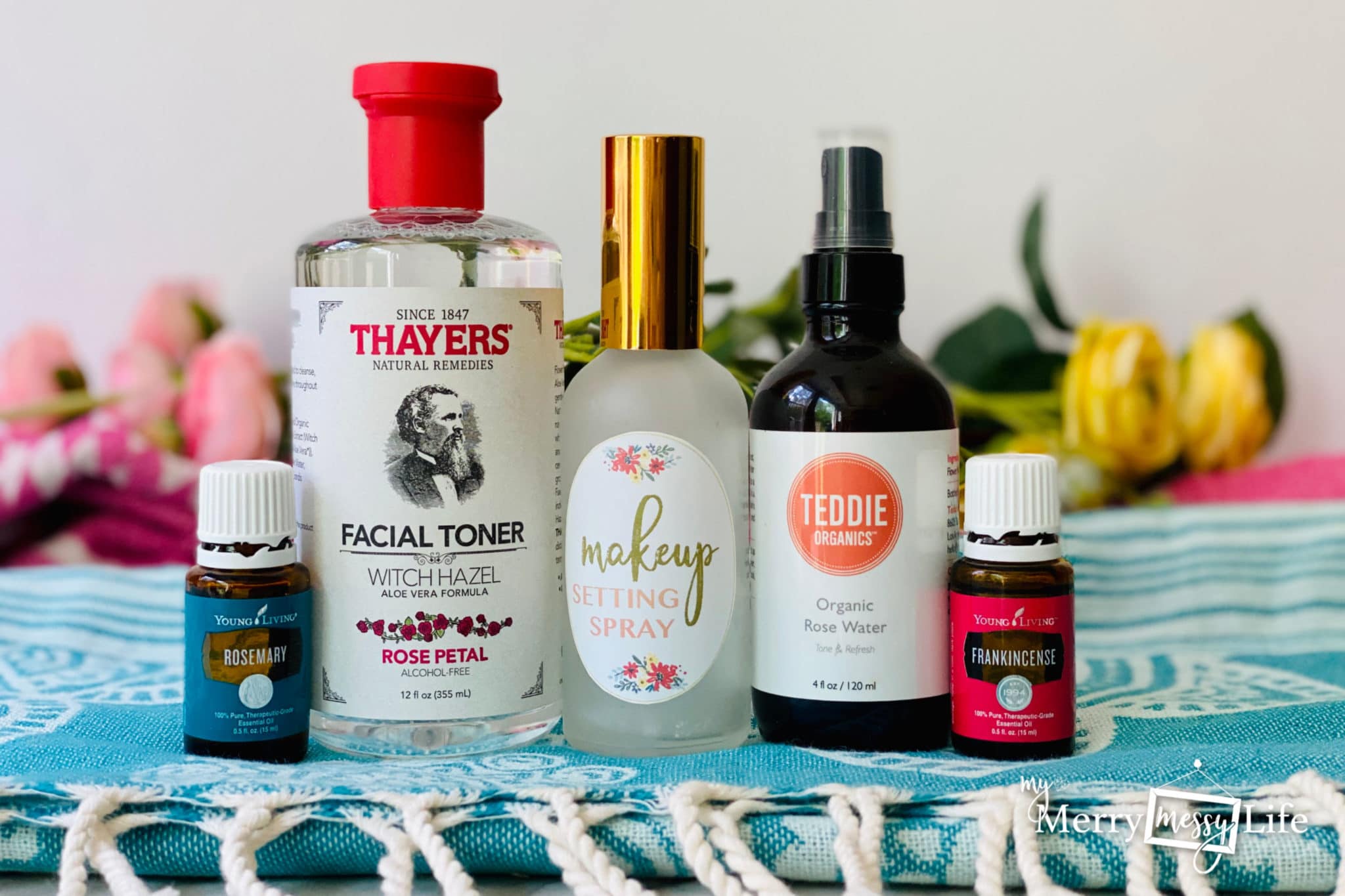 Essential Oils by Skin Type
So, which essential oils you use in this DIY natural makeup setting spray is completely up to you, but here's what I recommend based on your skin type.
Essential Oils For Aging & Mature Skin
These essential oils are high in antioxidants and help to smooth and moisturize aging skin.
Normal Skin
Click on the link to learn more about each oil or to purchase.
Essential Oils for Oily Skin
These essential oils are good for those who have oily skin. The ones with a star are stronger oils that are perfect for skin that's prone to breakout. Click on the link to learn more about each oil or to purchase.
Soothing and Calming
Cleansing and Purifying
Watch My YouTube Video Tutorial on this Natural Makeup Setting Spray here!
Print
DIY Natural Makeup Setting Spray
This is a delightful DIY natural makeup setting spray that will leave you feeling fresh, your skin dewy, and smelling amazing!
Instructions
Combine all of the ingredients in your bottle. Put on the top and gently shake to combine. Spray on the face when desired – after applying lotion, after applying makeup, etc.