Homemade Lip Balm Recipe – All-Natural Clove and Orange
With the cold, dry winter air here to stay for the foreseeable future, here is a super moisturizing, all-natural, chemical-free lip balm recipe you can make at home in just 10 minutes or less! It has a wonderful scent with the clove and sweet orange essential oils and makes for an excellent gift with Christmas approaching.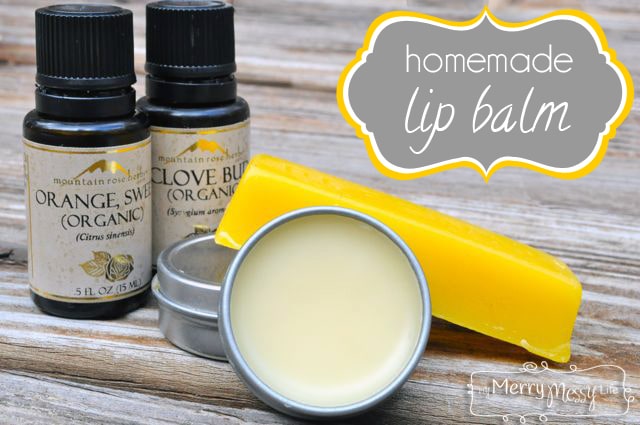 This lip balm is so creamy and really moisturizes and seals the lips.
Homemade Lip Balm Recipe
Fills 6 small tins or lip balm tubes.
So, I was really not paying attention (blame it on pregnancy brain, being tired, and two rambunctious boys running around at the same time!) and accidentally added 3 times the amount of beeswax I needed. Needless to say, the recipe was super hard and not useable! After it all hardened in the tins, I scooped it out with a spoon and melted it back down in the double boiler, adding more oils to complete the recipe. Now I have enough balm to give to EVERYONE for Christmas! It will literally fill a dozen or more tubes or tins.
How To Make Your Own Lip Balm
Melt all the ingredients in double boiler (I don't have an official double boiler, so I use one smaller pot inside of a bigger pot of boiling water). It will take 5 minutes or so on low to medium heat.
Cleaning Up – I was able to get the pan clean with super hot, soap water and a good sponge.
I didn't want to go out searching in craft stores for lip balm
tubes
 or 
tins
, so I'm buying more from Amazon (click on the links to buy). I gave some to my sweet aunt for her birthday and she loved it! It was such a special way to show I cared about her without spending a ton of money.