DIY Natural Face Toner with Apple Cider Vinegar and Essential Oils
An easy and affordable DIY natural face toner with apple cider vinegar and essential oils. Pamper your skin with ingredients found in nature – a recipe that nourishes and clears skin blemishes and balances the pH after washing.
As I'm halfway through my thirtieth year of life I've finally come to the point where I'm realizing that I need to take better care of my skin – FUN! Lately it has been dull and dry. I've also started noticing dark spots on my face from acne scarring and sun damage. Geez, 30 has literally smacked me in the face! Note to my former self: wear sunscreen. Everyday.
Why Use a Toner?
One facial product that has always been a staple in my skin care regimen is toner. Toner is a liquid product that is applied to the face after cleansing to help remove the last bit of makeup. Toner also helps soothe the skin and tighten pores. It's really refreshing on the face. It also helps to balance the pH after washing your face. Also, toners should not sting! I'm wincing recalling the Stridex/Noxzema type toner pads that I'd rub on my acne prone teen face. Ouch. Be nice to your skin and it will repay you tenfold.
Great for Skin that's Prone to Breakouts
Today I'm sharing a gentle and simple DIY toner that your skin will love. I've been using this toner for a couple of months and have been loving it. I have combination skin that is prone to breakouts and blackheads and I've really seen an improvement in my skin. I've combined apple cider vinegar with a few powerhouse essential oils to create a soothing and cleansing toner. I hope you enjoy!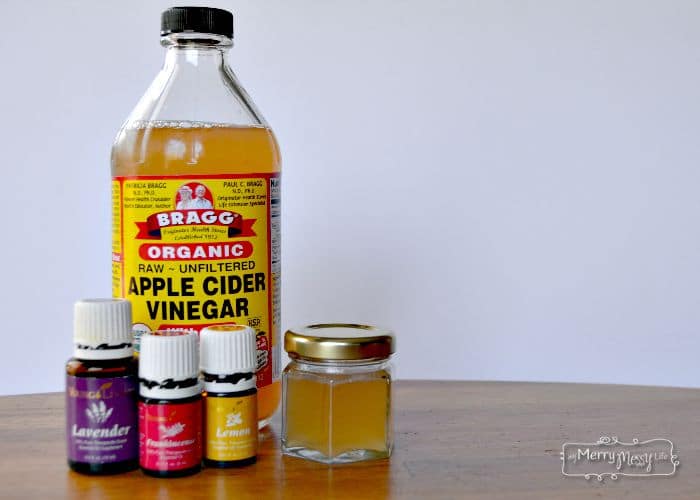 Print
DIY Face Toner with Apple Cider Vinegar and Essential Oils
About

1 ounce

of Apple Cider Vinegar (helps balance your skin's pH level)
About

1 ounce

of filtered water

6

drops of essential oils that are good for the skin – see list below
Instructions
Mix ingredients in a small glass jar and apply to a cotton ball/pad.  Apply to face and neck area up to twice a day after cleansing before moisturizing.
In my first batch of this, I used 2 ounces of Apple Cider Vinegar but found that too strong for my skin. It did have a bit of a stinging action which tells me that it was irritating my skin. The 50/50 mix has made my skin much happier. You can adjust the ratio accordingly.
Which essential oils to use?
I only use essential oils from Young Living. They are truly the best in the world! You have to use double the amount of other, cheaper essential oils to get the same scent and therapeutic power and many essential oils on the market aren't even effective (because I've tried many of them) for improving health issues. I've used Young Living's oils for years to help keep my family healthy, and haven't been disappointed yet! Learn more about them here.
Please let me know if you give this a try!