Homemade All Natural Perfume
If you're concerned about the chemicals lurking in commercial perfumes and would like an all-natural option, then this post is for you! Make your own perfume at home with just vodka and essential oils and save tons of money in the process! And it's surprisingly easy.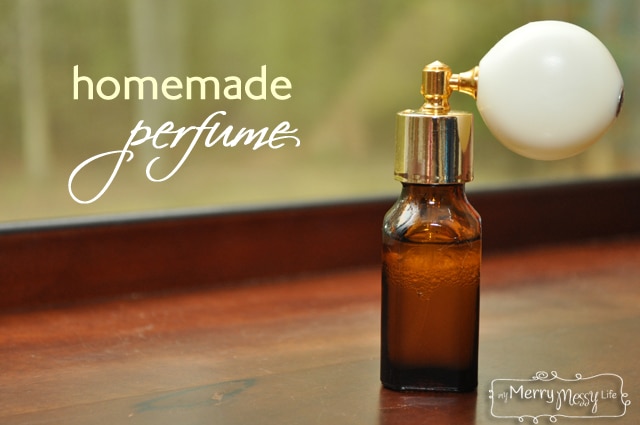 I have quite a memory of scents. To this day, I will get a whiff of a man's cologne and instantly remember an old boyfriend who used to wear the same scent. Maybe that's why I was so enamored with the movie, "Perfume: Story of  Murderer." Ever seen it? The first time the Mr. and I saw it was when we were living in France, which is where the movie takes place, and that added to its magic. It is such a good, twisted story with dark romance – all about a very misguided young man whose only talent in the world is his incredible nose and he uses it to make perfume. Those were the days when perfume was actually made from the steam distillation of flowers (which is how essential oils are made) with no added chemicals or ingredients. It was real, natural, botanical perfume.
Now that I've been getting rid of toxins in our lives to everything from cleaning supplies, to lotion, to shampoo, to laundry detergent, perfume was the next thing on the list. So, I've lost my long-time love of perfume (been wearing it since I was a teenager and now I'm, well, in my very early thirties (smile)). I had to create one I'd like just as much as what I used to spend half a week's worth of groceries on – and now I have!
Chemicals In Store-Bought Perfumes
According to this article from Scientific American, perfumes contain petrochemicals, which are chemicals derived from petroleum or natural gas, and many other hazardous synthetic chemicals. Take one of my old favorite perfumes – J'Adore by Christian Dior. The EWG (Environmental Working Group) gives it a 7 rating out of 10 for toxicity, with moderate concerns for cancer and high concerns for endocrine disruption (which affects breast cancer, thyroid, hormones, and more). Eek, not good! According to this article from the EWG,
A new analysis reveals that top-selling fragrance products—from Britney Spears' Curious and Hannah Montana Secret Celebrity to Calvin Klein Eternity and Abercrombie & Fitch Fierce —contain a dozen or more secret chemicals not listed on labels, multiple chemicals that can trigger allergic reactions or disrupt hormones, and many substances that have not been assessed for safety by the beauty industry's self-policing review panels.
Sorry, more bad news. And I learned that second-hand scents are also harmful. Some of the chemicals even make their way into fat tissue, the umbilical cords of developing fetuses, and breast milk – NOT good for our babies. To me, the scariest part is companies do not have to divulge all of the ingredients in their perfumes to protect their trade secrets, so consumers cannot find out what exactly they are getting into.
So, let's get to the fun part! This is the same ratio of essential oils I've used in my homemade room deodorizer recipe. I just can't get enough of the scent – I'm crazy about cedarwood and orange these days! I've also made a blend similar to the one in my homemade bath salts recipe.
How To Make Your Own Perfume
Spray Perfume
100 proof Vodka, witch hazel or rose water to emulsify the essential oils – please read my note below about this OR water (you'll just have to shake it before each use)
Your favorite essential oils (see below for suggestions)
2 oz. glass spray bottle (essential oils will eat plastic)
Roll On Perfume
Your favorite essential oils (see below for suggestions)
1 10 ml. roll on bottle
Note about vodka: 100 proof is best to fully dissolve the essential oils, but all we can find at the liquor store is 80 proof, so I do have to shake it up before each use. My husband likes when I'm in a perfume mood so he can take a swig every now and then! If you use water, rose water, witch hazel or a carrier oil, you will also have to shake the bottle before each use.
Choosing your favorite blend of essential oils…
is really very different for each person – one oil might smell completely different from person to person as it reacts with your skin, so experiment and find a few you like! To do it correctly, you need 3 notes – top, middle and base. The top note is experienced first, then the middle, then the base. Each essential oil evaporates at different rates, so it takes knowledge of each rate to create a proper perfume – it's really quite an art! I'm just a beginner at it myself, but am learning a lot as I go. To read more about it, see this article from Aroma Web where they list all the top, middle and base notes. I suggest choosing one from each category to start!
Essential Oils are Powerful…
so I would dilute well. We used essential oils in our home every single day, so our bodies are used to them. But when you're first starting out with essential oils, especially with a pure, powerful brand like Young Living, start with a higher dilution until your body gets used to it.
So, here are some blends I really like!
Make with 2 tablespoons of vodka or water, for larger quantities you may want to add more oils.
Forest Fairies Blend
Click here to buy high-quality essential oils!
Romantic Flower Garden
Or just buy a blended oil from Young Living like Stress Away, Valor, Transformation, Lady Schlerol, or Peace and Calming. These all smell AMAZING!
Click here to buy high-quality essential oils!
See all of my essential oil DIY recipes here!

SaveSave