Crochet Granny Infinity Scarf and Cowl – Free Crochet Pattern
A free crochet pattern for a super easy cowl using the granny stitch that works up quickly and can be really warm or cooler, depending on how you wrap it.
Winter just isn't complete for me without a warm, snuggly scarf or cowl wrapped around my neck! When we lived in France right after we got married six years ago, I fell in love with scarves because the French love their scarves. They use them more like necklaces – warm, functional, fashionable necklaces that drape their necks and add personality. During cooler weather, I felt like everyone wore scarves – our friends told us they believed it helped keep them from getting sick. Now that the weather has cooled and Christmas is just around the corner, I've been trying to come up with some different and interesting scarf patterns to make as gifts and for myself!
Crochet Granny Infinity Scarf and Cowl
Abbreviations:
DC = double crochet
CH = chain
SL ST = slip stitch
SK = skip
GS = my modified granny stitch – 4 DC's in the same space
Materials:
I LOVE this scrumptious yarn I used for the scarf – the colors are rich and beautiful and it's SO soft. It's Deborah Norville Northern Lights
Yarn Quantity: 5.25 ounces – each skein is 3.5 ounces so you'll need 2 skeins and the remainder of the last skein can be used to make the ear warmers.
Hook: J
Tapestry needle to sew in tails
Scissors to cut the tails
Scarf Pattern:
Row 1:
CH 15
In the 3rd CH from the hook (not including the chain on the hook), work 4 DC
*SK 2 CH's
Work a GS in the next CH*
Repeat from * until the end, finishing with the GS (5 GS across total)
Row 2:
CH 3
*Work a GS in the next space in between the previous 2 GS's*
Repeat from * across until there are 4 GS's
Work a DC in between the last stitch of the previous GS and the CH 3
Row 3:
CH 3
Work a GS in the SAME space
*Work a GS in the next space*
Repeat from * across until there are 5 GS's
Continue repeating rows 2 and 3 for the reminder of the scarf. It can be as long as you want – mine is 93 rows long and when it is unwrapped, it hangs down below my waist.
Picture Tutorial
Row 1:
Row 2: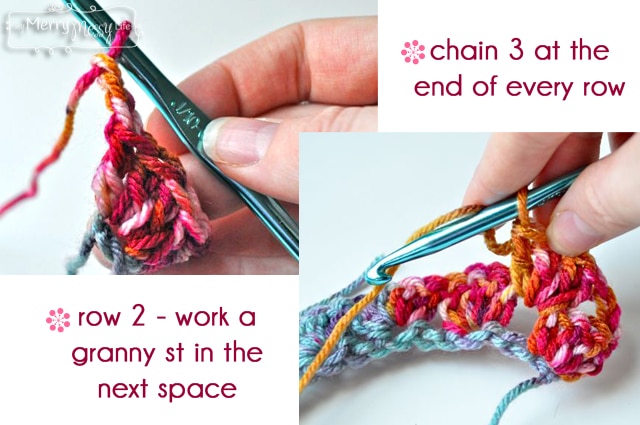 Each row alternates with the number of granny stitches – 5, 4, 5, 4 and so on.
To make it an infinity scarf, just whip stitch the ends together! Easy peasy. Otherwise, leave it unstitched like a regular scarf.
Merry Crocheting!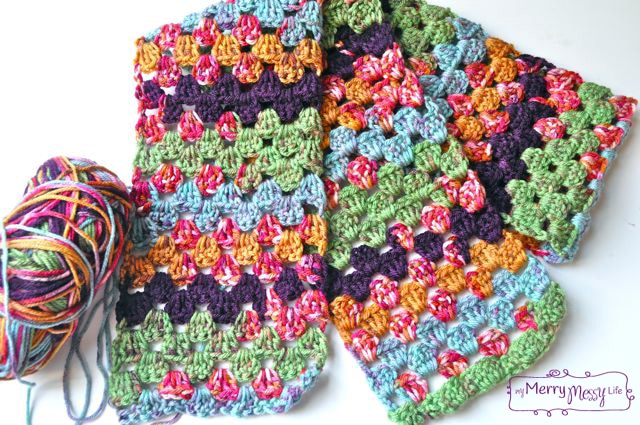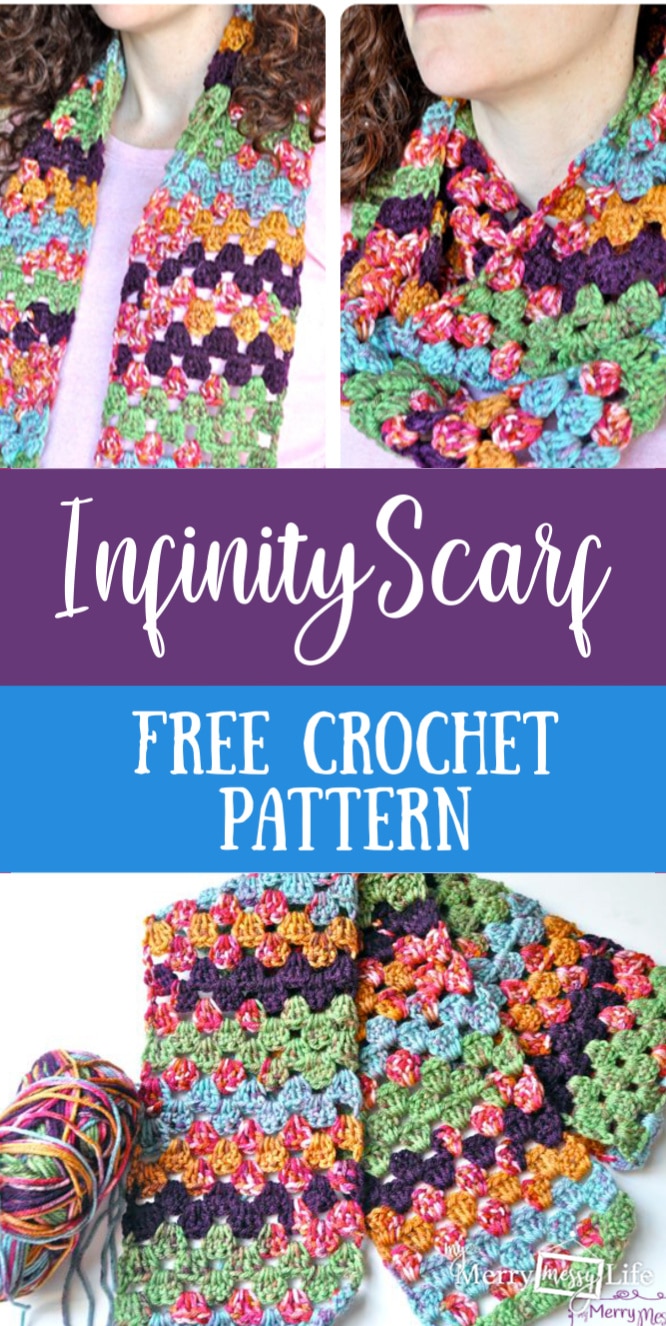 SaveSave
SaveSave