Crochet Mini Star Applique – Free Pattern
Stars are so versatile, and this mini one could be used to decorate hats, scarves, bags, and even make a baby mobile! If you have some crochet experience, these can be worked up in 5 minutes or less. Yippee for easy, fast projects! This pattern comes with a full photo tutorial as well!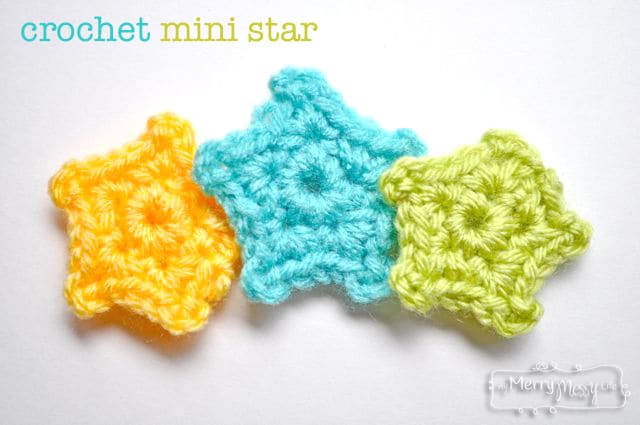 Materials
Worsted weight yarn, I used acrylic, but any will do
Hook: H/8, 5 mm
Abbreviations
ch = chain
sc = single crochet
sl st = slip stitch
The Pattern
Finished size is just under 2 inches wide by 2 inches tall, depending on the yarn used.
CH 3
SL ST to form a ring
Round 1
CH 2
9 SC in ring, 10 total
Round 2
CH 2
In sp next to CH 2, work 1 sc, ch 3, 2 sc
*Skip the next sp
Work a star point in the next sp – 2 sc, ch 3, 2 sc
Repeat from * to make 5 points.
Sl st to the 2nd ch of the beginning ch 2.
Voila! C'est fini! And here's the tutorial. To get a nice printed version, click on the button at the bottom of the post.
Step 1: Chain 3, slip stitch to form a ring, then chain 2 (counts as first single crochet).
Step 2: Work 9 single crochets into the ring for 10 single crochets total, counting that first chain 2. Then, chain 2 to start the first star point.
Step 3: In the space just next to the chain 2, work a single crochet. Then, chain 3, which serves as the point tip.
Step 4: Finish the first star point by crocheting another 2 single crochets. Then, skip the space after that and start another point – 2 single crochets, chain 3, 2 single crochets.
Step 5: Continue around the circle until you've completed 5 points. Then, slip stitch to the top of the beginning chain 2 to finish. You're done!
You can make these mini stars bigger by changing your hook size or changing up the stitch to a half double or double crochet, or a combo of both!
Merry crocheting! And leave a comment if you find an error.