A quick and easy headband for all ages – works up in less than 30 minutes!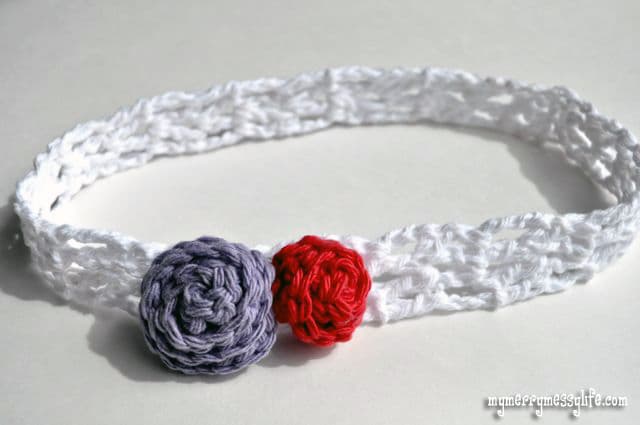 Headbands are a great first project when you're starting to crochet because they're quick, most are easy, and within a short amount of time, you have the satisfaction of a completed project! This one is a V-Stitch headband, where you have to have already mastered the double crochet stitch. I made this for myself, so it fits an adult, and it's just in time for Mother's Day! See my free pattern for the rosette here.
Here are some approximate measurements for headbands in case you want to make your's smaller than mine:
Newborn 13″
3-6 months 14″
6-12 months 16″
12 months-tween 17.5″
Adult 18″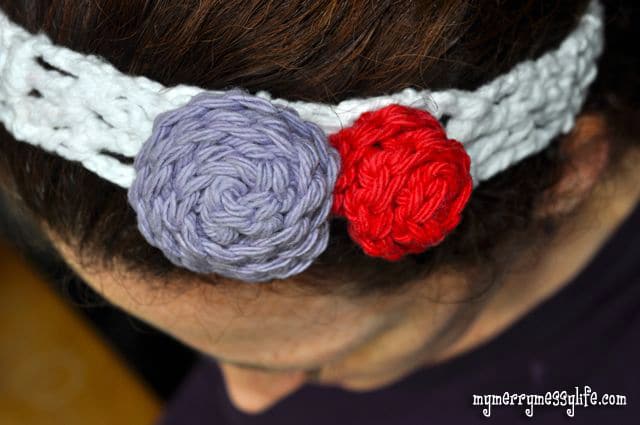 Crochet V-Stitch Headband
Copyright 2013 by Sara of My Merry Messy Life
Abbreviations
DC = double crochet
CH = chain
Materials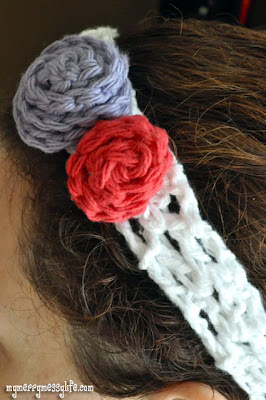 Hook: J (6.00 mm)
Yarn: Worsted weight – I used Sugar'n Cream cotton yarn
The Pattern
Row 1:
CH 6
In the 4th CH from the hook, DC
CH 1
Work another DC in the same space
Skip 1 CH
In the last CH, work a DC
Row 2:
CH 3, turn
Work a V-Stitch in the CH 1 space below (between the 2 double crochets): DC, CH 1, DC
In the last CH, work a DC
Repeat row 2 until you have the length desired, and sew the ends together with a tapestry needle, or sew a button onto the end to close.
The rosette is super duper easy to make – see the pattern here.