DIY Weather and Seasons Felt Board for Preschoolers
Making a DIY weather and seasons felt board to teach the seasons, weather and even holidays to children is easier than you might think, and can even count as whimsical wall art! It goes well with teaching the Montessori method at home or in a classroom.
This DIY weather and seasons felt board is a great interactive and sensory way to teach toddlers and preschoolers the different times of the year, seasons and holidays. They learn how things change and holidays are celebrated.
Can Be Part of Your Holiday Traditions
I think it can be a fun holiday tradition as you add new elements for each holiday. It can also just be another toy as they can take all of the pieces off and make their own scene.
The Montessori Method
I've been following the Montessori method for teaching my children at home and I just love it because it's all about learning with the senses, and especially the hands. Maria Montessori observed that children learn best with their hands, and it is an especially effective tool when teaching abstract concepts like reading, math, and changing seasons.
How to Make Your DIY Weather and Seasons Felt Board
Supplies
Click on the links to purchase the supplies on Amazon.
1 large bulletin board (2×3 feet or larger)
1/2 yard of light blue felt (for sky)
1/4 yard of brown felt (for tree)
Felt variety pack – sheets of felt in various colors for flowers, pumpkins, snow, leaves, greenery. Colors I suggest are:
— yellow
— pink
— light or bright green
— hunter green
— orange
— red
— purple
— 2 sheets of white (clouds and snow)
1 pair of Fabric scissors
1 Stapler (sturdy, commercial one is best)
Fabric or tailor's chalk (need colored ones or both white and black so they can be seen on different colored felts)
Optional Felt Fall Leaf Variety Pack and Green Spring Leaf Pack – leaves can be difficult to cut out so here's a felt variety to make it easier.
Optional Spring Flower Pack – flowers are also difficult to cut out, so here are some you can just purchase.
Directions and More Ideas
Get your free printable template here for the shapes for the board!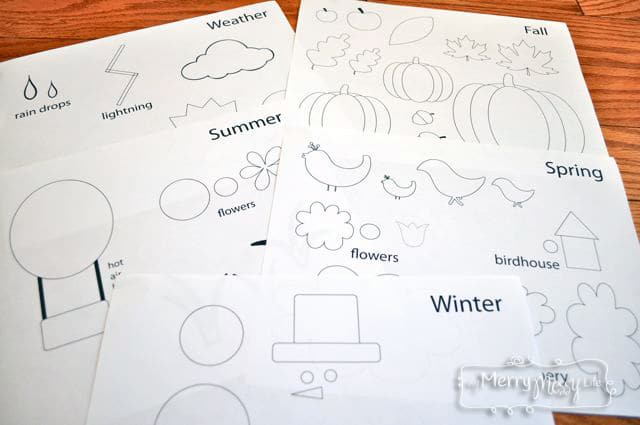 How To Make the Background:
Cut the blue felt the same size as your bulletin board and staple on
Cut out the tree – I free-handed this and it's so big that it wouldn't even fit on 4 sheets of paper to use as a printable. So, I hope you can draw something similar, or just do something really simple if you have trouble.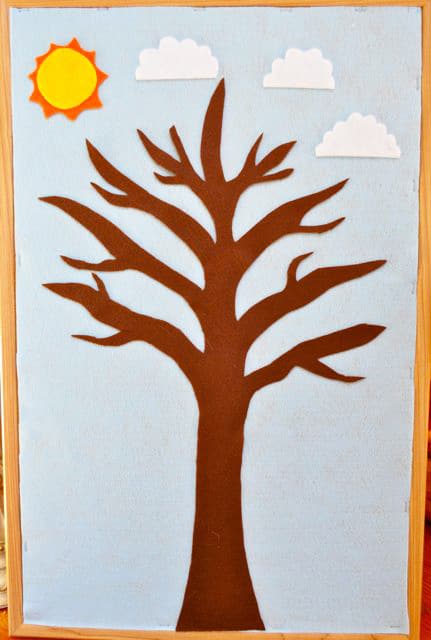 Winter:
Snowman
Mounds of snow for the ground
Icicles and snow for the tree
Snowflakes or snow balls for the sky
Other ideas: Add a Christmas tree for Christmas, a sled
Valentine's Day – add a heart garland to decorate the tree
Saint Patrick's Day – add a rainbow, four-leaf clovers on the ground, and a pot of gold
Spring:
Green leaves for the tree
Felt flowers for the tree or just cut out circles to use as flowers
Flowers for the ground
A birdhouse
Easter – add eggs to the ground or even an Easter bunny
Summer:
Use the greenery from spring
Add a hot air balloon to the sky
Add a bumble bee or a caterpillar
Switch out the flowers for apples
Add a swing to the tree
July 4th (American Independence Day) – add an American flag (on a pole standing in the ground)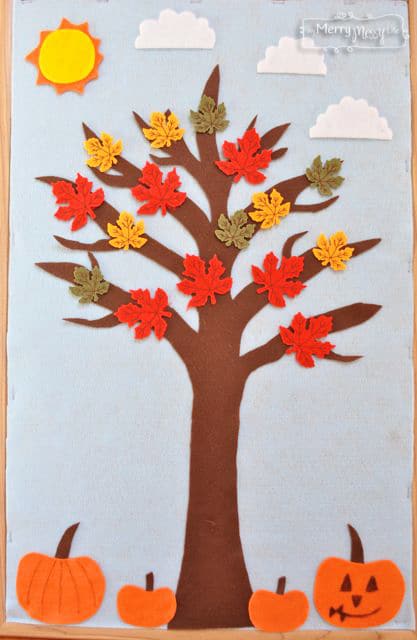 Fall:
Add pumpkins to the ground
Halloween: add a scarecrow, bats to the sky or hanging from the trees, spiders
Thanksgiving: Add a turkey (can trace your child's hand)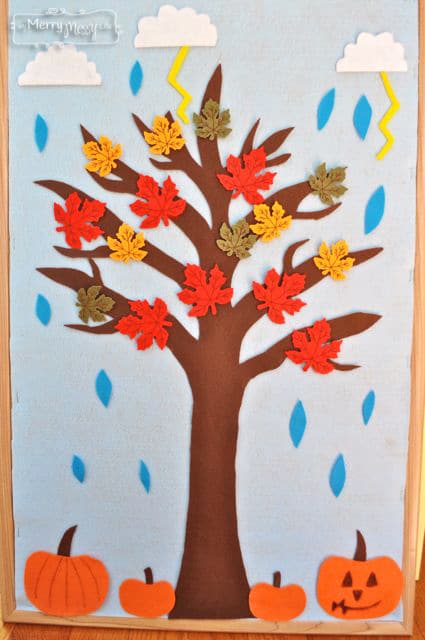 Raindrops
Lightning and dark grey clouds
Snowflakes
Remove the sun on a cloudy day
As you can see, I haven't gotten to winter and spring yet so as we get to those seasons, I will add more pictures. The shapes for all the seasons are in the template, however, so you can start with whichever season you're in now and make the rest later, too! Otherwise, you'll be cutting for hours!
How to Use the Felt Board in Circle Time and Free Play
I love using this in our morning circle time – we look out the window and make our board look like the weather outside. We talk about the season we're in and the holiday we're celebrating or approaching.
Then, I let them play with it however they want, which means the seasons get all mixed up and it no longer looks like a perfect Pinterest image. But that's okay! They are still learning and play is how children learn, so it's not important to me that it looks perfect. Gabriel likes to pretend the leaves are falling of the tree and makes them fall to the ground, but his favorite part is the lightning which he makes to crash around the sky.
How to Store the Felt Pieces
I keep the pieces from the current season in a basket beside the board (I picked up one at the dollar store). There are just so many pieces that it will become quite messy and overwhelming for your child if all of them are left out all of the time. If you do it Montessori style, keep the baskets on your shelves and let them choose, cleaning up the board when they are done and want to get another basket.
Get the Free Printable
I've also created free printable coloring pages for each season that your child can color and tape above the board on the wall. If you have more than one, then put them all up! The children will have even more pride in their board with their own artwork above it.
Most of all, remember to just have fun with it. Make it as complicated or simple as you want and enjoy the special moments with your children. There is no wrong or right way to have a fun DIY weather and season felt board for your children!
See all of my Montessori and homeschooling posts here!