DIY Wall Art from From Your Favorite Wine Labels
Do you have favorite wine bottles that have a special memory attached to them, but don't have room to put them on display? Then use the label right off the bottle to create custom wall art, and making it look beautiful is surprisingly easy!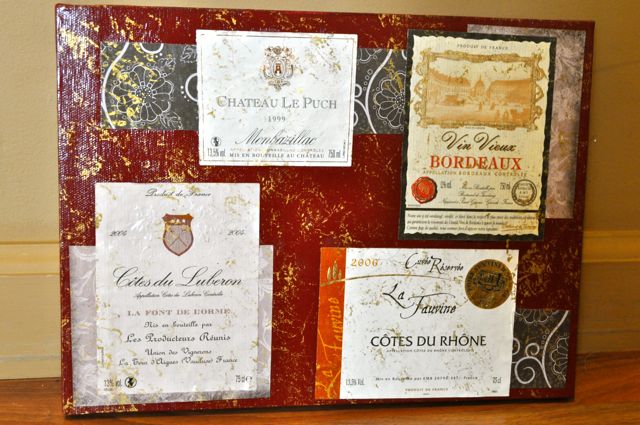 I needed wall art for my kitchen when we first moved into our house, but didn't want to buy run-of-the-mill generic prints. So, I decided to tackle it myself. After living in France for two years, my husband and collected labels off our favorite or most expensive wines as a keepsake. And the kitchen is the perfect place to display wine art!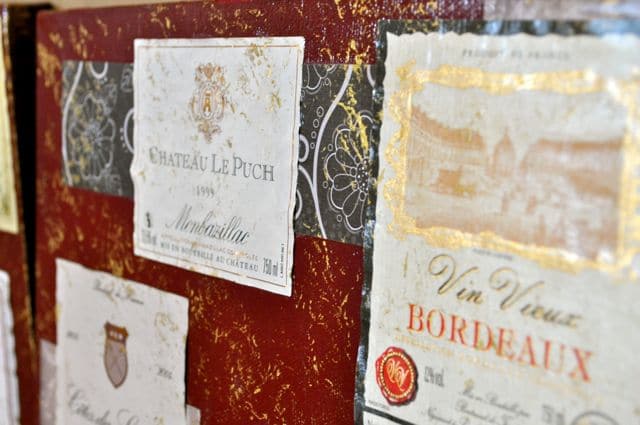 Supplies:
Stretched artist's canvas (or card stock paper and then frame it!)
Favorite wine labels (soak the bottle in a sink of warm water until the label peels off without any trouble! Takes 30 min to an hour.)
Two colors of acrylic paints to match the room in which you're putting the painting. I used a wine color for the background, and metallic gold for the accent
1 or 2 pieces of scrap booking paper to match the paint you chose
Glue stick to glue the labels onto the painting (or rubber cement if you don't mind if the labels bubble up like mine did)
Acrylic varnish to seal the painting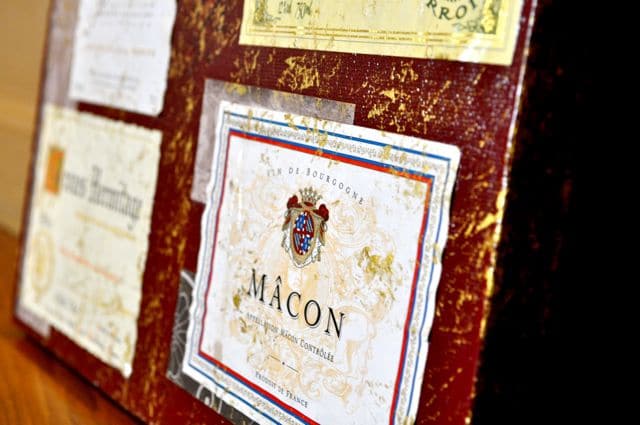 Let's Paint!
First, decide how you would like to arrange your paper and wine labels on the canvas.
Next, paint the canvas all one color and let dry (2-4 hours)
Then, glue the pieces of scrap booking paper onto the canvas, and then use a glue stick to stick the wine labels to the canvas (wet glue will make the paper crinkle and bubble up, which happened to mine, which gives it character!)
Then, to get the metallic gold effect, I took a paper towel and dipped it into a tiny bit of the gold paint and dabbed it on (like faux painting on a wall).
Last, seal the whole thing with acrylic varnish to give it some shine and protect your work of art!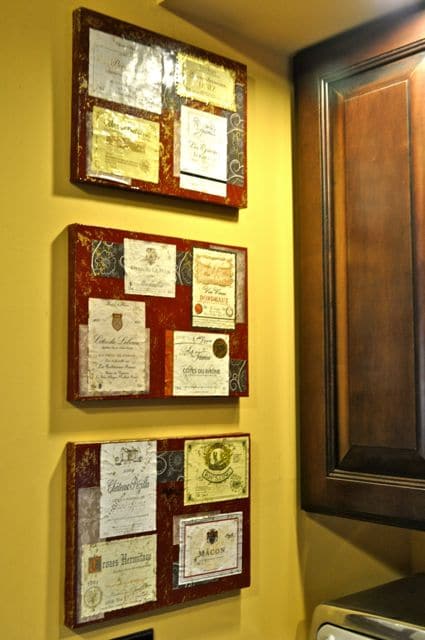 My paintings proudly displayed in my kitchen!
This post is partying over at Tip Junkie!