Easy Crochet Scarf – Ribbed Stair Pattern – Free Crochet Pattern
This is an easy ribbed scarf pattern that even a crochet beginner can make. Great to make to give away as well as keep because it works up really quickly!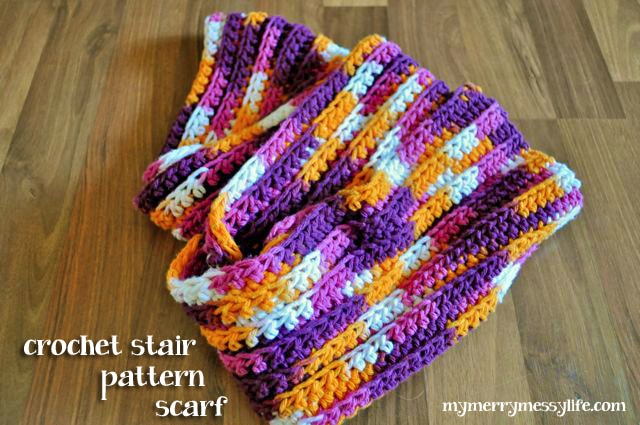 My new favorite yarn is Lily Sugar 'N Cream in variegated colors. This stair-patterned, ribbed scarf is a very easy project, even for a beginner crocheter, and it's worked in length, not width, which gives it a knitted look. I love the stair pattern because it's so easy that I can do it while watching TV, but it looks much more interesting than a simple double crochet – it adds texture.
You can use any worsted weight, medium 4 yarn, but this particular yarn happens to be Sugar 'N Cream in Ombres Batik, which I'm not sure they make anymore. So here's a yarn that's similar – Ombre Jewels. You'll need 4 oz. of yarn for this pattern.
Literally everything I've made since I learned to crochet has been for other people, and this scarf I made just for ME! I love it and wear it on a daily basis. I made it a few weeks ago, with the intention that it wouldn't be a really warm scarf since winter is on it's way out (and it's been a very mild one here in the Northeast this year).
So, here's the pattern!
Ribbed Stair Pattern Scarf – Free Pattern
Level: Beginner
Yarn: Worsted weight, Medium 4
Hook: I used a J hook, but you can really use H or bigger, depending on how big you like the weave
Stitches Used: Double Crochet
Chain 135-150, depending on how long you want your scarf. An average length for an adult scarf is about 5 feet, and that fits me very well and I'm 5'3″. Make it longer than 5 feet if you're taller, shorter if you're shorter!
In the 3rd chain from the hook, DC (double crochet) and continue in each chain across until the end.
Chain 2, then *DC in BLO (back loop only) in each chain across until the end. Chain 2.*
Continue from * until you have the desired width of your scarf. Mine is 13 rows wide. This will depend on your gauge, hook and yarn!
Merry Crocheting!
See my other crochet scarf patterns here!