I really need to go to the store – no more fruit, crackers, and only a couple of eggs! This is likely to cause an uprising in my household. But I really don't feel like throwing the kids in the car and braving the grocery store with a toddler and a baby right now. So, I have to get creative!
I have lots of chicken in the freezer, and cans of Italian diced tomatoes in the pantry, so I'll with that. The kids are antsy, so I need something they will both eat and Gabe can help me cook! Here's what I came up with: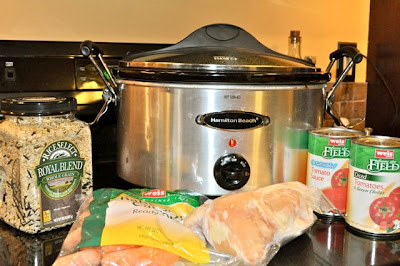 What you need:
Crock Pot
Your favorite rice (I love Rice Selects – Royal Blend)
Your veggie of choice (mine is 1/2 a bag of baby carrots, because that's all I had on-hand!)
1/2 to 1 lb. chicken (depends on how many you're feeding)
2 cans diced tomatoes (Italian or Green Chilis works best)
Optional – 1 can tomato sauce for extra juiciness
1 cup barbecue sauce
Dash of sugar
Butter
Salt
In the morning, defrost your chicken and put in the Crock Pot along with the tomatoes and barbecue sauce. Turn it on low for 8 hours. Or, start the process in the early afternoon and put the Crock Pot on high for 4 hours.
About an hour before dinnertime, grab your favorite toddler to help you start cooking the rice. Mine takes 45 minutes.
Let your favorite toddler go play somewhere else as you start the water to boil for the carrots. I go back and forth between boiling and steaming them, so I chose boiling this time as there are less dishes to wash!
Add the carrots, along with 1/2 spoonful of butter or margarine, and some seasoned salt. I boil mine until they're pretty soft so my kids can eat them, which takes about 7 minutes.
Once the rice is finished, serve and enjoy!
Mmmm! The shredded chicken was perfect for Grayson to chew. And it's full of protein!