Easy Creamy Cashew Milk Recipe
If you have a dairy intolerance and are missing milk, then you'll want to try this creamy and delicious alternative – cashew milk! It's very easy to make at home yourself.
Making the switch? Read your labels.
Cashew milk and almond milk are extremely popular these days and can be found at almost any grocery store. Something that was once limited to health food or specialty stores is now mainstream, which is great! As we learn more about the conventional dairy industry, more and more people are leaning away from cow's milk and looking for substitutes. Soy, coconut, hemp, rice, almond, you name it, you can milk it. Umm…sorta. However, as we know not everything on the store shelves is good for us. Even if it has a green label and the word "all natural" plastered all over the carton. Uranium is natural after all.
I highly encourage you to take a look at the milk substitutes you have in your kitchen. Any funky ingredients? Guar gum, carrageenan, locust bean gum, natural flavor and sugar (not funky, but we already get enough sugar elsewhere) to name a few. We can do better folks! Nut milk is one of the simplest DIY recipes you can do. It's such an easy switch from store bought to homemade. No funky ingredients required. In fact we only need TWO ingredients, three or four if you want to get fancy.
Side note: not all dairy is bad!
I am 100% in favor of raw dairy from reputable sources for most people. It is one of the most delicious things you can drink and since it's not pasteurized to oblivion, it's full of the enzymes necessary to properly break down the milk. If you're intolerant to dairy and have access to raw milk, I highly encourage you to try raw milk and see how you react. My husband for example, breaks out in horrible acne when he has conventional dairy but has no skin issues when consuming raw milk. Check out this website to find a raw dairy near you. However, nut milks are a great option for those who don't want to drink cow's milk, don't have access to raw milk, or just want to mix it up.
You can do it!
Really, this couldn't be simpler and this recipe works for both cashews and almonds. I really prefer cashews over almonds though. They yield a much creamier milk. Sorry almonds.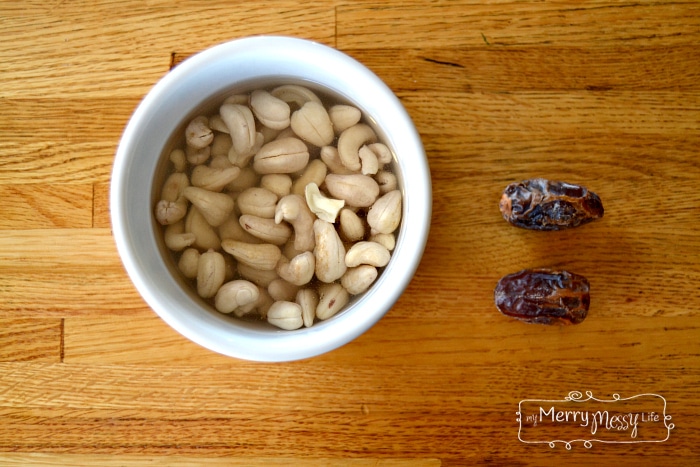 Soak one cup of nuts in filtered water for 4-8 hours or overnight. Be sure that the water completely covers the nuts. You want the nuts to absorb some water, plump up and become very soft. Almonds take longer than cashews. Now drain the water and put the soaked nuts in your blender. Add 4 cups of water to the blender along with your optional ingredients. Optional ingredients include maple syrup, dates (my favorite), vanilla extract, or cinnamon. I love adding dates to give it just a hint of sweetness without adding too much sugar. Tip: soak your pitted dates in a cup of hot water for 5 minutes, drain then add to the blender. This helps the dates release their sugars and blend smoothly. Blend and then strain the mixture through a fine mesh strainer or a nut milk bag (love love love). The leftover pulp in the strainer or bag can be dehydrated to make a nut flour that is perfect for baked goods! I like to store the milk in a glass container. It will keep in the fridge for 3-4 days. Maybe 5 if you like to live on the wild side like me.
Print
Easy Creamy Cashew Milk
Nut milk could not be simpler to make! This milk is creamy and perfect for your morning coffee or just straight up.
1 cup

of raw cashews or almonds

4 cups

of filtered water

2

dates(optional)
Instructions
Soak the nuts for 4-8 hours or overnight in filtered water.
Strain the water and add the soaked nuts to the blender along with 4 cups of water.
Add and optional ingredients or sweeteners.
Blend blend blend.
Strain through a fine mesh strainer or a nut milk bag.
Enjoy!
Let me know if you give this recipe a try. Stay tuned for a future recipe for paleo cereal that would be perfect in a bowl of cold, creamy cashew milk.
Happy milking!