Easy Natural Scouring Powder and Deodorizer Recipe (like Comet!)
This easy natural scouring powder and deodorizer recipe is one of the simplest ways to switch over to natural and safe cleaning products! Make your own natural scouring powder and deodorizer with just baking soda and essential oils, and make your cleaning routine so much healthier.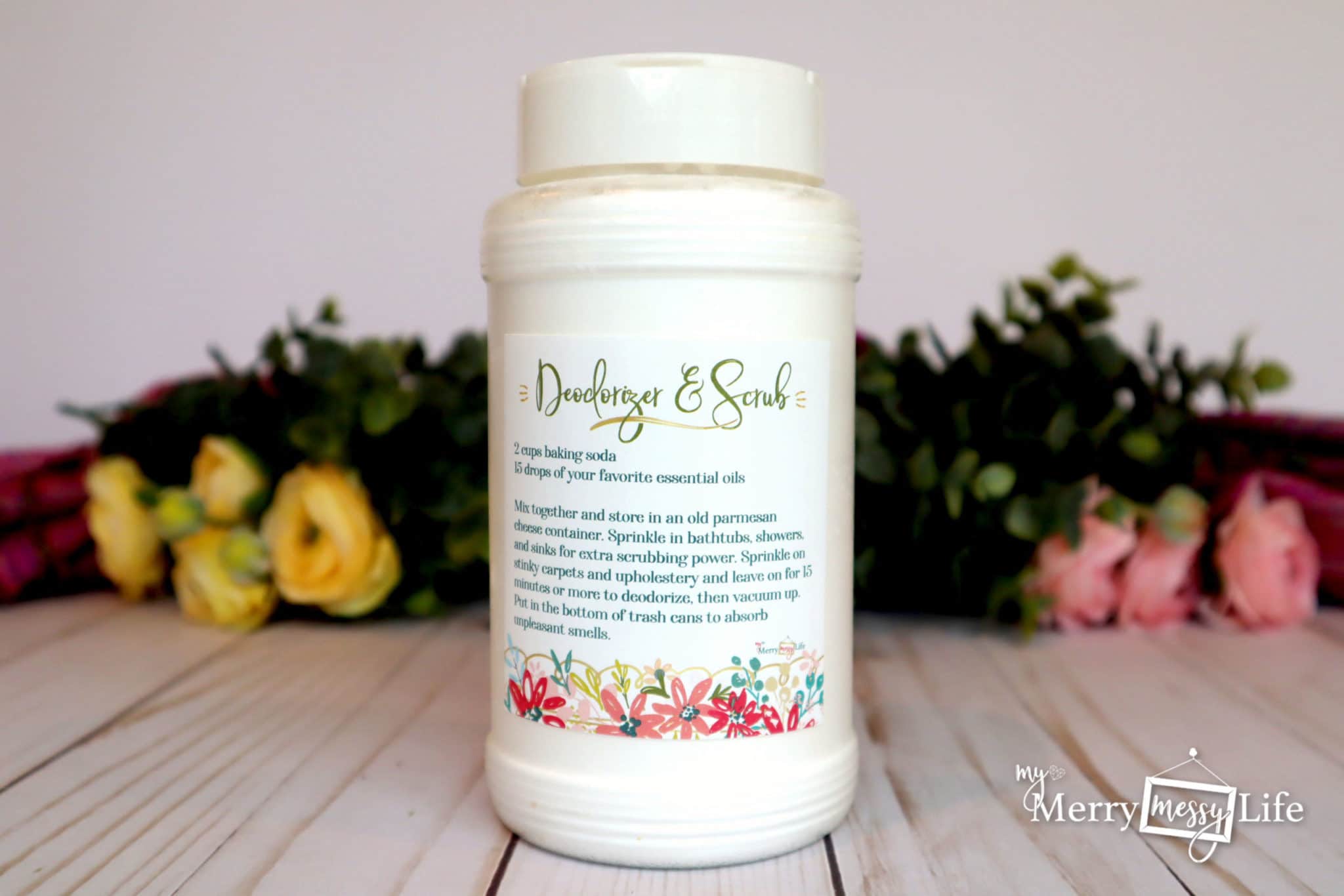 Top 10 Cleaning and Laundry Recipes
This recipe is part of a 10-part series of natural cleaning and laundry recipes. You can find a list of all of the recipes here. This natural fabric stain remover recipe is also found in my book, Detox Your Home, which you can find on Amazon. It includes more than 80+ recipes, research and lists for natural products you can purchase all to help you go natural in your home!
Good Ole' Comet Isn't So Good Anymore!
I know growing up, we'd use Comet to scrub out our bathtubs and showers. I remember how it would get things clean, but my eyes and nose would burn, I'd be coughing, and I'd for sure have to wear gloves, or the chemicals would eat my skin alive!
So imagine what the residue left behind was doing to our skin and bodies when we'd take a bath? Yikes! So what's in Comet that makes it so toxic?
For starters, it's on the Environmental Working Groups Top 10 Hall of Shame Cleaners.
EWG's air pollution tests found that Comet Disinfectant Cleanser Powder emitted 146 different chemicals, including some that have been linked to cancer, asthma and reproductive disorders. The most toxic chemicals detected – formaldehyde, benzene, chloroform and toluene – are not listed on the label.
Comet Contains Chlorine
It also contains chlorine, which is released into the air, and you'll breathe it in as you clean. Chlorine irritates the eyes and can also trigger asthma and allergies and irritate your respiratory system. It's also very caustic on your skin and will get into your bloodstream through your skin.
As if that wasn't enough, chlorine gas was one of the chemicals used to kill in World War I. In the workplace, chlorine is regulated and it's required to use gloves and masks while handling it. I used to always wear gloves while cleaning (before going natural), but never did wear a mask!
Watch the Tutorial on My YouTube Channel!
Household Cleaners are Harming the Environment and Poisoning our Water
Comet causes acute aquatic toxicity. What does this mean? It goes down our drains and harms fish, turtles, lizards, ducks, geese, and other aquatic life.
There are so many chemicals going down our toilets, sinks, bathtubs, and showers that sewage processing facilities are having a difficult time removing them all. I like to do my part to take care of our planet, and if I can make my own dishwashing detergent for just a few minutes once a month or so to do that, then I'm happy to! What an easy way to keep us and our planet cleaner and healthier.
My Experience with this DIY Natural Scouring Powder and Deodorizer Recipe
I started making this recipe back in 2011 and use it often! It really helps to remove soap scum and stuck on particles. I use it to clean sinks, bathtubs and showers. It even works well in the toilet bowls! I also use it on any stinky spots on our carpet – dog and kid accidents, and even on our couches. I also use it often in the bottom of the diaper pails and trash cans.
I love it because it smells amazing and actually gets the job done.
Print
DIY Natural Scouring Powder Recipe (like Comet)
A safe, natural alternative to Soft Scrub and Comet using only baking soda and essential oils.
Instructions
Fill your container halfway with the baking soda. Add the essential oils. Shake well. Fill up the rest of the container with more baking soda. Shake well again.
How to Use:
Remove Soap Scum

– sprinkle in bathtubs and showers to easily get out soap scum

Deodorize

Upholstery and Carpets

– sprinkle on carpets and upholstery to deodorize, and then vacuum up

Deodorize

Trashcans and Diaper Pails

– sprinkle in the bottoms of trash cans and leave for several days, and then dump out
Get a Waterproof, Vinyl Label on Etsy!
You can purchase the recipe label in my Etsy shop! The labels are professionally printed on vinyl, waterproof paper. Having the label on the bottle means you never have to look up the recipe again! I also have a set of 10 cleaning labels – these are the 10 recipes I recommend getting started with when you're switching over to a green and natural home.