Escape to Gatlinburg with Cabins for You
Just before Christmas, we had the amazing opportunity to take a mini-vacay to Gatlinburg, Tennessee, courtesy of Cabins for You! Our little family of four had such a fun time and highly recommend this high-quality cabin rental company.
Check out my post at Cabins For You's blog – A Crunchy Mom's Guide to Gatlinburg in Wintera
Gatlinburg is a four-hour drive from where we live, so by the time we arrived, five hours later (which isn't so bad with two toddlers and a pregnant mama in tow!), we were ready to settle in and get comfy. And wow, like a really good date, it made quite a first impression! We opened the door and the kids took off exploring the whole cabin. It didn't take them long at all to find the game loft upstairs, complete with two arcade games, a chess table, a pool table and an air hockey table! It was like Christmas had already begun. I was impressed with all the special details they left for us – a huge welcome basket with local treats like saltwater taffy candy, local honey, hot chocolate, mugs and apple cider. There was also a Christmas tree, stockings on the mantel, and a nativity scene which made me feel right at home.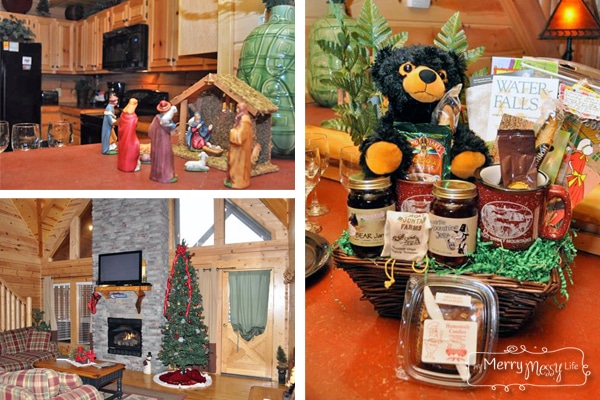 The hubs and I were so excited about the three fireplaces (one in each room and one in the living room), the four-person jetted bathtubs in each room (they are HUGE!) and the king-sized beds and the hot tub – talk about romance! There was even a washer and dryer, which proved to be essential after our kids played outside right after it rained and were soaked and covered in mud – making it a true Merry Messy Life vacation. And it was so convenient to have a full kitchen with which to feed our little guys. Going out to eat with toddlers is about as much fun as poking your eyeballs with a fork, at least for us it is, but our cabin was so luxurious that we were excited to get take-out and enjoy it in front of the fire.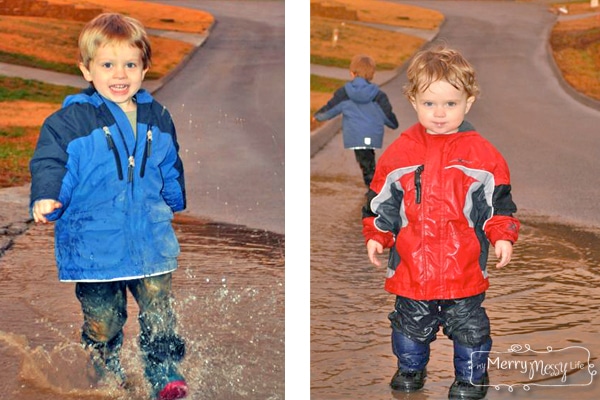 So, suffice it to say, our cabin itself, which is named Get Outta Dodge, was the main attraction of our vacation. This couldn't have been more perfect for us, because there isn't a whole lot two toddlers and a seven-month pregnant mama can do for long – we all tire easily these days! Still, we managed to get outside and explore the Gatlinburg area, enjoying one big thing a day like trout fishing at English Mountain Trout Farm (yes, even in December!), a guided hike with A Walk in the Woods, a visit to Ripley's Aquarium, and the Deer Farm Petting Zoo. You can read all about those attractions over at Cabins For You's blog, where I've written "A Crunchy Mom's Guide to Gatlinburg in Winter." We also enjoyed simple moments spent outside around the cabin, while the kids dug in the mud, splashed in puddles and ran around. Time outside is essential for our boys, so they stayed happy!
Overall, I highly recommend using Cabins for You to book your vacation to Gatlinburg and Pigeon Forge, Tennessee. The cabin was luxurious, spacious, and so comfortable and the customer service was five-star as well. We hope to return to Gatlinburg one summer, when we can enjoy river rafting, hiking, and more outdoor activities and will be sure to use Cabins for You!