Easy Veggie Chips Your Kids Will Love
A simple and quick recipe for vegetable chips that will help make those "eat your vegetable" battles a bit more peaceful. Plus, they are tasty and fun for adults, too!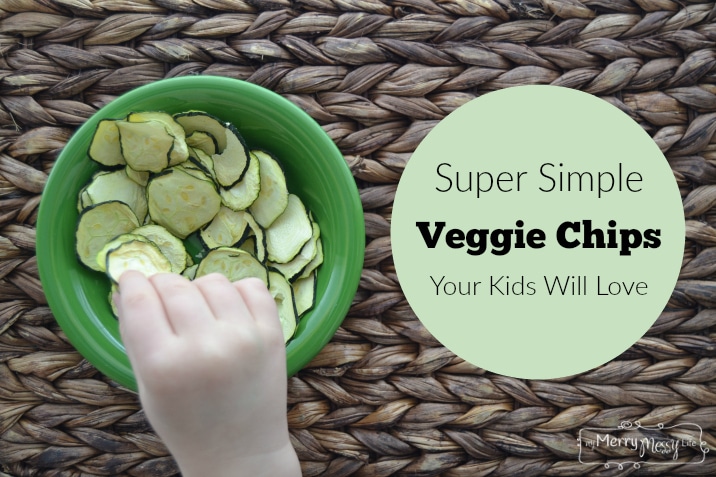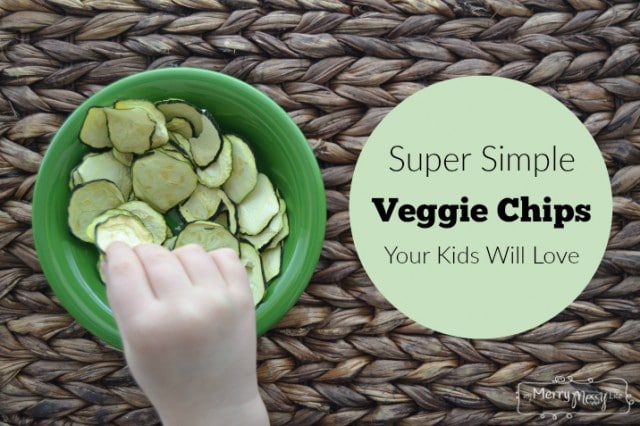 Recently, I've found myself deep in hostile, hostage-like negotiation scenarios. Usually daily. Usually multiple times a day. Can you tell I'm the mother of a toddler? A two-year-old boy to be exact. No one can really prepare you for the mental challenges that will come your way as a mom. It is the toughest job I've ever had! But of course the most rewarding. And I can now confidently add "skilled negotiator" to my resume. Win!
Toddlers love to challenge us and test their boundaries.  It's just a part of their development and when I take a step back to realize that these challenges are actually growth opportunities, life doesn't seem so hard. Lately, we've been battling it out over food. Delicious, healthy, nourishing food. My son is actually a really good eater. His favorite protein is liver so I'm not complaining too much! Vegetables on the other hand, seem to be harder to get into his system. I'm constantly trying to figure out what shape I need to cut a veggie into to make it more appetizing. My son loves his sweet potato chips (I buy the Jackson's Honest Chips brand). I thought I'd take advantage of his desire for some crunch and obvious love of the chip shape. These veggie chips are so easy to make and my son really enjoys them.  That's his precious little hand grabbing for them in the photo above. Today, I'll share with you how I made them.
Gather your supplies:
3-4 Zucchinis or other veggie

I did zucchini chips since they were on sale recently.  Feel free to try sweet potatoes, beets, carrots, etc.  Basically anything you can slice thinly that doesn't have too high of a water content (like cucumbers).

Oil (optional)

With this batch I didn't use any oil but I've made them in the past with a bit of oil and enjoyed them. It will help your seasonings stick. Any of your favorite cooking oils would work (olive, coconut, avocado, etc.)

Salt or Seasoning (optional)

I sprinkled on a bit of cinnamon to some of the chips and some sea salt to the rest.  You can mix up the seasonings and try almost anything!

Mandoline or sharp knife

A mandoline looks like a torture device and it can be if used improperly. I cannot stress enough how important it is to be careful using this crazy thing! Use the finger guards. Don't ask me how I know. Although not necessary, it does make for super quick work of slicing the veggies. A knife and a steady hand will also work great.

Parchment Paper (optional)

This isn't totally necessary but I feel like the parchment paper really helps prevent sticking.  This is especially important if you're not using oil on your veggie slices.

Dehydrator or oven

Don't have a dehydrator? Don't worry. These can easily be made in a low temp oven. But for real, put a dehydrator on your wish list. They are awesome!  Bulky and slightly noisy, but awesome. Side note:  if you ever do purchase one of these bad boys, spring for this one.  The more trays it has the better.  That will allow you to do big batches at once saving time.
Wash your veggies.  I try to use organic veggies when possible.  If not, I will be sure to remove the peeling.  Slice the veggies really thin, about an eighth of an inch.  Don't get too hung up on it though.  If some slices are thicker then others that is totally okay.  You can check them as they dehydrate and just remove any of the thinner ones that are done sooner.
Next you can toss them in a bit of oil and seasonings if you'd like.  Or you can leave them plain.  Lay out on your dehydrator trays or baking sheets (using parchment to prevent sticking).  I use about 3-4 small zucchinis and they took up all of the trays in my dehydrator.  This would be a great task for the kids.  If you get them involved, they will be more likely to enjoy the fruits of their labor.
Now it's time to dehydrate.  I dehydrated these zucchini chips for about 15 hours or so at about 135 degrees.  I checked them a couple of times along the way, removing any that were done early.  When the slices are completely dry they are done.  Remove them from the dehydrator and let them cool.  They will harden up and can then be stored in an airtight container.  Same for the oven although you will want to set it to it's lowest setting.  If your oven doesn't get down to about 140-150 then you can help the process along by cracking the door open with a wooden spoon.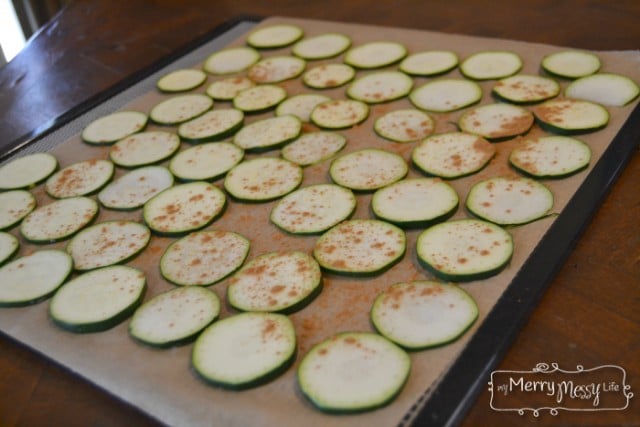 My son (and myself and hubby) ate all of the chips within a few days.  And although this wasn't a raw kale and spinach smoothie, it still made me feel good knowing that my son was getting some veggies in.
Let me know if you try this and how your kids like it!
Print
Dehydrated Veggies Chips
These veggie chips are a great way to get your kids to enjoy eating their greens!
Author:
Yield:

3

-

4

cups

1

x
Category:

Snack
3

–

4

zucchinis
Oil (optional)
Salt & seasoning (optional)
Instructions
Wash veggies
Slice thinly
Toss with oil and seasonings if desired
Lay out on trays or baking sheets lined with parchment paper
Dehydrate at 135F until completely dry (about 15-20 hours) or bake on lowest setting till dry
Let cool completely before storing in an airtight container