Homemade Chia Squeeze Pudding Pouches for Kids
Today I'm sharing a quick, easy and inexpensive recipe for homemade Chia squeeze pudding pouches. This delicious and nutritious snack is perfect for on the go for both kiddos and adults.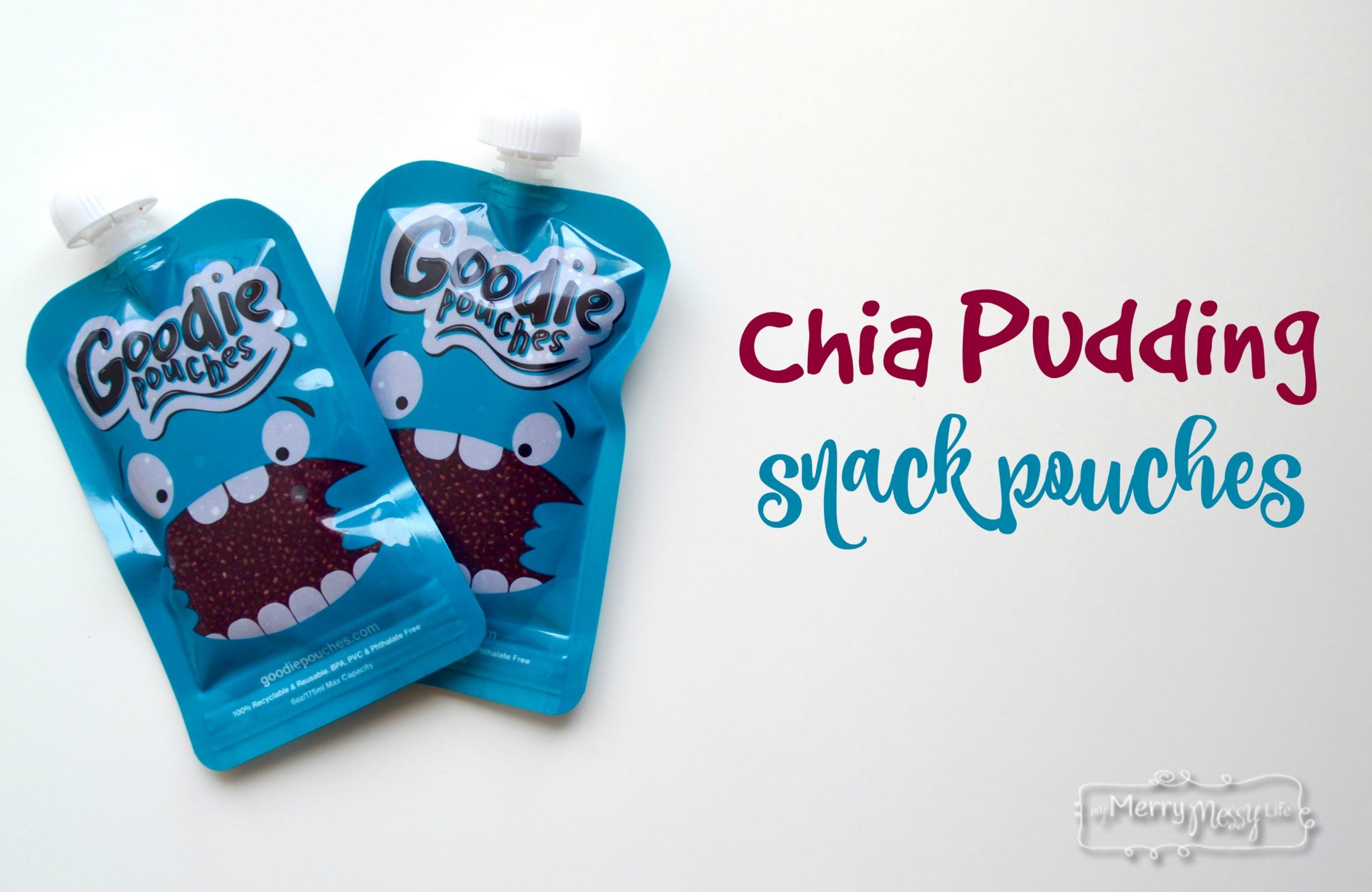 Becoming the mom of a toddler has opened my eyes to the world of "snack food." Well, I should say, re-opened my eyes. I used to be a kid and was a mega-fan of anything packaged, sugary, and convenient. I've since grown into a real food momma (thankfully) and typically stay away from pre-packaged snacks, opting to eat real, whole foods instead. However, I still do reach for easy snacks for myself and my toddler. One of the most popular snack foods I see for kids are squeeze pouches. You can find squeeze pouches of most any flavor from sweet to savory. These pouches are great for on the go snacking and are easy to find with quality ingredients, some even being organic with no added junk. However, with convenience, comes cost and loss of control over ingredients. Every time we went to the grocery store I'd grab one for my son. These pouches cost anywhere from $1-$4 each! This is just too much money for a small pouch of food that takes my son literally 60 seconds to suck down. I knew I could make my own. Today I'm sharing a simple recipe for my sons favorite type of squeeze pouch, Chia pouches. Chia squeeze pouches are basically chia seed puddings (a liquid mixed with chia seeds and soaked overnight). Strange texture at first, but they are tasty and fun to eat.
Cha-cha-cha-Chia?
Yes, the chia seeds that have become so popular in the health sphere are the same chia seeds that you probably spread over a small ceramic dog, lamb, Homer Simpson head. And yes, you can still buy Chia Pets. I might have to put one on my sons wish list! Who knew that these tiny black seeds were jam packed with nutrition?! They are an inexpensive and easy to find super food. I buy this brand from Costco but they can be found at most any grocery store.
Chia seeds are a tiny powerhouse that make a great addition to any real food pantry. Their most touted benefit is the Omega-3 fatty acid they contain. They have the highest source of plant based Omega-3s. Omega-3s help protect the body against inflammation (why we should also eat plenty of wild salmon). Chia seeds also help slow down the bodies conversion of carbohydrates into simple sugars which can help with blood sugar control. One tablespoon of chia seeds provide almost 20% of daily fiber needs. These are all wonderful attributes of a superfood that I want to get into my families diet.
One of the coolest things about chia seeds is their ability to create a gelatinous membrane when soaked in a liquid. Sounds gross but it's really neat and I'm sure your kids would get a kick out of it. This gel turns this seed into a pudding like consistency and helps with the digestion and fiber content, making it a bit more filling. Here's a close up of the consistency.
Winging the Recipe…
As with most of my recipes, I follow more of a method versus an exact recipe. These chia squeeze pouches are no exception. You're basically mixing a liquid of choice (I'm using blended fruit and water) with the chia seeds, soak overnight and pour into your containers of choice. I love these reusable squeeze pouches from Amazon but you can also just drink it from a cup (FYI, the pouches are way more fun for kids and adults). Feel free to mix in any combination of fruit you can think of. I have also added coconut milk to my fruit purée to add in extra healthy fats. Blend in some spinach for a veggie boost. The possibilities are endless. I have been really happy with these pouches. They have a double zip-lock on the bottom making them easy to fill and clean but also very difficult to open which is a plus with kids. My son can suck out most of the mixture although I do tend to help him squeeze out the last bit. Here he is sipping on his chia pouch!
I really love that these are reusable and keep pouches and lids out of the landfills. I occasionally lose sleep thinking about the bazillions of food pouches that have ended up in the trash. This is the least I can do, and I need all the sleep I can get!
Print
Homemade Chia Squeeze Pouches
This healthy snack is a cinch to make and you'll save a ton of money over the store bought chia pouches.
Author:
Yield:

2 cups

1

x
Category:

Snack
1 cup

of fruit of choice (I used organic blueberries – frozen/thawed)

1 cup

water (coconut water or coconut milk are tasty options)
About

1

T of honey or maple syrup (Optional.  Taste your purée before adding sweetener to taste.  My son doesn't mind these pouches being not-so-sweet).

⅓ cup

chia seeds
Instructions
Blend fruit and liquid till smooth.  Add to a bowl/jar.  Add chia seeds and stir to coat.  Soak overnight.  Give the mixture a good stir to combine and spoon into your food pouches.  If this mixture is really thick you can add extra liquid to thin it out.  I tend not to fill the pouches to capacity (my son doesn't notice) and this mixture will fill about 5-7 of the pouches.  Refrigerate and eat within 2 weeks.  I do keep these cool for longer trips but they have been fine in my purse for a quick snack.
I hope you enjoy this simple recipe and please let me know what you and your kids think. Do they love the chia squeeze pouches from the store? This is so much cheaper and has a lot less sugar. For more yummy kids snacks, see my fruit roll up recipe!