How to Make Paleo Mayonnaise – Recipe
Delicious mayonnaise! It's one of my all-time favorite foods. Here's how to make the real food, healthy version, that also happens to be Paleo! The best thing about homemade mayonnaise is the incredible flavor.
What's Up with Faux Food Mayo?
In my pre-paleo, real food days, I was a big fan of Miracle Whip. I would put that stuff on everything. The white stuff that looks like mayonnaise, sort of tastes like mayonnaise, but is full of ingredients that hardly resemble real food. It's what I like to call a "food-like product." There are numerous brands of mayonnaise available, most of which are full of questionable ingredients.
Let's take a look at the ingredients in Kraft Miracle Whip: Water, Soybean Oil, Vinegar, High Fructose Corn Syrup, Modified Cornstarch, Sugar, Eggs, Salt, Natural Flavor, Mustard Flour, Potassium Sorbate as a Preservative, Paprika, Spice, Dried Garlic. Doesn't look very real to me.
I used to be on a chronic low-fat diet and thought that consuming the light version was better for me. Wrong. The ingredients are even worse with added artificial sweeteners like Sucralose and Acesulfame Potassium. Yikes!
These "food-like products" were not helping me get healthier or lose weight. I was riding a roller-coaster of weight loss/gain, depression, brain fog, and overall poor health. Something had to change. I stopped buying foods with ingredients that are overly processed (how do they get syrup out of corn!?). I slowly switched out my favorite "food-like products" for real food. I found renewed health, improved digestion and weight stabilization. One real food at a time. What is one switch you can make today with minimal time, money and ingredients? You guessed it, mayonnaise! I will walk you through how I make my paleo mayonnaise and hope that you will give it a try.
Gather your ingredients and let's get started!
Mayonnaise is an emulsion. An emulsion is the combining of two liquids that typically don't mix (i.e. lemon juice & oil) with the use of an emulsifier (egg yolk). Read more about the science behind emulsions here. Emulsions can be a bit intimidating. If you "break" the emulsion then you'll end up with runny, watery mayonnaise. I've tested a dozen different methods, trying to find one that is tasty, quick and reliable. Other methods I've tried called for a painfully slow drizzle of the oil while blending in a blender or food processor. That was time consuming and made more dirty dishes than I wanted to deal with. The method I share here is simple and you'll only end up with one item to wash. This method is 99% fail-proof. If it fails, meaning the emulsion broke, then I can usually chalk it up to impatience and/or forgetting an ingredient. It's called Mom Brain and it's real y'all.
For the oil, I love using avocado oil. This brand is wonderful and has a mild taste that works perfectly in mayonnaise. Most any oil will do. I've used macadamia oil, light olive oil and even walnut oil. I have used extra virgin olive oil in a pinch, but I wouldn't recommend it. It ends up with a slightly bitter taste. Stick to mild, healthy oils that you already use and love.
The other ingredients are simple. Dijon mustard, half a lemon, a tablespoon of water and a fresh farm egg yolk.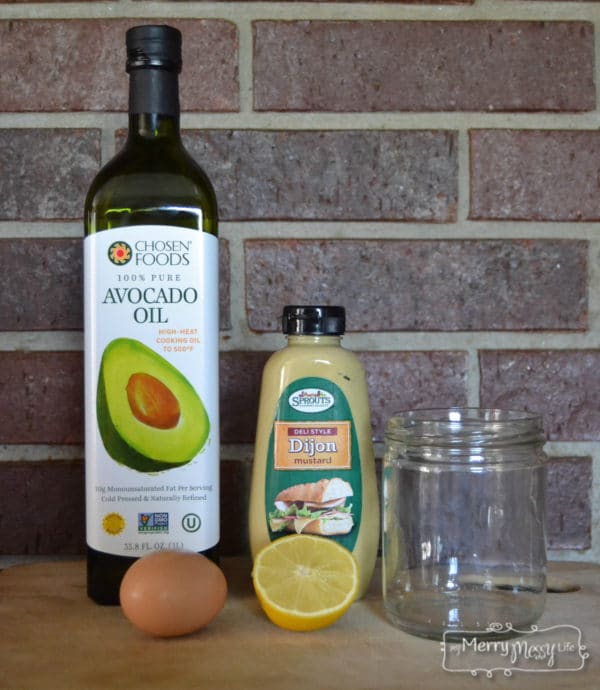 How to Make Paleo Mayonnaise
Crack your egg yolk into a glass jar. Add one tablespoon of water, juice of half a lemon and a squirt of Dijon mustard. I don't measure the mustard but it is about a teaspoon give or take.
Add one cup of oil and let the jar hang out on your counter for an hour or so. The goal is to allow all of the ingredients to reach room temperature. Do NOT rush this part. You'll end up with a broken emulsion. This is a good time to do a load of laundry, wash dishes or watch the latest episode of Shark Tank. Then, if you're anything like me, you'll completely forget you were in the process of making mayonnaise until hours later. Perfect!
The only piece of equipment you need is an immersion blender. If you don't have one, I highly recommend adding this versatile tool to your kitchen arsenal. It makes whipping up mayonnaise a breeze. It's super easy to clean and inexpensive! I also use it for blending soups, gravies, sauces and fruit (think applesauce) right in the pot.
Stick the immersion blender into the bottom of the jar and turn it on. Slowly pull the blender up to the top of the mixture, allowing the oil to blend into the other ingredients that have settled to the bottom. You'll see the oil suction down turn a creamy white. This is the emulsion happening right before your eyes!
As you draw the blender to the top of the mixture, you may need to tilt it slightly to get all the oil combined into the mixture. Don't over blend, as this could break the emulsion.
Voila! Tasty, creamy, thick, spreadable mayonnaise. Made with simple, real ingredients.
I go through two batches of this a week as I use it as a base for nearly all of the dressings and sauces that I make. I'll be sharing a few variations to this recipe as well as my favorite mayo based dressings in an upcoming post. It is perfect as is for deviled eggs and tuna salad.
Print
How to Make Mayonnaise
Who knew that mayonnaise was so simple? Make your own with just a few ingredients.
Author:
Yield:

1 cup

1

x
Category:

Sauce
1

egg yolk from a healthy pastured chicken

1 tablespoon

water

1 teaspoon

Dijon mustard (regular mustard works too)
Juice of

half a

lemon (lemon juice will work in a pinch but I have the best luck with fresh lemons)

1 cup

of healthy oil (Avocado, Macadamia, Walnut, etc.)
Instructions
Add ingredients to glass jar.
Allow the ingredients to come to room temperature (1 hour +/-)
Using your immersion blender draw the blender up from the bottom of the jar allowing all of the oil to emulsify into the mixture.
Spread on everything and enjoy!
Notes
Get the kids involved! They will have fun watching the oil magically turn to mayonnaise.
Lasts 2 weeks or more in the refrigerator.
Please give this recipe a try and let me know what you think!