Ingredients to Avoid in Curly Hair Products
It can be so confusing to know which ingredients are healthy for your curly hair, and which ingredients to avoid in curly hair products. You might feel like you have to become a chemist just to decipher the labels! To save you time and research, you can benefit from my research instead. Make sure to save this post so you can read labels to find the best products for your curls!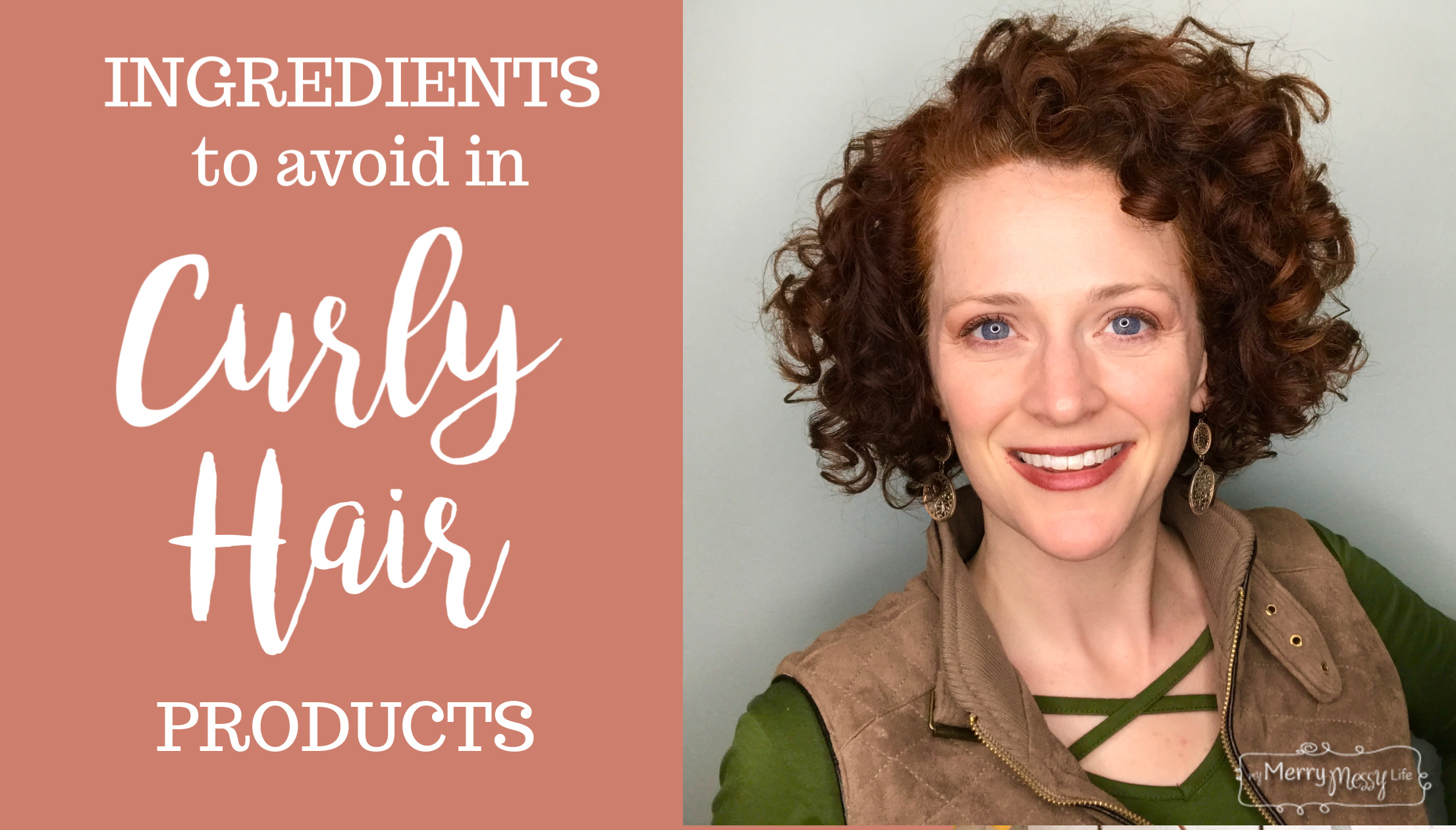 Avoid Sulfates
Sulfates are harsh detergents that strip oil and dirt out of your hair so well, they actually deplete the naturally produced sebum that moisturizes your hair. While sulfates can be beneficial for hair that gets oily quickly or has looser curls, they're usually a no-no for drier curly hair. Here are the ones to avoid:

Alkylbenzene sulfonates
Alkyl Benzene Sulfonate
Ammonium laureth sulfate
TEA-dodecylbenzenesulfonate
Ammonium lauryl sulfate
Sodium cocoyl sarcosinate
Ammonium Xylenesulfonate
Sodium C14-16 Olefin Sulfonate
Sodium laureth sulfate
Ethyl PEG-15 cocamine sulfate
Sodium lauryl sulfate
Sodium lauryl sulfoacetate
Dioctyl sodium sulfosuccinate
Sodium myreth sulfate
Sodium Xylenesulfonate
Check out my Amazon storefront here to know which products I recommend getting. These range from high end to bargain brands, and accessories like sleeping bonnets and diffusers. I've covered it all and make shopping easier for you!
Gentle cleansers that are non-drying and safe for curly hair:
Cocamidopropyl betaine
Coco betaine
Cocoamphoacetate
Cocoamphodipropionate
Disodium cocoamphodiacetate
Disodium cocoamphodipropionate
Lauroamphoacetate
Sodium cocoyl isethionate
Behentrimonium methosulfate
Disodium lautreth sulfosuccinate
Babassuamidopropyl betaine
Avoid Silicones
Silicones are synthetic resins and are found in many hair products due to their ability to add shine and condition the hair. Sounds good, right? Well, the problem is that they are not water soluble, so they produce build up on the hair and scalp that no-poo shampoos cannot remove. There are many different names for them, but to keep it simple, anything ending in: "cone," "conol," "col," or "xane," should be avoided. Also, the only exceptions here are those ingredients with the abbreviations "PEG" or "PPG" in front of them. This abbreviation will alert you that they were made to be water-soluble, and won't produce the build-up other silicones are known to cause.
Cetearyl Methicone
Cetus Dimethicone
Dimethicone
Dimethiconol
Stearyl Dimethicone
These are a little better but still can cause buildup:
Amodimethicone
Cyclomethicone/Cyclopentasiloxane
Trimethylsilylamodimethicone
Here are some water-soluble ones that do cause buildup over time (just slower):
Behenoxy Dimethicone
Stearoxy Dimethicone
Avoid Mineral Oils
Minerals oils are a derivative of crude oil (petrolatum) that is refined into a slippery liquid. They are lightweight and inexpensive, which is why so many companies use it. It coats the hair like silicones do, blocking the hair from getting water. So at first it can make the hair shiny and soft, but then actually ends up drying hair out and takes a strong sulfate shampoo to remove.
Can Clog the Pores
It also is considered to be comedogenic, meaning, it clogs the pores. Therefore, this is NOT good considering we want our scalps to be clean and clear so that our hair can grow healthy and strong! Plus, if it washes down onto your neck, face, shoulders and back, it can contribute to pimples and acne.
Can Contain Many Toxins
There are different grades of mineral oils and there are many chemicals used in the refining process. Some studies have been done that have concluded it does contain toxins, but the result to our health is still undetermined. (Read more here.)
Avoid Drying Alcohols
Not all alcohols are bad, but there are some ones that are too drying for curly hair. The drying alcohols are short-chain ones, and the moisturizing ones are long-chain, fatty alcohols that come from plants, animals and oils.
SD Alcohol 40
Ethanol Alcohol
Ethyl Alcohol
Propyl Alcohol
SD Alcohol
Propanol Alcohol
Isopropyl Alcohol
Optional: Artificial Fragrances
Avoiding artificial fragrances is really more of a personal choice as fragrance doesn't affect the health of your hair (that we know of!). It's not always possible and I will buy products that have artificial fragrances in them if the scent is isn't too strong or I just LOVE the product and it what it does for my hair.
So the main I avoid fragrance is that it stands for more than 3,000 different chemicals! Some are known to be carcinogenic and irritating, but since the actual chemical isn't disclosed, we don't know if it's a safe or a toxic one. I know many people who get headaches from strong scents, too.
Brands that contain no artificial fragrances are usually organic ones like InnerSense Organics, and many of Shea Moisture's products are scented with essential oils.
Irritating and Toxic Preservatives
Preservatives are a necessary ingredient to keep hair products shelf-stable, but some are very irritating and considered to be toxic.
Formaldhyde – a common preservative (I mean, duh, to embalm the dead (blech!) that is known to be carcinogenic to both animals and humans. No cancer, thank you!
These preservatives release formaldehyde: Diazolidinyl urea, DMDM, Hydantoin, Glyoxal, Imidazolidinyl urea, Polyoxymethylene urea, Quaternium-15, Sodium hydroxymethylglycinate
Methylisothiazolinone – is a common preservative in hair products, linked to lung toxicity, allergic reactions, and possible neurotoxicity.
Parabens
Parabens are very effective, cheap preservatives that are naturally found in plants. And they also prevent harmful mold and bacteria from growing products. But many also consider them to be xenoestrogens, which can disrupt hormones and even pose a cancer risk. For example, parabens have been found in breast cancer cells, which indicates that parabens may act like estrogen in the body (source).
The most common parabens are methylparaben, ethylparaben, propylparaben, butylparaben, isopropylparaben and isobutylparaben.
Phthalates
Phthalates are a group of chemicals used to soften and increase the flexibility of plastic and vinyl. So the health effects of exposure to phthalates are not yet fully known but are being studied by several government agencies.
One phthalate, Di (2-ethylhexyl) phthalate (DEHP), is an endocrine disruptor and can cause cancer. Some phthalates may affect human reproduction or development.
Phthalates had been used to make pacifiers, soft rattles, and teething rings. However they have not been allowed in those products since 1999. So I don't know about you, but I'm not excited to have them in my beauty and hair products, either!
Check out all of my curly hair articles here!
Download my FREE Curly Girl Cheat Sheet below to get graphics for each of these sections to keep on your phone!