Moroccan Chickpea Vegetable Soup Recipe
It's been so chilly up here in New England it's a perfect time to use some fresh veggies in a delicious flavorful soup! This Moroccan chickpea vegetable soup recipe is super easy to prepare, even with kids running around! Plus it contains all real ingredients, nothing processed so it's healthy and guilt-free.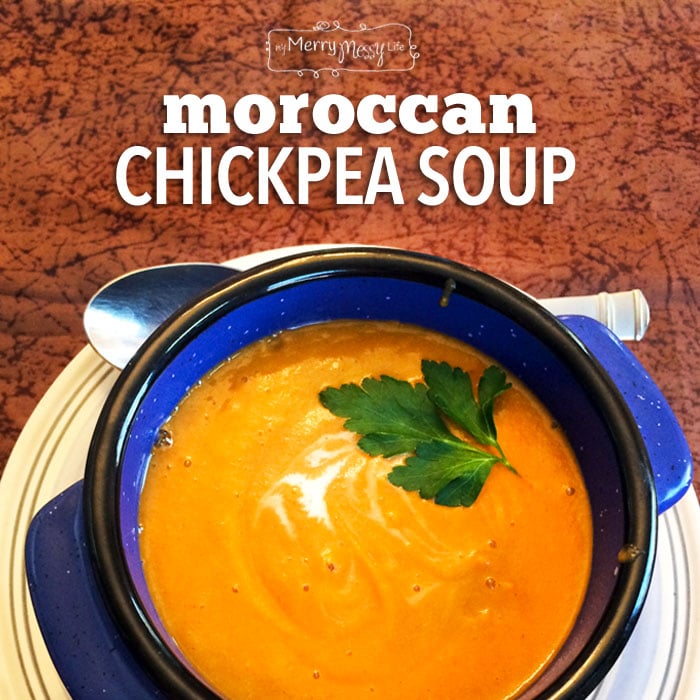 Beans, beans, beans. Why I love beans!
Last time I talked about couscous and how much we eat it in my household, since my husband is from Morocco and my mother-in-law stays with us for months on end. Chickpeas are another staple in our household. We normally have bags of dry chickpeas in the closet and you will often see a bowl of them soaking on the counter.
Chickpeas, or garbanzo beans, are so important for healthy living. I love all beans equally and for different reasons – kind of like children!
When I was pregnant and breastfeeding, my mother-in-law would specifically make foods with chickpeas for my breastmilk production and my overall postpartum health. Chickpeas boost your energy because of their high iron content so they are wonderful for menstruating women, pregnant or lactating women and growing children.
Because of their saponins that act as antioxidants, they can lower the risk of breast cancer, protect against osteoporosis and minimize hot flushes in post-menopausal women. Also, due to high fiber content and low glycemic index rating, chickpeas are excellent for weight loss diets. Salad with chickpeas are tasty and can keep you full longer, controlling the appetite.
Making this Soup is So Fast and Easy
You basically just throw everything in the pot and cook it – preferably in a pressure cooker
. Have you ever used a pressure cooker? See my post about how to use a pressure cooker – they are really not scary and very efficient! But you can also cook on the stove or crockpot! After you are done cooking, you just need to purée using a blender
. Voila! It's done and you can serve with some crusty bread or pita.
Print
Moroccan Chickpea Vegetable Soup Recipe
This moroccan soup is a wonderful quick dinner any day of the week!
Author:
Category:

Vegetarian

Cuisine:

Moroccan
4 tablespoons

olive oil

1

onion, chopped

3

garlic cloves, crushed

1 tablespoon

paprika

1 tablespoon

coriander

2 teaspoons

cumin

2

thyme sprigs
pinch of red pepper flakes

1

can chickpeas, rinsed or

1 cup

dry chickpeas, soaked and boiled

6 cups

vegetable stock

1

large potato

2

carrots, sliced

2

celery stalks, sliced

3

tomatoes, chopped

3 tablespoons

fresh cilantro
salt and pepper
Instructions
Heat the oil in a saucepan. Add the onion and garlic and dry for 5-7 minutes or until softened and beginning to brown. Add the paprika, coriander and cumin and stir for 2 minutes.
Add thyme, red pepper flakes, chickpeas and stock. Bring to a boil, then cover the pan and simmer the soup for 40 minutes.
Add the potato, carrots, celery, tomatoes and cilantro to the pan. Cover and simmer for a further 30-40 minutes or until the chickpeas and vegetables are tender.
Season to taste and serve.
Go to Five Spot Green Living for more
Moroccan Food
recipes!