Mud Pie Kitchen Fun with Kids – Preschool Activity
There's something so primal and animalistic about mud. It's cold, wet, slimy, sloppy, sticky, gooey and brown – a sensory bin at it's finest. Recently, I let my kids tap into their inner cave boys and go to town in it. It was quite the success and a great way to kill a couple of hours on a lazy summer afternoon.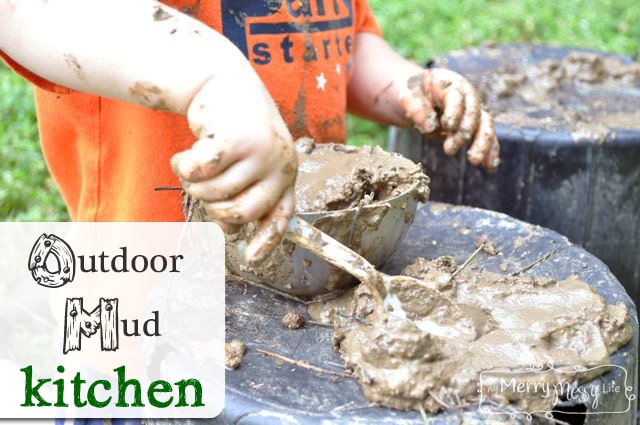 I don't remember making mud pies as a kid, but I probably did, as we played outside all the time. It seems like I remember my grandparents telling stories of making them, but now's it become something gross and dirty, even germy, and kids just aren't getting dirty outside like they used to.
I didn't used to be this way – I used to be a ballet dancer, always dolled up, 3-inch heels, never left the house without makeup, and spent every dime on new clothes. Now? I'm married to a man who loves the outdoors and has trained his three sons to be the same. I've become so accustomed to their dirtiness that tonight at dinner, I looked across the table to see our oldest with dirt smeared all over his hands, chins, and cheeks, eating veggies with those bare nasty hands. I had to laugh so I wouldn't go crazy!
Ironically, I was inspired by an outdoor mud kitchen that I saw on Rhythm of the Home, where she makes playing in the mud look almost glamourous. The pictures are just beautiful and I unwisely thought our experience might look the same. Ha! I didn't have any pallets lying around, but I do have buckets, plant pots, muffin tins, bowls and utensils…and two precious boys who are crazy nuts about getting their hands dirty and playing outside.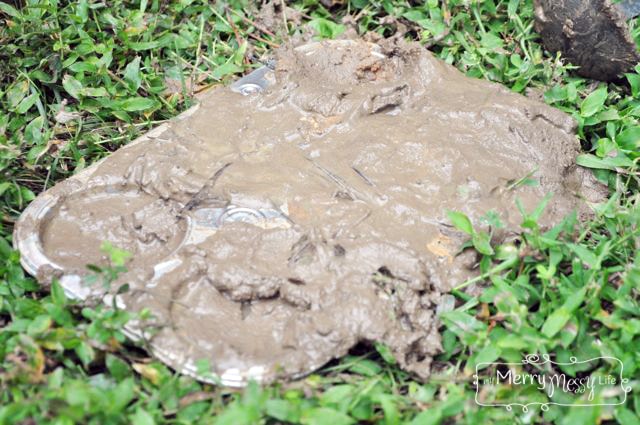 I hope this also inspires you to let your kids just be kids sometimes and give them an opportunity to be allowed to really play and get dirty (without instruction). And it doesn't have to be glamorous or complicated to be fun – just grab whatever you have in your kitchen and garage and get outside. It's a true invitation to play.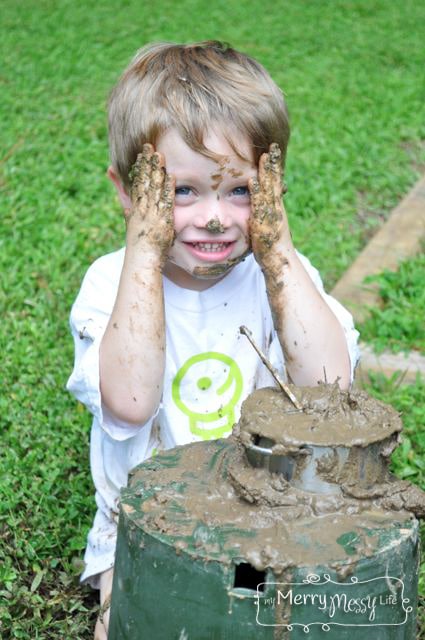 Because I gave them kitchen utensils, they naturally pretended to cook in their kitchen, without any prompting from me. Baby Griffin and I just sat and watched the fun take place.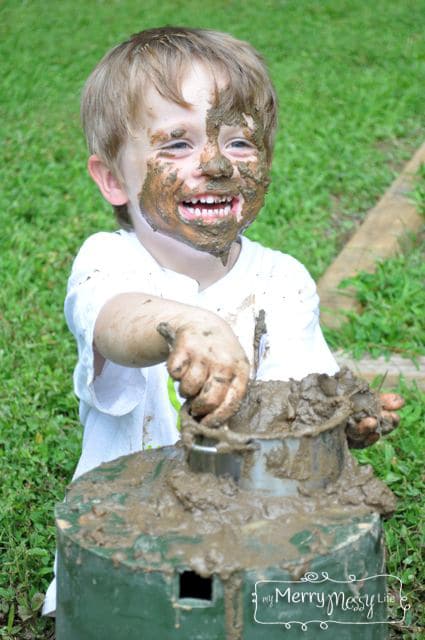 And fun they had! We used the hose to make some dirt I dug from the woods really wet. If we were picture perfect, then we would've had charming little tree stumps on which they could work. Instead, I had a few plant pots leftover that served as perfect tables. Thankfully, we have a utility sink in the garage, so I put the baby in his bouncy seat, stripped down his brothers and scrubbed them off out there. Otherwise, it would've been with the hose outside because they were covered in muckity muck!
If you're really brave, invite some friends over and share the fun!