New Link Party! Hookin' On Hump Day #1 – Fiber Arts Party
I'm so excited to start a new Wednesday link party (thus, the Hump Day reference), just for those of us into fiber arts like crochet, knit, sewing, felting, and anything related to fabric and yarn! To jump off my first party, I'm co-hosting with the lovely Katie from Little Becky Homecky! Please visit her site to show her some love, too. I will choose my three favorites each week and feature you here on my blog and on Pinterest. Most of my followers are into crocheting, knitting, and sewing, so it's sure to drive traffic to your site to link up!
All I ask is that you link back to me by either text link https://mymerrymessylife.com or by including the button below. Thanks!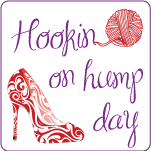 Last week, I had a whole crochet series called "Brace Yourself" where I wrote 2 bracelet patterns (one shell bracelet and one bracelet cuff) 2 flower patterns (easy, tiny flower and 3-D flower) and 1 tutorial for the V-stitch and then guest-posted on Little Becky Homecky with a tutorial on increasing and decreasing in crochet! Whew, it was a BUSY week! But man, the more I post, the more my mind fills with ideas for more posts.
We are excited to see what masterpieces you have created recently!