Preschool Learning Activities – Montessori Math and Language Works and Trays
We have just started preschool at home with our oldest, he's four, and here are the Montessori inspired trays we are introducing to him! The activities in these trays could be used in any preschool classroom, for a busy bag, supplemental preschool at home, or a Montessori homeschool and are very budget friendly.
 Gabe is at the age where he asks "why?" all the time and he has an insatiable appetite for learning his numbers, letters, shapes, colors, and even wanting to learn to read. I started teaching him at home about nine months ago, and I was amazed at how quickly he learned what I taught him. I stopped preschool a few months later when our third child was born, and he hasn't forgotten anything even with the break in between.
After doing a lot of research on my own, I chose the Montessori and Waldorf methods on which to model our schooling. I love how both philosophies are child-led (but still organized and directed by the teacher/parent), rely heavily on art and music, create an environment of peace and organization, and teach responsibility at a very young age. So, in order to get myself organized, we bought a few bookcases from IKEA and I put together some activities for him.
How Is It Montessori Inspired?
I call this Montessori-inspired because I'm not using traditional Montessori materials. But the way I am implementing the activities is Montessori based. Why? The trays sit on bookshelves where my kids can choose which activities they want to do (which makes it child-led). They determine how long they want to play with the activity. They must clean up each tray completely and put it back on the shelf before picking another. If there is an activity they rarely chose (usually one that is either too hard, too easy, or something to which they can't relate), I switch it out for a new activity. If they ask for help, I help them. Anytime I put out a new tray, I demonstrate how to use it. Then, I let the kids play with it on their own, unless they ask for help or company. I'm there for support.
Math Works
Pattern Blocks
I bought this fab set of pattern blocks (where to buy) that comes with the blocks and activity sheets. Gabe really likes this one – it teaches color and shape recognition and how to make patterns, all of which are the building blocks to math education.
For my younger son (who's nearly 2 1/2), we have this beginner pattern block set from Melissa and Doug (where to buy). He wasn't able to do it until I sat down with him and demonstrated it a few times. Now he enjoys grabbing it off the shelf and is able to do it himself!
Button Counting and Sorting
The kids enjoy this tray because the buttons are so much fun to play with, pouring them out of their hands (which, believe it or not, is also learning, so they are allowed to play with them in our school room). I bought a bag of buttons at Wal-Mart for a couple of bucks (like this set on Amazon) and saved a cardboard egg carton (an idea I got from The Measured Mom). The great thing about the egg carton is you can use any manipulative you've got around the house (toothpicks, rubber bands, paper clips, your own buttons) to teach counting.
Ice Cream Counting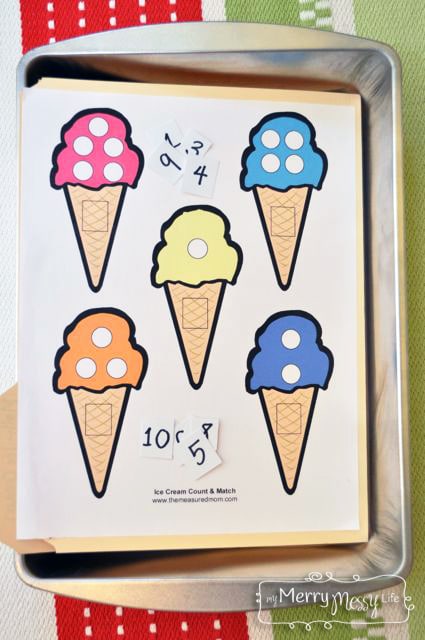 What kid doesn't love ice cream? Mine were attracted to this because of the ice cream and even my younger one likes to do it. He's not able to count yet, but he likes to place the number cards in the squares on the cones, which is good motor skill practice. I also got this free adorable printable from The Measured Mom.
Language Works
Water Beads and Dot Worksheets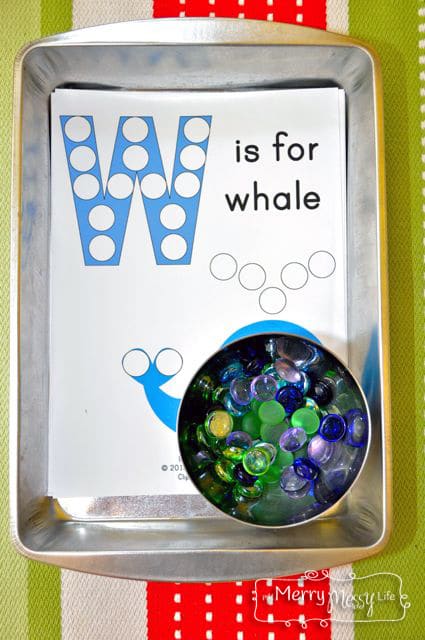 This is a tray to develop both fine motor skills, learn letters and how to write them, and form patterns. So, it really spans across language and math and even into practical life. The kids place flat water beads (which I bought at Wal-Mart for $5 for a bag of a TON of them – in the craft section) on the dots. These are actually do-a-dot worksheets to use with do-a-dot markers, which the kids also love to do, but this way it can be done over and over. I got the adorable printables from The Measured Mom – she has one for every letter and they are all SO cute! You can also laminate these worksheets and have them use dot stickers. But my kids love playing with the water beads and enjoy the sounds they make as they clink against each other.
Spelling Cards
This tray is perfect for Gabe since he's so interested in learning to spell and read lately. I bought a jar of alphabet letters (Eureka Tub of Letter Tiles – 176 tiles (where to buy)) for about $10 at JoAnn's and they fit PERFECTLY with these spelling cards! It's great because the child learns their letters and how they work to make a word. I put only the letters he needs for the cards in the tray to keep it uncluttered and easier to do.
Check out my other post on using water transfer to teach practical life skills, another Montessori concept!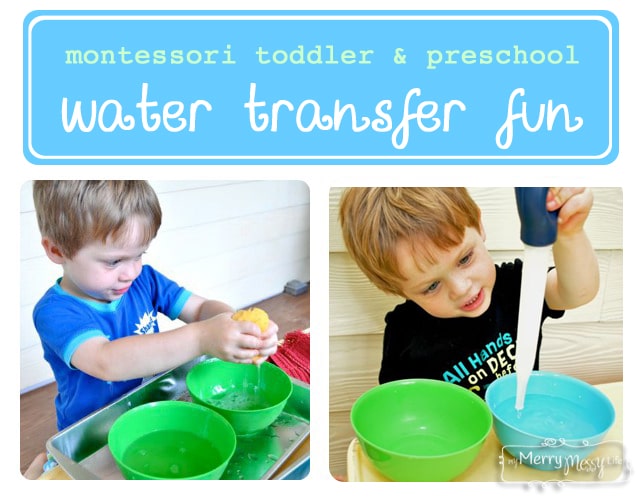 This post is being shared at Montessori Monday at Living Montessori Now