How to Clean House by Zones – FlyLady Zone Cleaning System
I've been using the FlyLady zone cleaning system to keep my home clean and decluttered and wanted to share it with you! The best part is, I'm not spending hours a day cleaning. I do only 15 short bursts spread throughout the week. As a mom of four, this works so well for me!
I'm Loving the FlyLady Zone Cleaning System
I'm having so much fun using the FlyLady System to keep my home clean and organized! I never thought I'd say that I like a cleaning system! LOL #adulting. But when something reduces your stress and overwhelm as much as it has for me, I'll say I love it. It's a flexible system that works for REAL moms, not perfect Pinterest-y moms, but REAL ones like you and me!
It's not meant to add anything else to our to-do lists, but it's meant to help us consistently keep our homes clean, decluttered, organized and peaceful. What it also does is help to alleviate mental stress and mental clutter. I've been amazed at how much more calm I've been feeling because I no longer have to-do lists I'm rattling off in my head. The routines and organization have really helped me to feel more calm, more direction and more purpose.
I learned about this system from the delightful Diane in Denmark, on her YouTube channel and Instagram. I also learned from Sink Reflections, a book by the creator of the method, Marla Cilley.
How Does Zone Cleaning Work?
1 – Organize Your House into 5 Zones
First, you organize and divide your house into five zones. In the next few weeks, I'll be writing blog posts that go into detail for each zone. Then you can copy and paste my lists to start your own!
Zone 1 – Entryway/Front Porch/Dining Room
Zone 2 – Kitchen (I added the laundry room because my laundry is right off of my kitchen)
Zone 3 – Bathrooms – Kids' Bathrooms, Guest Bathroom, Main Bathroom & Another Room of Your Choice (For me this is the Kids' Bathroom, kitchen half bath, and the basement bath, and the basement kitchen)
Zone 4 – Master bedroom and bath, also closet
Zone 5 – The Living Room (We have 2 living rooms, so I clean both of those. I keep these areas clean and tidy on a regular basis, so sometimes I add the garage into this zone).
2 – Deep Clean in Each Zone for 4-5 Day Segments
Next, you divide up the month into 4-5 day segments. Each segment you clean one zone. You can see the Flylady's zone cleaning schedule on her website here.
3 – Set at a Timer and Clean for Just 10-15 Minutes a Day
Then each day, you set at timer and spend only 10-15 minutes cleaning items from your own personalized list in that week's zone. You may not get around to cleaning everything on that list, and that's okay! Next month, you can clean what didn't get done from the last month. I start with the most dirty things or areas.
So, why clean for only 10-15 minutes at a time? So that you don't get burned out. If we spend 2-3 hours cleaning one day, we are likely to not want to clean at all for the next few weeks!
Cilley's system is all about consistently keep up with cleaning and decluttering. Before I would go through cycles where the house is clean and organized, and then dirty and cluttered. I didn't realize it at the time, but that way of life was stressful. It also kept me from enjoying our space as much as I do now that it's consistently clean and decluttered. I'm also more likely to be social and have friends and family over, because I don't have to frantically run around cleaning before they come!
I don't know about you, but if my house is messy and dirty, I am NOT in a good mood! Happy wife, happy life, right?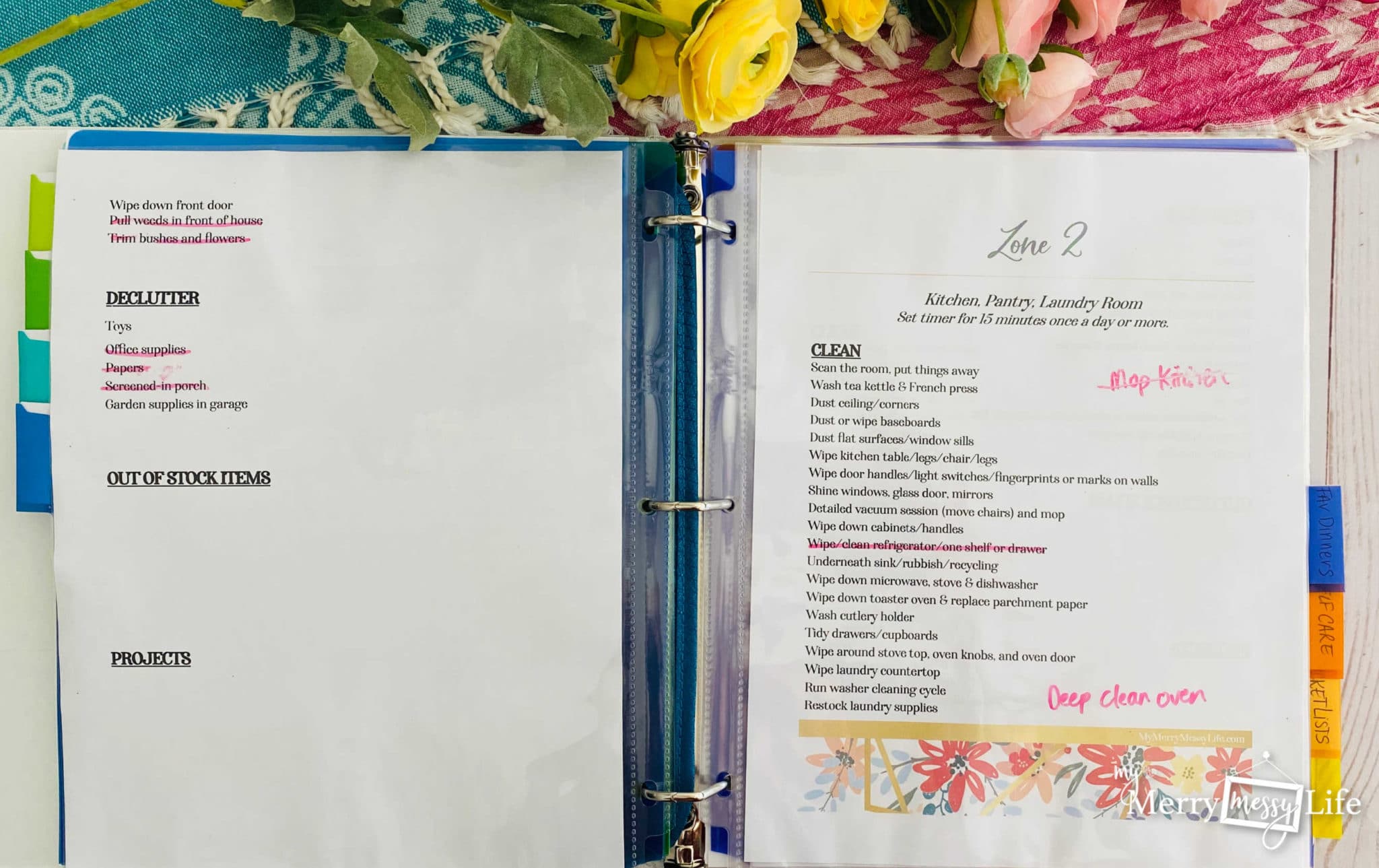 Keep your FlyLady Zone Cleaning Lists Organized in a Home Control Journal
In my Home Management Binder, I have my five zone cleaning lists written out in detail. There are also detailed zone cleaning lists in Cilley's book, Sink Reflections. It's an easy read and I really enjoyed it!
More Cleaning & Decluttering Posts You Might Like!
If you liked this post and would like to learn more about the FlyLady system, check out these other posts on my blog!