The Dromma Bed – Natural, Eco-Friendly, Memory Foam Mattress
Finding a good quality, natural and affordable mattress is very hard these days. Most mattresses on the market contain very toxic chemicals like flame retardants that off-gass and can really affect our health. It's important to have a mattress that is both safe and comfortable, since we spend 8 hours a night every single night sleeping right on top of it!
Labor Day Sale! $80 off any mattress purchase at Drommabed.com. Click on this link and enter code: LABORDAYBED80 at checkout. Offer Valid: 9/01/16 – 9/05/16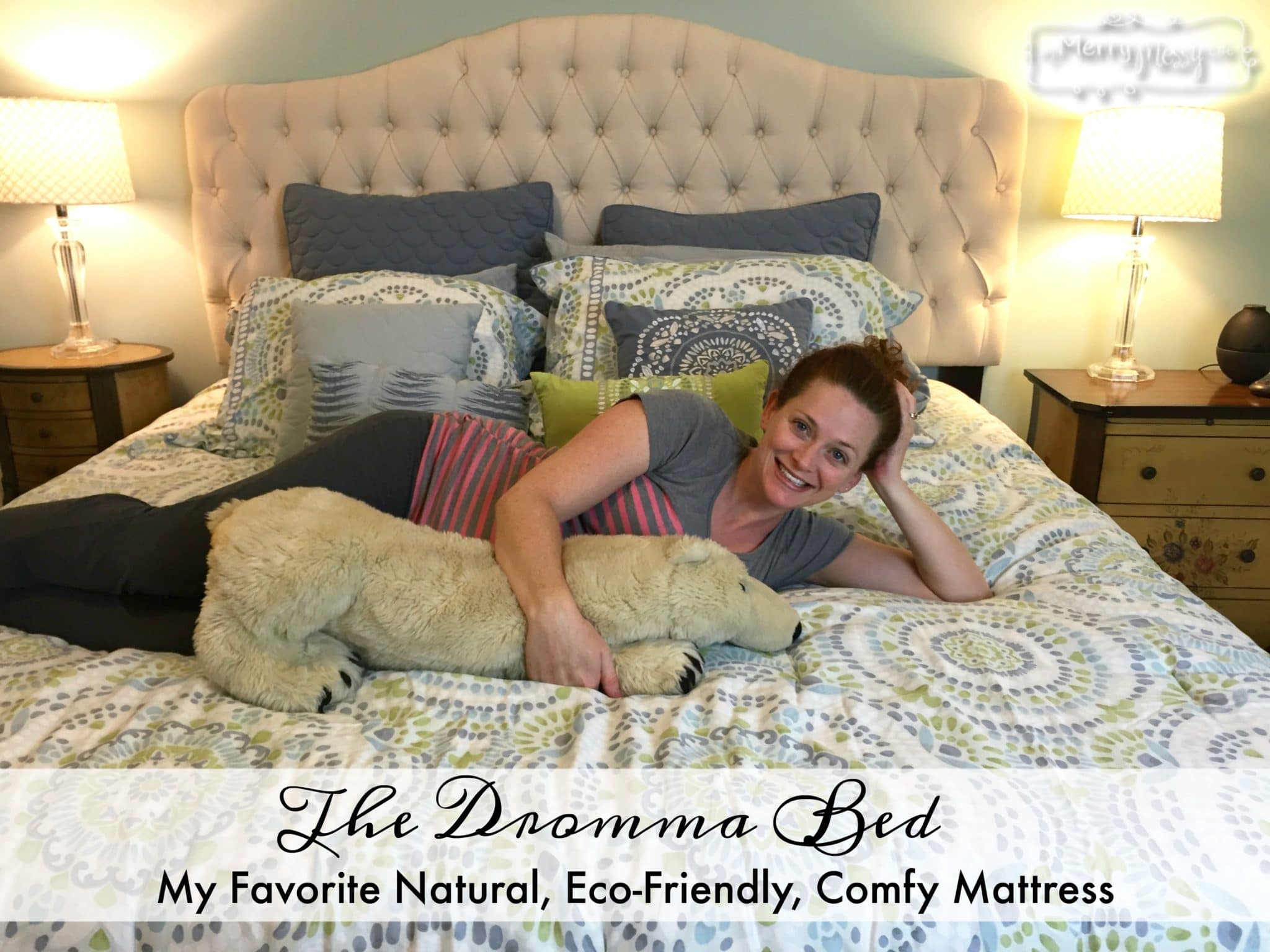 We've had the same mattress for 8 years, and let's just say, it was in bad shape. I've been pregnant since January (39 weeks now!) and have been miserable at night since about the sixth month mark. I get horrible round ligament cramps in my lower belly and I'd wake up with a really stiff back. My husband has trouble with an old shoulder injury and often can't fall asleep at night. Sounds like we are getting old, doesn't it?! Our chiropractor has helped a lot, but I knew our mattress was a big part of the problem.
So I was really excited when Dromma Bed contacted me to see if I'd try out one of their eco-friendly, memory foam mattresses!
Unboxing – Like a Trip to Disney World!
You would've though we had taken the kids to Disney World when we unboxed the bed! They thought  it was a TON of fun! In the picture above, you can see it's shipping size. Small but HEAVY – you need two strong adults to get it out for a king size.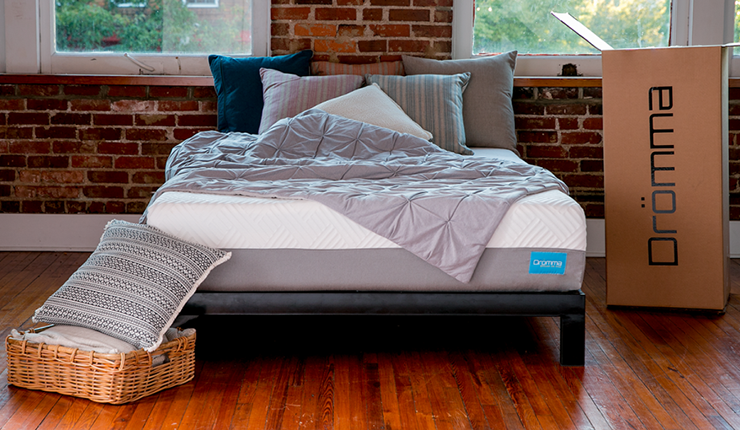 Here are it's benefits:
Made entirely in America!
Made from eco-friendly and natural materials
Very low to no off-gassing (this is VERY important to our health)
Soy based memory foam (NOT petroleum based, which is the dangerous stuff)
Dromma is CertiPUR-US which means their mattress do not contain as PBDE, a very toxic flame retardant, nor formaldehyde or other toxins.
Comes in two styles – Medium-Soft and Medium Firm
Has all the comfort of memory foam mattresses without the HUGE price tag!
Free shipping to your doorstep, so it's very convenient, and ships within 2-5 days
Affordable – Twin $549, Twin XL $649, Full $749, Queen $849, King $949 and they do have sales from time to time
Comes with a removable cover so you don't have to buy one!
200-night risk-free trial – you can get your money back in 200 nights if you don't like it! (Then they donate your used mattress to charity).
Get the mattress here – and use code DROMAGET75 for $75 off!!
Medium Soft or Medium Firm?
According to Dromma Bed, Medium soft is ideal for side and stomach sleepers, and the Medium Firm is ideal for back sleepers, sprawlers, and bed hogs.
What Kind of Bed Frame Do You Need?
And all you need for this bed is either a platform bed frame, a bed with slats, the floor, or even a bed with a box spring works, too. So there are a lot of options that will hopefully work with the existing bed you already have (or in my case, you're tired of your bed and wanted to get a new one!). Here's where I got my headboard (just under $200!!) and here's where I got the platform bed with slats. The slats are flexible so it gives even more cushion and support and there is 13″ of clearing under the bed. I have all our clothes for the next season stored under there, freeing up space in our master closet – yay!!
So What Do We Think?
I couldn't wait to go to sleep the day we got our new bed! I've been so uncomfortable at night for about three months, so it was a big deal to actually look forward to going to sleep!
The first thing I noticed right away as soon as we opened the mattress is that there was NO smell at all, not even a little! And Kevin says I have a dog nose – I can smell EVERYTHING! I thought for sure there'd be a little smell, and if there is, my dog nose didn't pick it up.
The only way I've survived at night on our old mattress was to wear a maternity support belt. For the most part, it keeps the cramps away. So get this – I was able to sleep ALL night long without my maternity support belt, without getting a single round ligament cramp! Wow! I was very pleasantly surprised. Plus, I no longer feel Kevin tossing and turning on his side. He also slept well and didn't have any trouble with his shoulder.
I literally feel like I'm sleeping in a cloud – it just envelops and conforms to my body. It's almost like getting cuddled! I couldn't be happier with this bed and will proudly recommend it.
Get $75 off any of the mattresses at Dromma Bed with code – DROMAGET75 – click here!