A free crochet barefoot flower sandals pattern for the little girls in your life!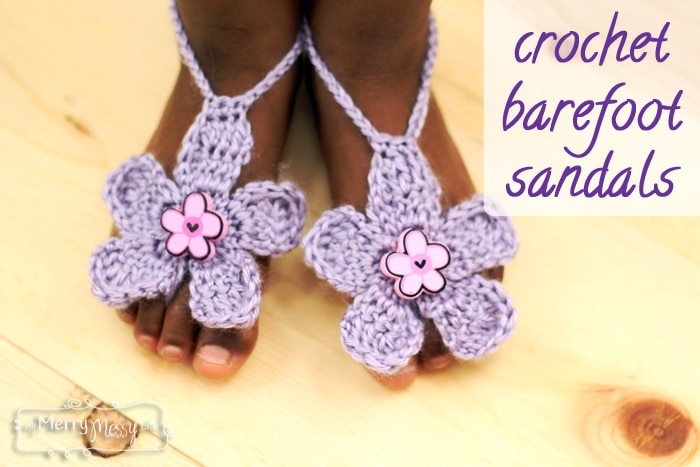 Perfect for Summertime!
Who doesn't love barefoot sandals? I know I do! They are perfect for the beach and pretty much any other summertime activity. Although we don't have a beach nearby, we can still enjoy the fun of decorating our feet.
No Shoes in the House Rule
We have this rule in my house about no shoes. We started taking our shoes off when my aunt and uncle moved in with us. I believe I was about 5 or 6 years old I am not sure, but ever since then it has stuck with me.
The floors stay so clean and so do the bottoms of your feet! Less dirt tracked into the house the less there is to clean up. Call me crazy, but anything that makes my daily chores easier is a win in my book! There is only one problem..
But My Girls Like to Dress Up!
As you are probably realizing from my last couple of posts, my girls like to dress up. This includes princess shoes. Since we don't do shoes in the house other than house shoes, I figured that I should make them some barefoot sandals.
My Free Crochet Barefoot Flower Sandals Pattern Was Born
These are what I came up with and they didn't take long to make at all. They are pretty simple, but I have included a few pictures to kind of guide you through. The girls love them. Nonny is the one who's feet are shown above. Lili is currently wearing this pair with her winter coat and a dress. I love how she has her own style.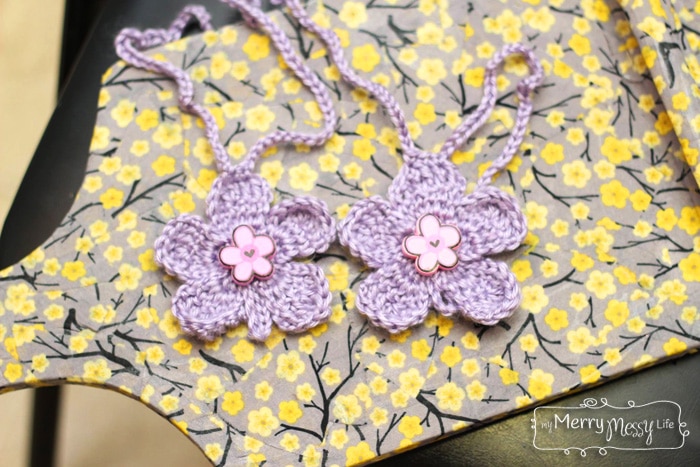 Free Crochet Barefoot Flower Sandals – by Stacey Williams
Materials:
Worsted Weight Yarn
Yarn Needle
Size 7 (4.5) mm hook
2 Beads
Abbreviations:
Sl st- Slip Stitch
Ch- Chain
Sc- Single Crochet
Dc- Double Crochet
Tr- Treble Crochet – Yarn over twice, insert the hook into the stitch, yarn over, pull up a loop, yarn over, pull through 2 loops, yarn over, pull through 2 loops, yarn over, pull through the last 2 loops.
Child Size
Ch 2, dc 4 into the circle. Turn
Ch 2, dc into the next stitch, 2 dc into the next stitch, dc into the next 2 stitches. Turn
Ch 2, dc into the next 2 stitches, 2 tr into the next stitch, dc into the next 2 stitches. Sl st down the side of the petal back to the circle.
Repeat rows 2-4 (4 times)
6. Ch 12, sl st into the circle between the 2 petals to create a loop.
7. Tie off.
8. Ch 45, find the top center petal and sc into 3 the top 3 stitches, ch 45.
9. Tie off.
10. Weave in all of your ends to make sure that it is secure.
11. Sew the bead onto the center of the flower.
You can tie them 2 ways! If you want it longer to wrap around the leg several times, just make a longer chain. (Change the ch 45 to a larger number.)
Done.  I hope you enjoy it making this free crochet barefoot flower sandal pattern! Merry Crocheting!