About two months ago, we switched to using only cloth paper towels (check out how else we use cloth instead of paper products on my Green Homemaking page), and I decided I needed a pretty container in which to hold them so I could proudly display it on the countertop (and encourage us to use them!). In the spirit of green living, I couldn't just go buy something, I wanted to upcycle something I already had, so I used an empty oatmeal container and yarn that needed using up. This ended being the perfect size for cloth towels, and since I didn't need it to be waterproof or very sturdy, the cardboard works just fine.
First up, gather up your yarn scraps and choose the colors you would like. It's a great yarn stash buster, and it uses very little yarn. So, if that's all you've got, then you have enough!
Then, you'll need an oatmeal container that's been wiped clean, a hot glue gun, and scissors.
Attach the yarn to the container, leaving a small tail. Then, wrap the yarn around the container, making sure to overlap the tail. This keeps it clean and neat. Otherwise, it will look like the purple yarn section.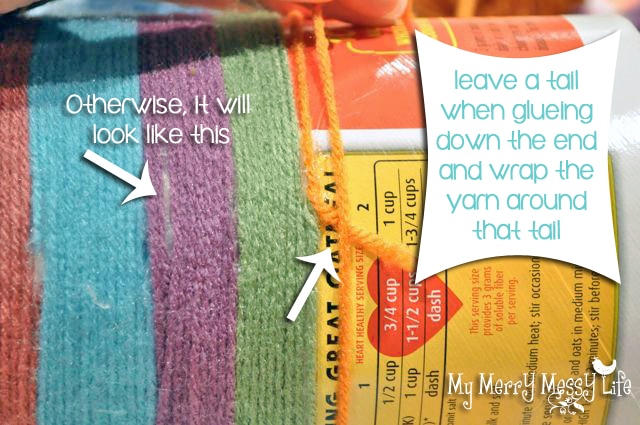 Attach a new color to the end of the previous one, and use the same method as above. Be careful because the hot glue is hot! I sometimes use an old pencil to push down the yarn so I don't burn my fingers.
It took me about 10 minutes to finish this project, which is awesome when you need a craft that has almost instant gratification! I now see every object in my house as one to be potentially yarn-bombed!
This is perfect to hold:
Cloth paper towels
Large paintbrushes for a craft room
Cooking utensils in the kitchen
Small toys or blocks in a kids' room
And so much more!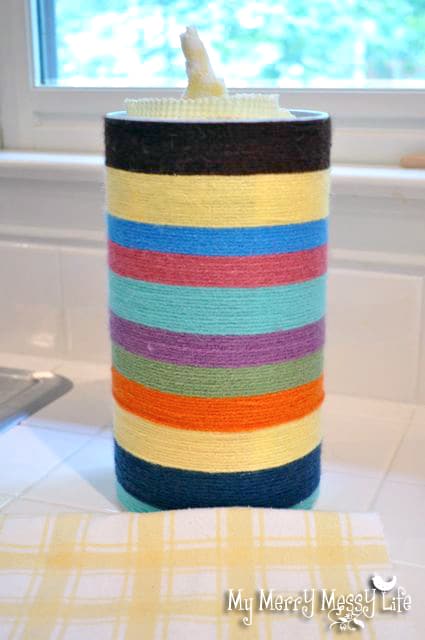 This post is being shared at:
Super Link Party at Earning My Cape
Create & Inspire at A Night Owl