This crochet headband is super cute easy and works up very quickly. The half double crochet mesh pattern measures about 1 inch wide, and you can make it to whatever head size you want by adjusting the beginning chain size. Merry Crocheting!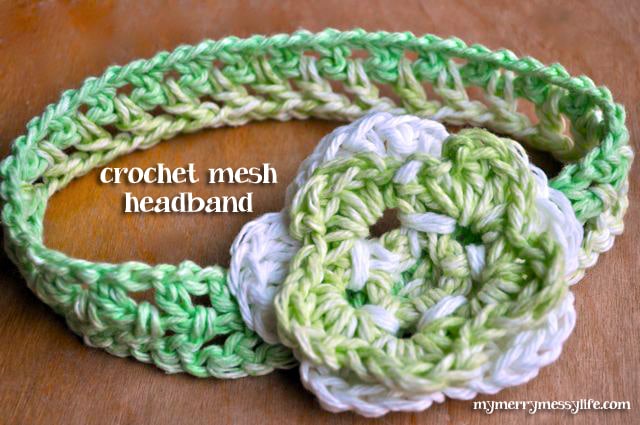 Crochet Mesh Pattern Headband
Abbreviations
Half Double Crochet (HDC)
Chain (CH)
Approximate Measurements for Headbands
Newborn 13″
3-6 months 14″
6-12 months 16″
12 months-tween 17.5″
Adult 18″
The Pattern
Chain to the length desired for the headband (pattern is 3 chains, so make your pattern divisible by 3, then add two extra chains on the end.
In the 3rd CH from the hook, *work a HDC.
CH 1 and skip a chain.
Work a HDC into the next CH.*
Repeat from * the entire length of the headband.
Then, CH 2 and repeat from * on the top. You can continue repeating and adding rows if you want the headband to be wider.
Crochet the flower of your choice and sew or clip it onto the headband.
The Flower
The layered flower pattern comes from: Mom of Five Daughters. I've used this pattern over and over and it looks fantastic every time! It's an intermediate flower. For a beginner one, just follow the first directions for the first flower layer.