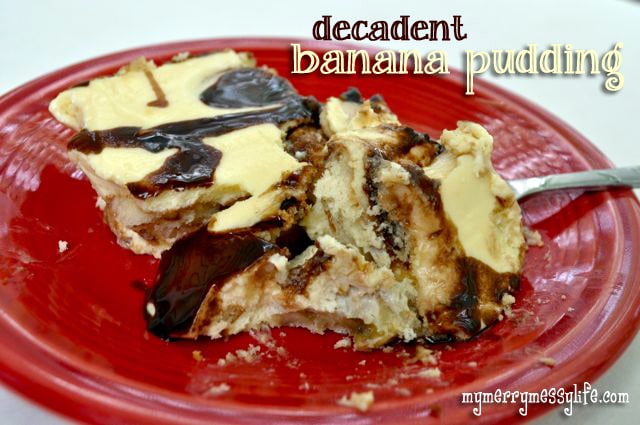 If you're on a diet, then this post is not for you! This is my grandmama's Southern, decadent and sinful banana pudding that's perfect for summer holidays. It's so rich and creamy, due to the sour cream and heavy whipping cream, that I can only handle a couple of spoonfuls! I think Grandmama believe everything is made better with sour cream. I post a lot of her recipes because she was quite the cook and baker, a Martha Stewart before there was Martha Stewart. So many of my most beloved childhood memories are wrapped up in summer afternoons spent at her house, romping around in the woods, and listening to her and my mom talk about their sewing projects.
So, of course I had to get Gabriel to help me out, as this recipe calls for lots of stirring and dumping, which is his favorite cooking activity. I'll let him tell you the recipe!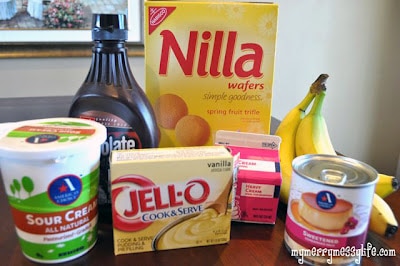 Ingredients
1 package (3.5 ounces) instant vanilla or banana pudding
1 can (14 ounces) sweetened condensed milk
1 cup milk
1 carton (8 ounces) sour cream
1 cup heavy whipping cream (in the carton)
1 box vanilla wafers
3 or 4 bananas
3 tablespoons chocolate syrup
Now, tap into your inner two-year-old and karate chop the boxes like you're an excavator knocking down a house!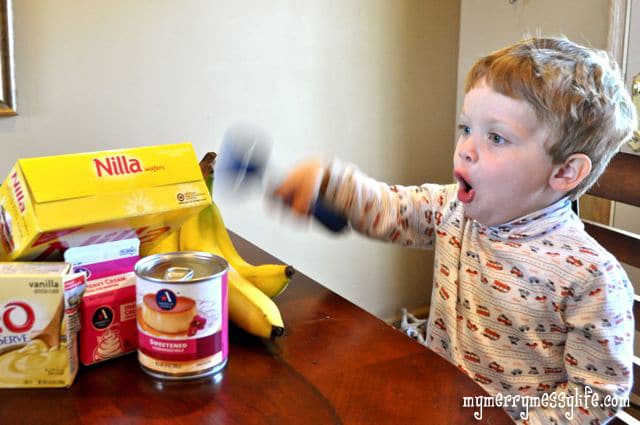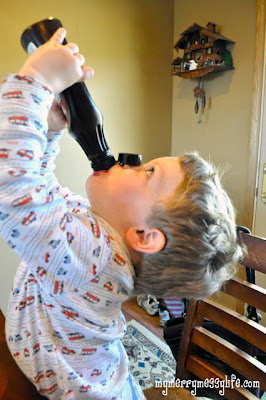 Next, do a quick quality assurance check with the chocolate syrup. Finished? Good.
Now for some fun dumping and stirring! In a large bowl, mix the dry pudding mix, condensed milk and milk together for 2 minutes, or until blended. Refrigerate for 5 to 10 minutes.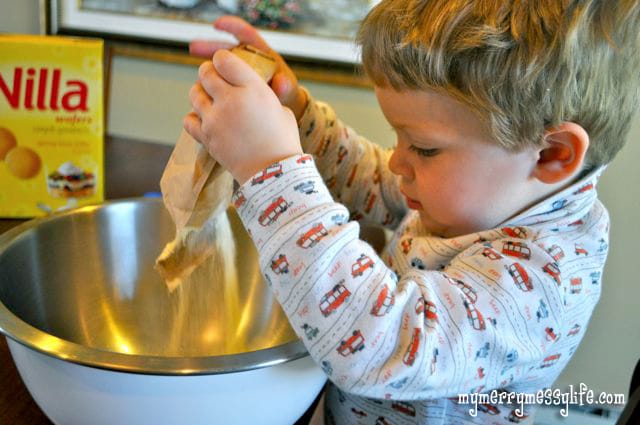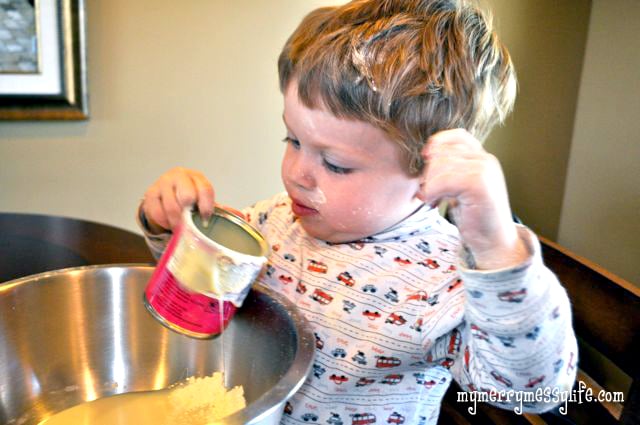 Hmmm….what does condensed milk taste like? Maybe it'll look good in my hair!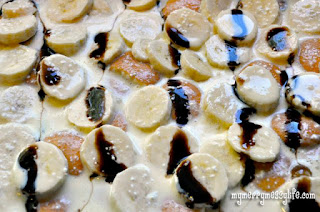 My banana soup faux pas
Next, whip the whipping cream. This is the most important step! It takes about 5 minutes of contant whipping to thicken the whipping cream. If you skip this step, you'll make banana soup for your Easter guests like I did! We had to drink if from our bowls!
After doing another thorough check of each ingredient (notice how Gabe gets progressively messier?), add the whipped cream and sour cream to the chilled milk and pudding and stir.
In a dish, place a layer of vanilla wafers, a layer of sliced bananas, one half of the pudding mixture, and little streams of chocolate syrup on the top. Repeat each layer and garnish the top with chocolate syrup.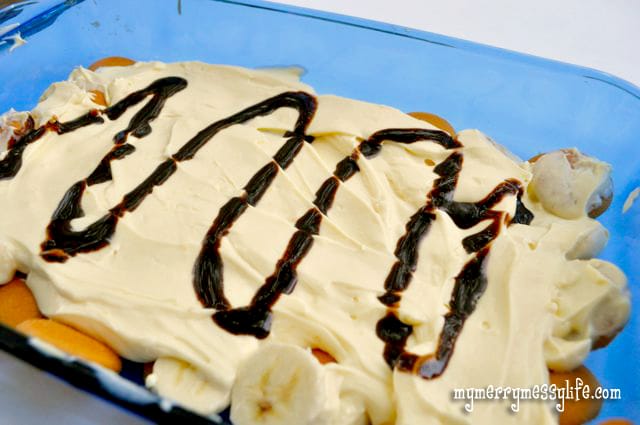 Makes 10 to 12 servings. Forget about how much cholesterol, sugar and calories this bad boy has and just enjoy it like a king at a feast. Mmm, mmm, mmm! Merry baking!
This post is linking up at Fantabulous Fridays and Pamela's Heavenly Treats