Ditch Toxic Microwave Popcorn and Make It At Home!
Popcorn can be a such a delicious and nutritious snack, but did you know there are dangerous chemicals lurking in the microwave bags? When it's prepared properly at home, it is still just as tasty but also nutritious and safe. Find out how to make it at home here!
Ah, popcorn. Crunchy, salty, happy, delicious POPCORN! I have so many fond childhood memories of going to the movie theater and eating it for family movie nights at home. It's just hard to watch a good movie without popcorn, isn't it? The old me would go to the theater and gorge on it, getting those gigantic refillable tubs, sipping a huge Coke or Coke Zero, and even eat a side of M&M's or candy. No wonder I'd feel so sick and bloated afterwards! I can only handle a little bit of popcorn now, as I'm off of grains while on the GAPS diet because it (and many other things) causes all sorts of inflammatory reactions inside my body. But for those with a healthy gut, popcorn can still be a great snack – when made at home.
Ingredients to Die For, Almost Literally!
So, what's lurking in those supposedly tasty, gotta-have-it-now bags?
Two chemicals – diacetyl and PFOA. Diacetyl is a synthetic butter flavoring that causes lung problems. In fact, people who work in the factories and are around this chemical call it "popcorn lung." Even those who regularly make microwave popcorn can develop lung problems! (source) Not only that, it can also cross the blood-brain barrier and has been linked to developing plaque in the brain…yep, you read that right. Plaque! The kind of gunk that leads to Alzheimer's. Wow. (source) Now, some companies, like Orville Redenbacher, no longer make it because their employees were developing this "popcorn lung," but those who've removed it have replaced it with a very similar artificial flavoring that could be just as dangerous. Of course, we won't know till more employees or customers get some rare disease and it's too late! So, stay clear of any brands that have artificial flavoring listed in the ingredients – it's a sure sign of diacetyl or some other toxic substance! (source)
Not only that, diacetyl is also found in margarine, and any other butter-flavored processed food, like chips, beer, fermented foods, and even in chardonnay (to give it a buttery finish). (source)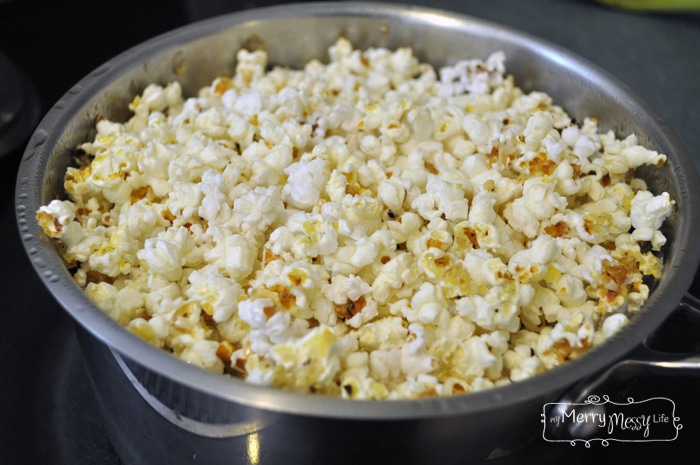 Second is the chemical they use to line the bags – perfluorooctanoic acid or PFOA. This is even worse. Betcha didn't think it could get worse, right? I mean, Alzheimer's and respiratory problems is bad enough! This is the same toxic chemical found in Teflon pots and pans. It lingers in the body and environment, causing infertility in humans. In lab tested animals, it caused (wait for it!) liver cancer, testicular cancer and pancreatic cancer. Yikes! (source)
Of course, I haven't even begun to write about the GMO oils used in these bags and the chemicals and pesticides used to grow the corn kernels in the bag.
So, What's A Girl to Do, Give Up Popcorn?
No! You can buy organic, non-GMO heirloom popcorn kernels (where to buy). Really, it exists! And cook it at home on the stove in about FIVE minutes. Yup, it's really that quick and easy! Plus, it's super healthy with no worries of inhaling the steam, you won't get some nasty lung disease.

Melt the coconut oil (where to buy it raw & organic), butter, or olive oil over medium heat. Add your popcorn kernels, wait for it to POP!
Make it At Home in 5 Minutes!
Print
Ditch Toxic Microwave Popcorn and Make Your Own At Home!
Microwave popcorn is so dangerous to our health – opt to make it at home instead with this super simple recipe!
Author:
Prep Time:

1 min

Cook Time:

5 mins

Total Time:

6 mins

Yield:

2

-4

1

x
4 tablespoons

popcorn kernels (where to buy GMO-free, organic popcorn)

2 tablespoons

coconut oil, grass-fed butter, or olive oil (where to buy)
Sea or Pink Himalayan Salt to taste
Other spices – Paprika and Onion Powder
Instructions
In a medium pot on medium heat, melt the oil or butter.
Add the popcorn kernels and close the lid. Raise the heat just a little, so it's between medium and high.
It should start to pop within 1-2 minutes, if not, turn the heat up a little higher.
Leave it on the stove until the popping tapers off, then remove quickly so the popcorn won't burn.
Pour into a bowl and season with the salt, melted butter, and other spices to your liking.
{1 tablespoon of popcorn kernels makes 1 cup popcorn, so add more if you need to!}