Here is my simple, easy painting that anyone can do to make custom wall art for your kid's or baby's room, or any room in the house. All it takes is acrylic paint that matches the room decor, alphabet stickers, and a circular object to trace.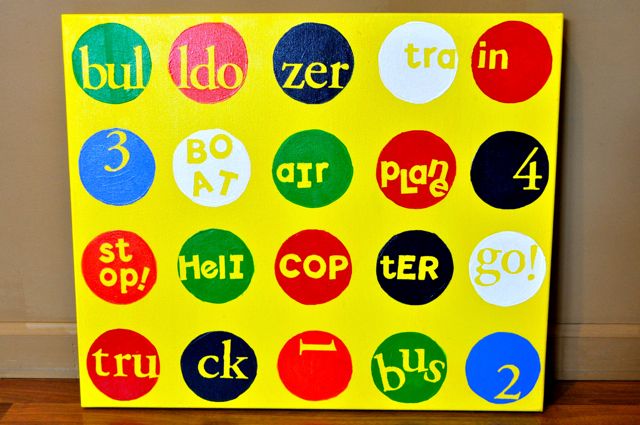 I love painting, but I'm no fancy artist. But I can get by making cute paintings for my house, HGTV style! I wish I could paint like David Bromstad on Color Splash…maybe in another life.
Take your favorite quote and use it as a text to spread it throughout the circles, or your child's interests and hobbies like I did. This could also be done as a wall treatment! Something I might try soon for my baby's room. My inspiration for this painting came while I was watching "Thomas" show with my son on PBS! You can find inspiration anywhere when you are looking for it. They have this scene transition with lots of colored circles and trains driving through them.
First, the Supplies
16×20 stretched canvas (any size will do, but that's the one I used)
Bottles or tubes of acrylic paint (any combination of colors you want to match the room). I like Basics brand because it's nice and thick, but I also use cheaper brands when that one's not on sale. The cheaper ones might take 2 coats, whereas the Basics will not.
Clear varnish to brush on to seal the painting.
A foam brush or an angled brush (one for painting the circles and one for painting the background)
Palette for the paints
Alphabet stickers – the color doesn't matter because you're going to paint over them. I used two different fonts and bought two packages of each font so I'd have enough to make several words.
A cup or other round object which you can trace
Pencil to trace the cup
Paper towels and a water cup for your paints (a cup you don't mind getting paint on!)
A long, clear yardstick or other measuring device to space the circles out evenly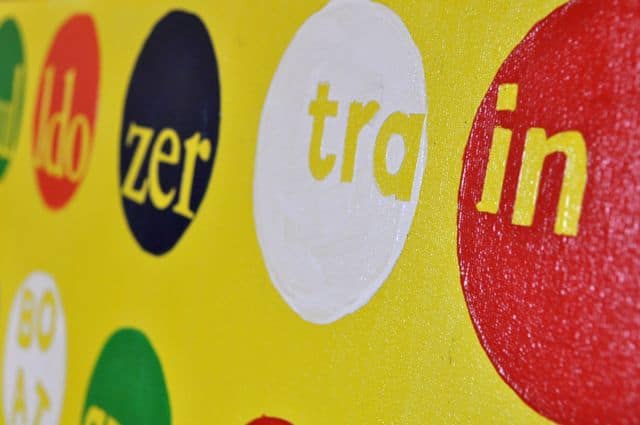 Now, Let's Paint!
First, you need TIME. Once the kids are asleep and you can paint in peace!
Paint the background with the color of your choice, or just leave it white, using a large artist's brush or a foam brush (foam brushes are super cheap and you can get a large package for $5-$7 at Michael's and A.C. Moore). It will take 4-6 hours to dry, so I usually paint the background really fast in the morning, so by the evening once the kids are asleep, I can paint the circles.
Next, and this is the tedious part, you'll have to do some fun mathematics. Measure the width bottom or top of your cup and figure out how far apart to place them and where on your canvas so they're evenly spaced out.
For a 16'x20′ painting, you can fit 5 circles horizontally and 4 vertically.
Next, decide what words, numbers or letters you'd like in each circle. I spread some words over several circles and others just in one circle. Take care to make sure the edges stick really well so the paint won't seep underneath the stickers.
Next, carefully paint in each circle. I used the foam brush because it has a nice edge. I used that edge to paint the border of the circle, then filled it in afterwards.
I had to paint each circle at least twice, and each time it takes 4-6 hours to completely dry.
Once you're happy with the circles, peel the stickers off! I had some trouble with the thiner paint seeping underneath the letters, so I really suggest buying the more expensive acrylic paint.
Then, cover the whole painting with a few coats of clear varnish to seal it and add some shine.