Gabriel's Construction Birthday Cake – Easy & Cheap
I love how toddlers have their obsessions. Gabriel just turned three, and since we was about 20 months old, he has been obsessed with anything construction. He takes every opportunity presented to him, i.e, some dirt, mulch or sand, and turns it into a construction site. He spends more time in the mulch and dirt on playgrounds than on the thousands of dollars worth of equipment. I love how even when he has no shovel, dump truck or excavator, he gets creative and makes his own with his hand! Like in this picture below. He literally falls asleep at night with his hand moving up and down digging imaginary dirt with his long boom (arm) and shovel (hand).
I never in my life thought I would learn all the different machines – did you know there is such a thing as an impact hammer, and that a backhoe and a front loader are not the same? He knows every word to the his favorite DVD's songs, Truck Tunes, and one can often hear him "singing" (more like wailing in one note, future American Idol contestant he is not (smile)), "impact hammer" and "fork wift boogie!". (Wift is not a typo, it's toddler speak). We love it. He's no Whitney Houston, but future civil engineer? Maybe!
So, it was a no-brainer for his third birthday that it must have a construction theme. We were in the middle of moving and half the house was already packed up, so I had to get really creative. Just so you know, Party City does not keep construction themed decorations in the store – they must be ordered online. I learned the hard way. I purchased decorations from Dollar Tree at the last minute, decorated the night before, and Gabe noticed them as soon as he woke up on his birthday. It's easy to forget that toddlers don't need expensive, complicated things to make them smile – just a few construction balloons, a birthday banner, and some cool thingies hanging from the ceiling made Gabe happy.
After opening several construction gifts, like this skid steer loader with impact hammer attachment that Gabe had been wanting for months, we were ready to celebrate with all the McFalls and eat some cake! My mother-in-law had this super easy recipe for a delicious and decadent cake, and I emphasize EASY, so it took me 10 minutes to whip it up. I've been staying away from boxed mixes, as they just aren't very healthy or natural, but I couldn't pass this up because it's so EASY and tasty, and I don't typically worry about healthiness at parties!
Super Easy Chocolate Cake 
1 box dark chocolate cake mix (we liked Devil's Food, but any brand works, really)
1 12 to 16 oz. bag of dark chocolate chips
1 carton sour cream
Combine all the ingredients and follow the directions on the box for baking.
Onto the cake decorations!
I am no cake decorator, so I used creativity and construction toys we already had around the house to spiff this one up. I used icing to draw a road on the top of the cake and made "sand" piles out of crushed vanilla wafers. Then, staged the scene! It literally took about five minutes to whip up. That's MY kind of cake!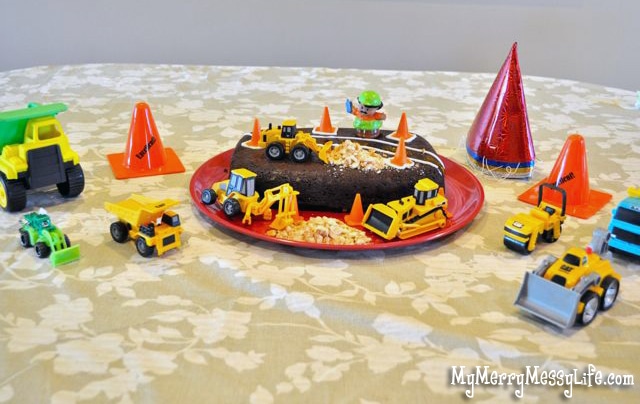 The unintended consequences? Gabe thought it was a toy and not a cake and as soon as he sat down in front of it, he proceeded to dig up the vanilla wafers! I got so tickled because I hadn't anticipated that at all. Children are full of surprises.
We finally got him to stop long enough to light the candles and sing, then cut off a few pieces before he was back to work again. Here was the aftermath – after a long, day's work out in the sun and a few hungry party guests.
Grayson loved the cake, too! It is such a rich, moist recipe.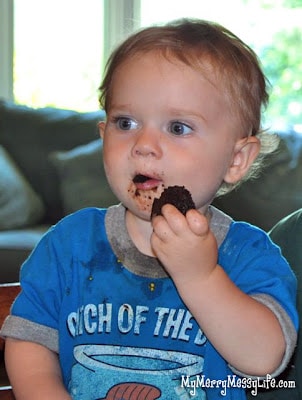 This post is being shared at: