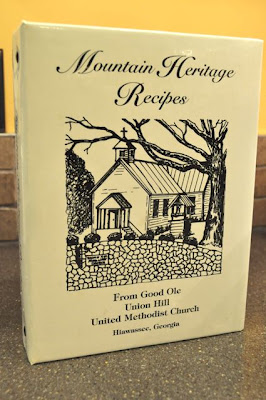 So, after posting my Easy Crock Pot Chicken Brunswick Stew Recipe, I will now share with you my Grandmama's version. After baby #2 came along, I only tackle this one when I'm feeling rather ambitious (which isn't often!) because it takes two days to stew.
The recipe is also printed in this awesome cookbook…
…that comes from my late Grandmama's church. Every cook needs a cookbook like this one, and it's especially sentimental for me and my family as it includes many of my Grandmama's famous recipes. It makes me feel closer to her when I cook them!
Okay, on to the recipe! (in the words of Grandmama)
Ingredients:
1 fryer size chicken
2 medium potatoes, peeled and diced
1 medium onion
1 can diced tomatoes
1/2 cup barbecue sauce
1/2 cup ketchup
Dash Worcestershire Sauce
1 can cream corn
Salt and pepper to taste
Before going to bed at night, put whole chicken, potatoes, onions, and tomatoes into Crock Pot. Cook all night on low. Next morning, remove chicken from pot and take away all skin, bones, and as much fat as possible (this is the tedious part and is best done when the chicken has cooled). Return chicken to Crock Pot and add ketchup, barbecue sauce, and Worcestershire Sauce. Cook several hours on high or all day on low. Add corn and salt and pepper at end as needed.
Try it and you'll see – this one is a keeper!