DIY Natural Bubble Bath Recipe
Simple and luxurious DIY natural bath bubbles recipe that's free of artificial fragrances and dyes! This takes only a few minutes to make and is the perfect gift to give the ladies in your life.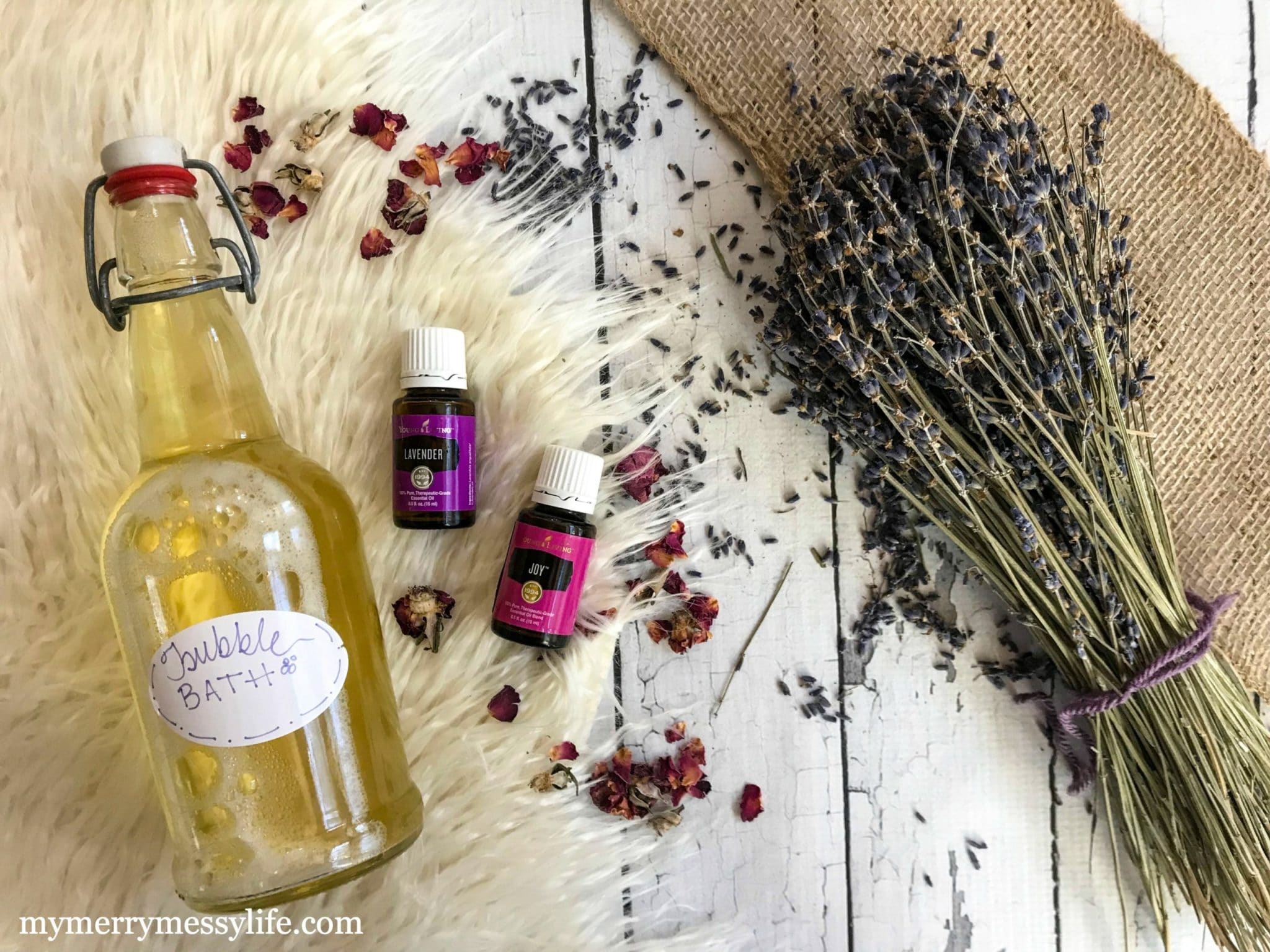 Baths are a way I fill my cup every day. I have grown to love and even crave them! As a mama of four littles, I have found that I have to find ways to take care of myself each day in order to be the best mama to my kiddos. But I think it's important for everyone to do things each day that bring us joy, that fill our cups as we are all giving to others whether it's in your job, at home, to your friends, family, spouse, etc.
For more self-care tips, check out these articles here on my blog:
Why I Stopped Using Store-Bought Bubble Bath
Many of the bath bubbles in the stores contain ingredients like parabens, artificial fragrances, dyes, and detergents that are very irritating to the skin, eyes, nose, and lungs. I only use essential oils to scent my home and beauty products now, and have gotten to the point where I can spot artificial fragrances a mile away and they often make me feel nauseous and give me a headache!
And the natural bubble baths in the store are pretty pricey, so I knew I could make it at home a lot more cheaply!
I highly recommend using the Think Dirty app (it's free!) to scan or type in the products you have or are thinking of buying to see what their toxicity rating is. You might be shocked!
Let's look at one that's commonly found in drugstores and big box stores, and is deceiving because it has lavender and chamomile in it (which are artificial) – Baby Magic. It gets a rating of 7 out of 10 for toxicity. Why?
Is it any wonder that more and more children are getting cancer and have autoimmune diseases that only the elderly used to have? I think not. It's sad, but with some education, we can change what we put on our own bodies and give our children!
Here's the cost breakdown of DIY Natural Bath Bubbles:
1/2 cup of Castile Soap – $1.25

I buy 1 gallon of Castile Soap (about $40 on Amazon) at a time = there are 32 1/2 cups in a gallon. So that's $1.71 for that half cup. I buy a gallon because I use it to make homemade baby shampoo and hand soap, too, and it lasts about 1 year in my house!

1/2 cup vegetable glycerin – $1.50

I buy 16 oz of vegetable glycerin for about $6.00 on Amazon. That's $1.50 per half cup.
If you buy a gallon, it's about .15 cents an ounce, so that'd be even cheaper at $0.60!

10 drops of lavender – 94 cents

($23.50 for a 15 ml bottle of lavender, which has approx. 250 drops) = $0.094 per drop. That's 94 cents for the oil! Super cheap

1/2 cup water – pretty much free!
TOTAL COST: $3.69 for 12 ounces compared to the natural bubble baths online which run about $10-$12 for 12 ounces
Print
DIY Natural Bath Bubbles Recipe
DIY natural bath bubbles recipe using Castile Soap, vegetable glycerine, essential oils and water for a luxurious, relaxing and nontoxic bath experience!
Instructions
Pour the water in first, then the vegetable glyercin, then the soap, and last, the essential oils. Gently swish to combine. Put anywhere from a few tablespoons to a 1/2 cup or so in your bath and enjoy!
Essential Oils to Use in your Natural Bubble Bath Recipe
There are many relaxing scents that are perfect for a bath. Steer clear of spicy essential oils like cinnamon, basil, oregano, black pepper, peppermint, wintergreen and any citrus oils as these will likely irritate your skin and can even cause a rash when used in the bath! My favorites are (all from Young Living):
Essential oils affect the limbic system in the brain, which controls memories and emotions, so they really do work to help you calm down and relax after a stressful day.
I only use Young Living essential oils – they are my fav! They are the highest quality and most effective oils I've ever used and believe me, I've used a ton of other brands! You can get them through me as a wholesale member or as a customer, here.