DIY Natural Dishwasher Detergent Recipes
You can make your own natural dishwashing detergent that's eco friendly and non-toxic in less than five minutes with these two recipes – one is a liquid and one is a powder recipe. You'll also learn about the toxins in dishwasher detergents and why it's important to buy or make your own natural one.
Why Make Your Own Natural Dishwasher Detergent?
It's Cheaper
When you buy products in the store, you're paying for mostly water. When you buy these ingredients (especially if you buy them in bulk) you save money.
It's Much More Eco Friendly
Buying ingredients in bulk and reusing your bottles saves on packaging, manufacturing and waste. Also, these are nontoxic recipes that are biodegradable and won't harm the environment.
Toxins In Dishwasher Detergents
The thing to realize about toxins in dishwasher detergents is that these cleaners leave a film on our dishes. The rinsing process does not remove all of the soap and chemicals, so we are then ingesting small amounts every single time we use a dish! Ingesting these chemicals just a few times wouldn't cause that much, if any, damage. But every single day for your whole life? It's then we start to realize why in our modern age of such high-tech medicine we are still dealing with so many autoimmune diseases and cancer.
Sodium Hypoclorite
Also known as bleach. Ingestion can cause burns to the mouth and throat, nausea, vomiting and diarrhea. Think but how many toddlers have ingested dishwashing detergent!
It is also corrosive and may irritate the skin and cause burns. It is a lung irritant when inhaled and it aggravates asthma and allergies. It's also very toxic to aquatic life (source).
Artificial Fragrances
I've written about the dangers of artificial fragrances many times here on the blog! Artificial fragrances can trigger asthma attacks, worsen allergies, and cause inflammation in the sinuses that can lead to more frequent colds and respiratory infections. That's why I prefer to scent my homemade products with essential oils (read more about them below).
Fake fragrances disperse particles of formaldehyde and phthalates (thy-lates) into the air. Phthalates are small particles of plastic that are used to bind the artificial fragrance molecules together. We then breathe in those tiny particles of plastic and they get into our nose and lungs – yuck!
Artificial Dyes
Dyes do nothing to make the dishwasher detergent perform better so they are totally unnecessary. The FDA actually now prohibits the use of dyes in cosmetics because it causes cancer in rats. Yet they can get all over our dishes and on our clothes? It also caused thyroid tumors to grow in rodents in other studies. Dyes are considered toxicby the EWG.org (source).
Cleaning Agent
Since companies do not have to disclose the ingredients found in cleaning laundry, and cosmetic products, this vague ingredient can be any number of things. According to the EWG.org, it has been know to be very toxic to aquatic life. It also causes severe burns, eye damage, and may cause a severe allergic reaction in some people (source).
Watch My YouTube tutorial here!
Two Recipes – My Favorite One
I have found that the liquid recipe performs a lot better than the powdered one. The dishes come out cleaner and shinier, and there's only one step. That's probably because it contains Dr. Bronner's Sal Suds which is one of my most favorite things to use in household cleaning! It's in my dishwashing soap, my laundry detergent, and my degreasing spray.
However, this soap is more expensive than the ingredients in the powdered recipe, which is why I'm including both recipes so you can make the one that fits your lifestyle and budget best!
Print
DIY Natural Liquid Dishwasher Detergent Recipe
A DIY natural liquid dishwasher detergent recipe that really works!
Instructions
In a small bowl, add the water and kosher salt. Stir until the salt it is fully dissolved. Add the Sal Suds. In your squeeze container, add the vinegar. Then pour the soap solution on top of the vinegar. Add the Citric Acid and essential oils and give it a gentle shake to combine. Use 1 tbsp. per load.
Notes
The salt must be kosher salt! Other kinds of salt do not work for this. The salt is used to thicken up the solution so it isn't liquid, but a nice gel. Lemon essential oil is known for releasing stuck-on particles, so in this recipe, it helps make the dishes even cleaner and helps to reduce the vinegar smell.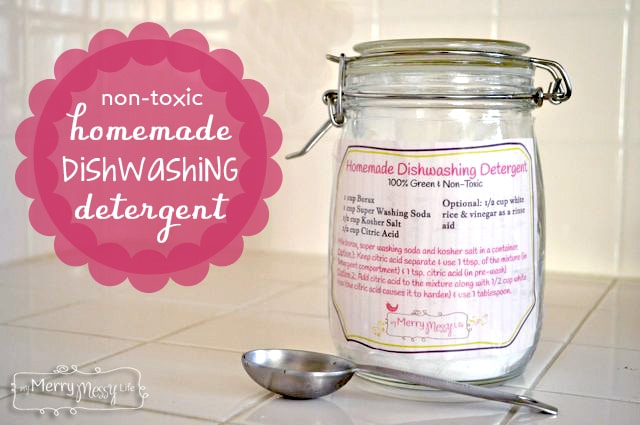 Print
DIY Natural Powdered Dishwasher Detergent Recipe
Instructions
Mix all of the ingredients together and transfer by the spoonful to the silicone mold. If you have sensitive skin, you might want to wear rubber gloves while pressing the powders into the mold. The citric acid will cause the mixture to harden within an hour or two. Use 1-2 tablets per load – how much you use will depend on whether or not you have hard water. For hard water, you might need 2, so it could be a bit of an experiment at first.
Store them in an air-tight container.
If you use white distilled vinegar as a rinse aid, you can make citrus infused vinegar or add 2-3 drops of lemon essential oil per load to aid in the cleaning power and make it smell better. You could also add lemon juice to it instead of the essential oil.
Vinegar as a Rinse Aid
White distilled vinegar makes for a fantastic, natural rinse aid. Just add it to the rinse compartment of your dishwasher (usually it's on the door with a screw top). For added cleaning power and a wonderful citrus smell, use my recipe for citrus-infused vinegar!
A Note About the Borax, Citric Acid and Super Washing Soda
All three of these ingredients are very fine powders. If you have asthma or are sensitive to fine particles, be careful when mixing these ingredients. Slowly pour them in your container and stir them or they will puff up out the container and could irritate your nose and lungs.
While this is way less toxic than commercial dishwashing detergents, I would still be careful around children and keep it out of their reach due to the borax. You probably won't have to rush off to the emergency room if ingested, but I would call my pediatrician if one of them got a mouthful!
How to Make Your Own Super Washing Soda
Super Washing Soda is much more expensive that straight up baking soda, and readerMaria reports that you can make your own at home. My good blogging buddy from Nature's Nurture has an excellent tutorial on how to do just that!
Don't Want to Make Your Own?
Here are a few you can buy, that are rated as "A" at the EWG.org which means they are nontoxic and ecofriendly. Click on the links to purchase on Amazon.