10 Ways to Go Green in 2013
Going green is not only good for the environment, it is good for us humans, too, as it greatly reduces our exposure to harmful chemicals and toxins and in many instances, it saves the green in your wallet, too! So, here are some of the ways I have chosen to go green, and how you can, too.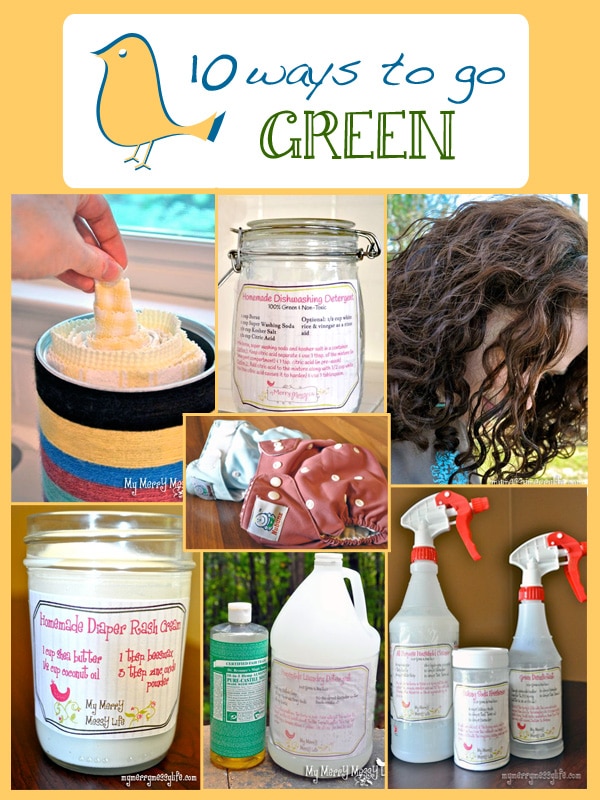 Commercial cleaning products are full of chemicals that have been linked to asthma, cancer, hormone disruption, and more! The good news is that making your own cleaning supplies is cheap, easy and still very effective at cleaning dirt, scum, bacteria, mold and mildew and it's not toxic or poisonous for your family. If you're not a DIY kinda person, then here are my reviews of Seventh Generation's cleaning products. My homemade products come with free printable labels that include the recipes.
Commercial laundry detergent contributes to toxins in lakes and rivers, harming aquatic life and ground water. It also coats our clothes in unwanted chemicals. Thankfully, it's really easy to make your own with my 5-minute recipe – no soap grating necessary! Comes with a free printable label that includes the recipe.
Just like laundry detergent, commercial dishwashing detergent is laden with chemicals that are harmful to both aquatic life, ground water, and our drinking water. Plus, residue ends up on our dishes that we then ingest. Making your own is easy, cheap and effective!
Buying green, eco-friendly toys has become much easier in recent years, as companies like Green Toys and Plan Toys are now both sold on Amazon! These toy companies use recycled and/or sustainable materials to make their toys.
This is my number one post on the blog, and I go into depth about how to use baking soda as shampoo and apple cider vinegar as conditioner. I don't think I'll ever use shampoo and conditioner again because this method is more effective in cleaning and moisturizing my hair AND it's extremely cheap!
I cut up receiving blankets I bought at the Salvation Army to make cloth towels and now prefer using cloth to paper – they are so much more absorbent! This helps to save so many trees and reduce trash.

I still get jokes from my family since switching to toilet cloth. I know, I know. It does seem pretty gross and weird to most people, but I find it to be quite normal and even preferred to paper! It's so soft and feels much better on the bum than paper. If you can make the switch, then you've REALLY gone green!
Switching to all paper napkins has been the easiest of all – I just cut up old bed sheets with pinking shears and voila! A whole basket-full of cloth napkins. I haven't bought cloth napkins in about six months and we never even think about it anymore. It's just become a way of life!
Anyone can switch to cloth diapers after reading my five-part series on how to make the switch! It is a lifestyle change, but man, is it worth it! It saves so much money and tons of landfill space. I'm so happy we are a cloth-diapering family!
Cosmetics are one of the worst offenders (right up there with cleaning products) of using toxic chemicals, experimenting on animals and ripping us off. Making your own is much easier than you might think, and of course, cheaper! I have recipes for organic lotion and body butter, diaper rash cream, lip balm, baby shampoo, deodorant, body scrub, anti-itch rub, bug repellent and more to come!