Homemade Teething Oil and Other Natural Teething Support for Babies and Toddlers
If you're looking for natural alternatives to help your baby or toddler through the teething phase, you've come to the right place! I'm sharing a homemade teething oil and all my other favorite, go-to natural teething support.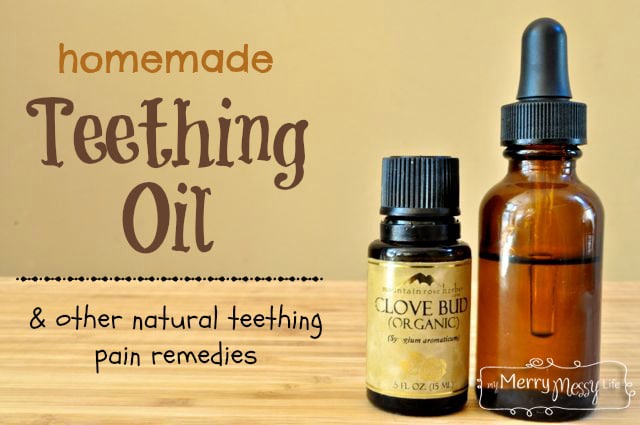 A friend asked me the other day what I use for teething and I realized I had no posts written about it on the blog! So, I'm sharing the remedies I've been using for the past several years that have all worked for my babies. All my boys (I have 3 – ages 4, 2, and 1) have had a horrible time with teething, lots of crying, crankiness, drool, and loss of sleep.
Side Effects of Acetaminophen (found in Tylenol)
Before I was into anything natural, I would give my oldest, Gabriel, Tylenol and he needed it on a regular basis. It did make our nights go more smoothly, but as with any medicine, there are side effects. Experts say that it depletes glutathione, an antioxidant that protects cells from toxins like the free radicals that cause cancer. According to mercola.com, acetaminophen (the chemical in Tylenol) has been linked to blood cancers. Now, this is long-term, regular use that is defined by four times a week for four years. Another article from The Healthy Home Economist says that children who are given Tylenol even once a year have a 70% chance of developing asthma. Woah. And babies who are given just one dose before their first birthday have a 60% chance of developing asthma. It also increased the occurrence of other autoimmune diseases like allergies.
Prior to learning the above information, I would still give Tylenol to my kids as a last resort. But, I will carefully consider whether or not I do more in the future and do more research. Thankfully, these natural remedies work well!
Homemade Teething Oil Recipe
This is my number one go-to remedy – it works right away and 95% of the time, takes the edge off so my baby can go to sleep.
Directions
Wash your hands thoroughly. Test the oil on your own gums first to make sure the essential oils aren't too strong. Take one finger and dip it in the oil or squirt it on your finger. Rub the oil on the sore gums, on the jawline, or on the bottoms of the feet. It works for about 30 minutes and can be reapplied 4 times a day or so.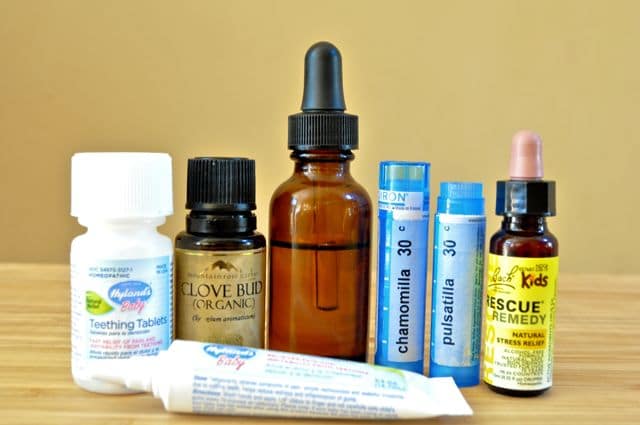 Other Homeopathic Remedies
Hyland's Baby Teething Tablets – these worked really well with our second child, but not our third. The teething oil has been much more effective for him.
Boiron Chamomilla and Pulsatilla – these herbal remedies work systematically to reduce inflammation and pain. They come in tiny little balls that I found needed to be crushed when Griffin was under 6 months old. Once he got older, he would swish them around in his mouth before swallowing. These have worked better for our third son than Hyland's products.
Bach's Rescue Remedy for Kids – This is a fantastic little product that uses herbs to relieve stress and anxiety – great for all ages. You just put a few drops on the tongue so it's very easy to use. It's also sweet tasting, so my kids really like it, which is a major bonus.
So there ya have it. What methods do you use? Anyone still using whiskey? 🙂