Hookin On Hump Day #11 – Link Party For the Fiber Arts
Welcome to the 11th edition of Hookin On Hump Day! This is a blog link party where you can show off your fiber arts crafts for a chance to be featured here, on my Facebook page, and on Pinterest. I've been really busy this week with two giveaways and a crochet baby cocoon pattern. Both are group giveaways where there is huge opportunity for readers to win and bloggers to get noticed!
Enter to win
an organic cotton baby cocoon, crocheted by your's truly, and two boxes of herbal teas from Mountain Rose Herbs, all for the Natural Newborn giveaway. Plus, there is a huge $500 grand prize!
Click here
for the free pattern and photo tutorial!
Then, on Thursday night, 12 am EST, check back where you can win a
$100 prize from Red Heart Yarn
!! That's part of my "A Crafter's Dream" group giveaway I'm doing with 18 other bloggers.
Now, onto the party! There are so many talented crafters out there, ladies, it was really hard to choose again this week. And, I know, I say that every week, but it's because it's true! I really enjoy looking at your handiwork.
The most-clicked link was (toddler drumroll please – bang on your pots and pans and scream at the top of your lungs!)…
#1 –
Crochet Bag
from Liz at Howling at the Moon. Isn't this a gorgeous bag? I've gotta make one of these! And you've got to check out her pattern for the granny triangles and bunting.
Now, onto my top two favorites:
#2 –
Crocheted Earrings Tutorial
by Kadie of Seven Alive. She has an excellent photo tutorial – I just love the pictures. And the earrings? Gorgeous! I'd totally sport these babies! It also comes with a free pattern.
#3 –
Picnic Party Apparel
by Lisa of Wine and Glue. She sewed these adorable outfits for a picnic themed birthday party her friend threw, complete with beautiful decorations!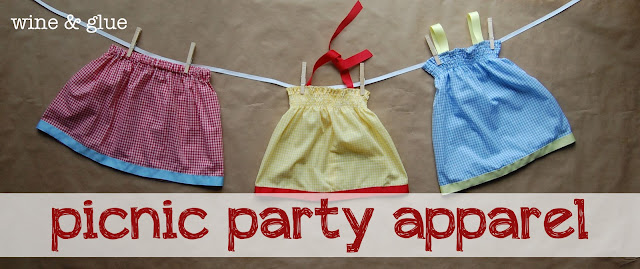 Great job everyone! 
Now go grab your 
I've Been Featured
 button and relish in the spotlight. I'll be pinning you on my 
Pinterest Board
 and featuring you on 
Facebook
 and 
Google+
!
Now onto this week's party! Here are a few simple rules:
–> Please link your post back to me at https://www.mymerrymessylife.com or grab the party button here. I'd also really appreciate if you'd follow me on one of my social media links (see at the top of the sidebar), and I will happily follow back!
–> Please visit at least one other link and leave a comment on their post so we can really support each other!
–> Please remember to link to your actual project URL and not your homepage URL.
–> Please, no Etsy stores. Just blog posts.
Let's see what those hands have been up to this week!