How to Go Green and Rid Your House of Toxins
Imagine you're in your bedroom, getting dressed for the day, and you hear your toddler rummaging around in the kitchen. ACK!!! You know he might have his hands on your Comet or Lysol, or worse yet, Drain-O, so you run like lightning to find him doing exactly that. Thankfully you got there just before he started squirting something in his mouth. Crisis averted for now, but not forever!

When I started this blog in 2011, I was on a mission to rid my house of toxic chemicals as I was pregnant with our second child (now I'm preggo with #4!) and I did not want to have to worry that my children could literally be at death's door just by getting into the chemicals under the sink. Because let's face it – kids are stinking smart. Many can figure out how to break the child safety locks or even how to open them (all my boys have done both!). There's no guarantee they won't get into some of the most poisonous products on the market in your own kitchen.
So, I am passionate about going green and natural in the home, and I did a whole webinar class to talk about how I do just that! Enjoy the webinar video below, and the class notes and slides.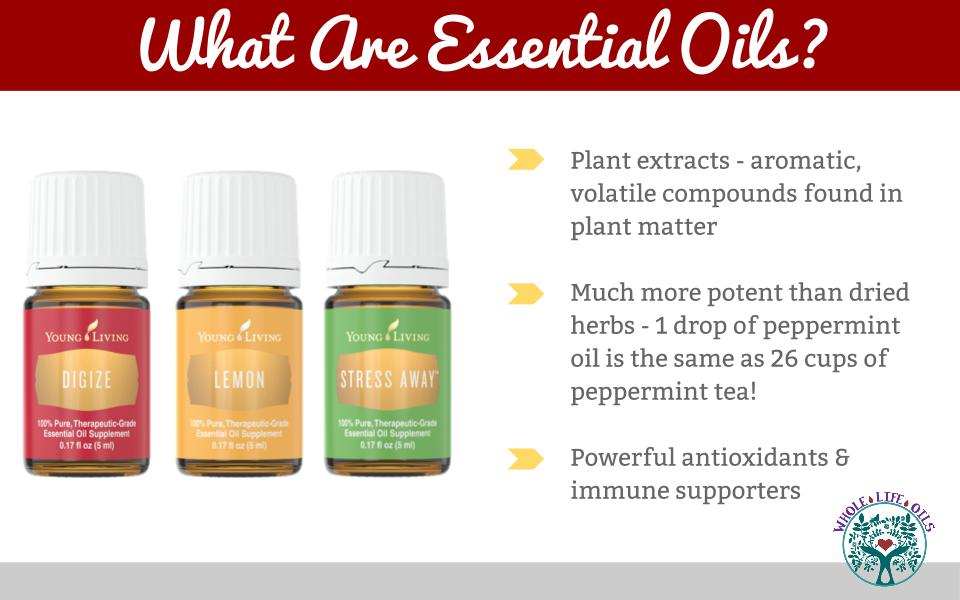 Essential oils are the lifeblood of aromatic plants. Have you ever broken open the leaf or stem of a plant and seen a fluid come out? (raise hand). Or peeled into an orange and your hands smell like oranges for hours? Well, when you take the precious fluid from aromatic plants, containing the plant's therapeutic properties, and extract it with steam distillation, what you end up with is an essential oil!
They can effectively combat the damaging effects of toxins, impurities and harmful substances in and around our body.
They are very powerful antioxidants. Antioxidants create an unfriendly environment for free radicals that our bodies are in contact with daily. Free radicals come from sources outside your body, such as tobacco smoke, toxins, or pollutants, and can damage our bodies' cells, proteins, and DNA by altering their chemical structure.
EO's work synergistically WITH the body to help it heal itself because they are recognized by the body as nutrients, unlike synthetic chemicals which the body recognizes as foreign substances.
For more in-depth information on how to use oils in everyday life and why you'd want to, hop over to this post on my blog for more.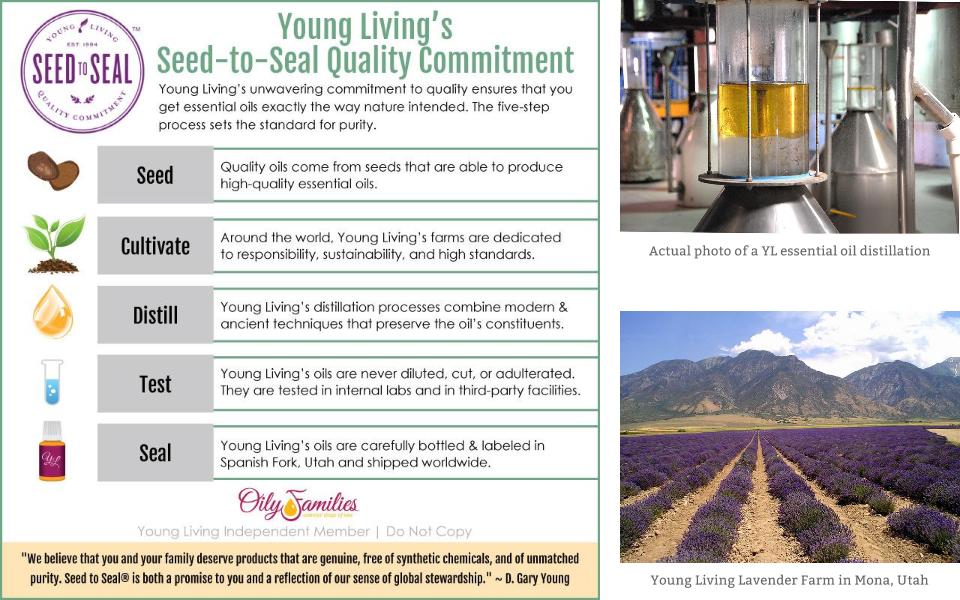 What can essential oils do for you and me? As you're about to see, they do a LOT more than just smell good!
I started using essential oils in 2011 in my homemade cleaning and bought the cheapest stuff I could find on the internet to save money. They seemed nice, but once I learned that they could also be used on the body to support things like our immune systems, I found the cheap stuff just wasn't working. I had no idea why and gave up on essential oils for health for two years!

Then, in 2014, I was introduced to Young Living from my friend, Genevieve at Mama Natural. And wow! For the first time EVER, they actually worked, straight out of the box. So what gives? What is quality so different from company to company?
Well, it's because the essential oil market is booming! People are tired of conventional methods that just aren't cutting it, and want something natural.
Global essential oil market is expected to reach $12 billion by 2022, up from $6 billion in 2014, according to recent market research.

Why? 2 reasons.

Growing consumer awareness regarding health benefits associated with EO's & supplements

Growth in the organic product industry has also prompted many people to want to ditch toxic chemicals in their homes



Does that sound like you? Is that why you started using essential oils?

An exorbitant amount of plant matter is required to make a single ounce of essential oils, yet there is a ton of demand.

So, here's the kicker. Unfortunately, many essential oil companies have been looking for new ways to develop essential oil substitutes created from essential oil compounds, which results in a lot of undereducated consumers looking for that inexpensive, cheap essential oil and thinking that what they're getting is pure and natural, when it's not. It's made in a lab with chemicals, not harvested from a plant.
What's Special About Young Living?
Young Living is a 21-year-old, billion dollar company that has was founded on the principle that nature has powerful, natural substances from PLANTS to meet the needs of the 21st Century family! Young Living owns and runs hundreds of acres of sustainable, organic farmland and essential oil distilleries in Utah, Idaho, Canada, France, Ecuador, Peru, Croatia, and Oman! Young Living is currently doing business in almost every nation around the globe, and is among the fastest growing direct sales companies in the U.S. with about 100,000 joining each month in the U.S. alone! Our company was founded by Gary Young, who has invested 34 years in the research and development of essential oils. Together with his wife and company CEO Mary Young, he is continually blazing new and exciting trails all over the world to promote the ongoing success and development of Young Living.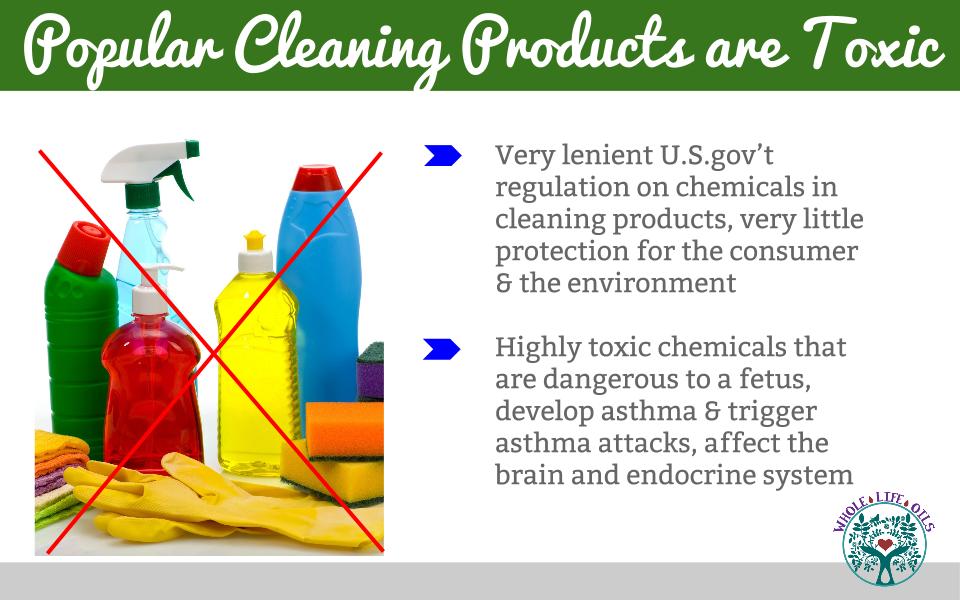 According to the Environmental Working Group, the U.S. law allows manufacturers of cleaning products to use almost any ingredient they wish, including known carcinogens and substances that can harm fetal and infant development. And the government doesn't review the safety of products before they're sold. YIKES!
Fumes from some cleaning products may induce asthma in otherwise healthy individuals. A large and growing body of evidence links frequent use of many ordinary cleaning supplies at home or on the job with development of asthma and other respiratory problems. It is already known that cleaning product fumes may trigger attacks in persons previously diagnosed with asthma.

Common cleaning ingredients can be laced with the carcinogenic 1,4-dioxane. Other products contain preservatives that release low levels of cancer-causing formaldehyde.

Children born to women who held cleaning jobs while pregnant have an elevated risk of birth defects, according to a 2010 study by the New York State Department of Health.

Some cleaners can cause chemical burns and poisonings as well as less severe irritations and allergies. Severe physical reactions signal that consumers should take care anytime they use these products.

Despite these health concerns, cleaning product labels often do not give consumers enough information about their ingredients to allow people to make informed decisions on which ones are safer and which ones might harm their health.
Investigating the full range of risks of cleaning products to public health and the environment should be an urgent priority. Yet the problem remains largely hidden from the view of the American consumer.
Sound chemical policy is critical to identifying and removing from commerce harmful chemicals in everyday products like cleaning supplies. Learn more about cleaners here at ewg.org:
This is the reason I started my blog – I wanted to rid my house of dangerous cleaning chemicals when I started having children because I didn't want my kids accidentally poisoned. So, what's the good news? It's that making your own non-toxic cleaning products from home is so safe the worst thing that might happen is a stomach ache! And they actually work and they are EASY PEASY to make.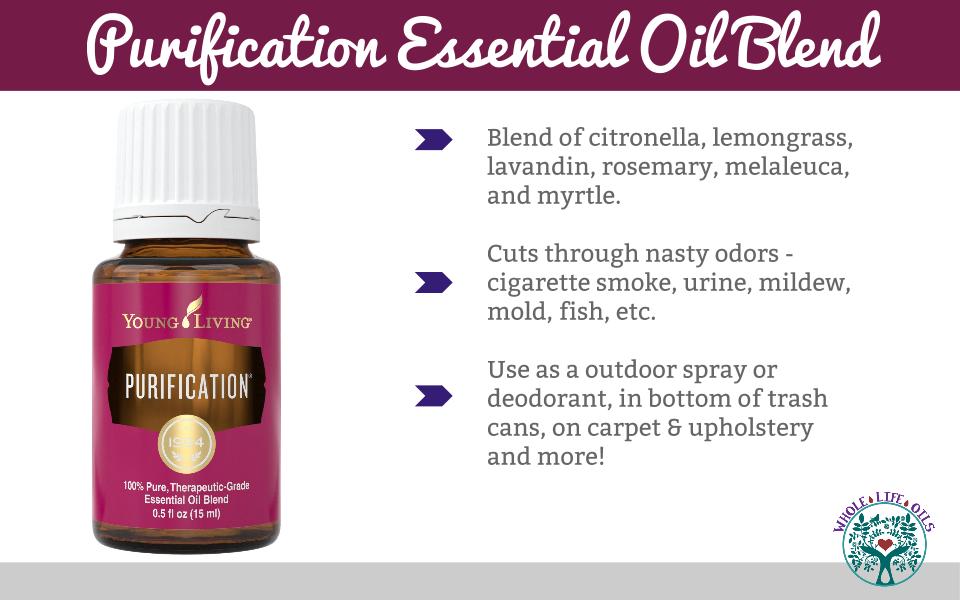 Purification Essential Oil Blend
Purification is a blended oil of citronella, lemongrass, lavandin, rosemary, melaleuca, and myrtle
I love to diffuse it in the house when it doesn't smell quite right – like after cooking fish or emptying the trash! Great to use in the bottom of the trash can.
I also use it in my homemade deodorant and have found it to be very effective as a natural outdoor spray. It is also great at getting rid of unwanted microorganisms and any skin issues that may occur while outside playing. Many use it when their immune systems need extra support. I love to use it on my homemade cleaners as well, it makes the house smell so fresh and clean and I love that it's not toxic, synthetic fragrance!
Here are my recipes on the blog that use Purification:
Thieves Essential Oil Blend
Blend made from cinnamon, clove, lemon, and rosemary, and eucalyptus based on a really cool medieval legend.
Thieves smells so good with the cinnamon and lemon in it, so it makes an excellent household cleaner. It is a powerful germ fighter, so use it all over the house by just mixing it with castile soap and water to make a cleaner, or mix it with just water and a pinch of salt and put in a spray bottle to spray door handles, countertops and more.
Thieves Household Cleaner – The MAC Daddy of Natural Cleaning Products!
Not a DIY person? Then you'll love Thieves Household Cleaner!
Thieves Household Cleaner has cleansing power and safe, sustainable formulation. The new formula contains ingredients from renewable plant and mineral sources, vegetable-based surfactants compliant with the Green Seal and EPA Design for Environment (DfE) standards, and even more Thieves and lemon essential oils for extra cleaning power. Bottle is 100% recyclable.
Dilution ratios: light degreasing 60:1; medium degreasing 30:1; heavy degreasing 15:1; floors 100:1; walls 30:1; upholstery, fabrics, carpet spotting 40:1; carpet 100:1; glass 320:1; pots and pans; 100:1 hand cleaner 1:1.
Use on grease, bathrooms, countertops, windows, upholstery, fabrics, carpet, glass, pots & pans, and even the body!
Citrus Oils are Great for Natural Cleaning!
Citrus essential oils like grapefruit, lemon, orange, tangerine and the blend Citrus Fresh are bright, uplifting oils that purify and cleanse, kill germs, and boost the immune system. It is also nice to drop in a glass of water and drink.
They are know for lifting stuck-on particles, a natural Goo-Gone – use to get off stickers, get gooey things out of carpet and upholstery, cut through odors, add to your natural cleaning products, and more!
They leave an incredible, bright and fresh smelling scent, and are even great to use in your diffuser to help with a stinky room (teenage boys anyone?!).
Thieves Fruit and Veggie Soak
Young Living's Fruit & Veggie Spray safely and effectively washes produce with the cleansing power of three exclusive essential oil blends—DiGize, Thieves, and Purification. When combined with the other naturally derived ingredients, produce is easily and conveniently cleaned.
Just add Thieves Fruit & Veggie to a basin of water: soak, rinse, and enjoy eating your fruits and vegetables as nature intended.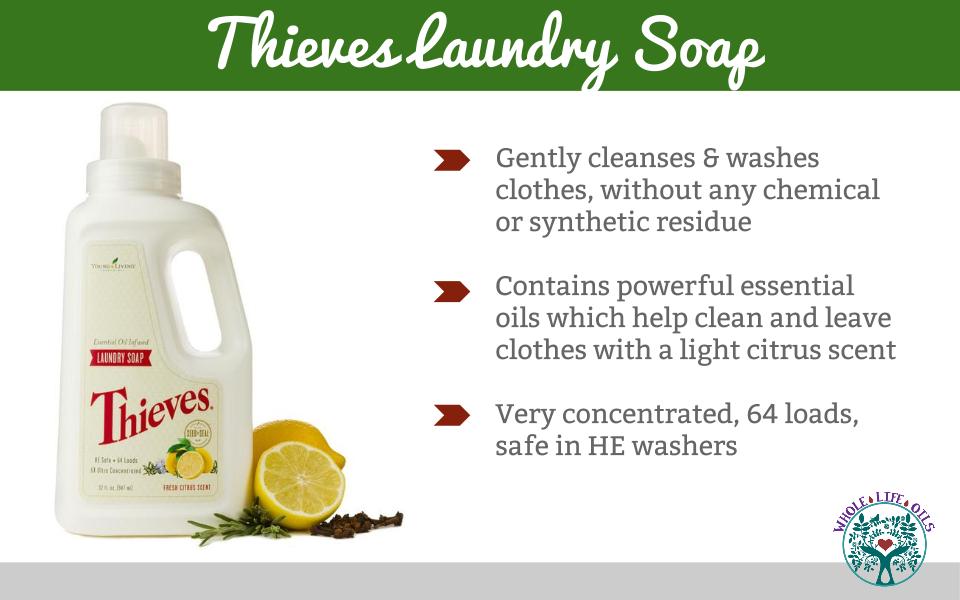 Thieves Laundry Soap
With a plant-based formula, Thieves Laundry Soap gently and naturally washes your clothes, cleaning them without any chemical or synthetic residue. Natural enzymes and powerful essential oils add to the formula's strength to leave your clothes fresh and clean with a light citrus scent.
Thieves Laundry Soap can be used in all washers, including high-efficiency, and its highly concentrated formula (6X) will provide around 64 loads with just 32 fl. Oz (946 ml).
DIY Air Freshener Spray
Remember – with every therapeutic-grade essential oil that you inhale, you are uplifting your mind, body, and spirit! Not so with chemically-made perfumes and products that create a toxic load on our bodies! Did you know that burning a scented candle for one hour in your home has the same effect on your health as smoking a cigarette? If all you change in your home is diffusing and inhaling a couple of Young Living essential oils a day and get rid of your scented candles, air fresheners, scented waxes, reed diffusers, and perfumes, you will be significantly contributing to your health and well-being both in the short-run and long-run!
1 2 oz. glass spray bottle (where to buy)

Pinch of salt

10 drops of your favorite odor zapping oils (orange and rosemary, Purification, Citrus Fresh, Thieves, sage and lavender – all are nice combos)

Fill with water
The salt helps to emulsify the solution so the oils don't just sit on top. You could also use 80 proof vodka for a stronger solution.
Of course, this is multi purpose – you can spray it on surfaces to zap germs, too! You can even spray on your hands. Keep near the toilet for a poo-b-gone spray!
Thieves Wipes and Spray for EASY, Safe, Natural Cleaning
Young Living makes an entire line of cleaning products using Thieves essential oil. They are all non-toxic, safe, natural and biodegradable!
Thieves spray will purify germs and clean surfaces, but it can also be used on your hands as a hand sanitizer, spray in your mouth when have a sore throat or as a breath freshener, and to clear the air!
Thieves® Wipes are ideal for use on door handles, toilet seats, and any surface that needs cleaning to protect from dust, mold, and undesirable microorganisms. Keep a pack handy in your bathroom, kitchen, car, office, or anywhere else you want to keep your environment clean.
I mean, what other cleaning products out there can you also use on yourself to get well and boost the immune system? Anything else would be poisonous!
This is my favorite upholstery and fabric freshener, as well as extra scrubbing power in the bathroom. It's just baking soda and essential oils – can't get easier or cheaper than that! It's great to have around when potty training, too, whether it be the furry kind or the cute kind. Tip: save your Parmesan cheese container the next time you empty it on a plate of spaghetti (anyone guilty out there?) or spice container because it makes a perfect shaker container for our Baking Soda Freshener.
Baking Soda (enough to fill whatever container you're using – for me, it was about 2 cups)

10-15 drops of any of the following essential oils: Lavender, Tea Tree, Lemon, Eucalyptus,

Purification

(a blended oil of Lemongrass, Rosemary, Melaleuca, Myrtle, Citronella, and Lavandin) or

Thieves

(a blended oil of  Clove, Cinnamon Bark, Rosemary, Lemon, Eucalyptus)

Fill it halfway with baking soda, drop in 10-15 drops of your choice of oils (unless your container is bigger than my 16 oz. one) and shake.
Then, fill the rest up with baking soda and lightly shake again. Done!
I want to briefly emphasize that the results you heard about tonight were with Young Living oils. Has anyone here ever tasted Velveeta cheese before (raise hand)? Or has anyone here ever eaten a fine European cheese (raise hand)? Is there a difference? I used to use the cheap essential oils from different websites & the health food food, but after switching to Young Living, I can attest that they are truly the "fine European cheese" of essential oils! Now let me tell you how I have personally saved hundreds of dollars using these products, while getting BETTER RESULTS than I even used to with synthetic products.
Today, you can get some of the oils we talked about today – that's lemon, Thieves, Di-Gize, and Purification – in a kit called The Premium Starter Kit, along with 7 other oils, for a total of 11 oils. In some cases, Young Living may substitute one of these oils with melaleuca, orange, lemongrass, or AromaEase. Young Living will give you an additional FREE 5 ml bottle of Stress Away oil, a few samples of our amazing nutrient infusion, NingXia Red, and a FREE Dewdrop essential oil diffuser valued at $98.68 when you purchase this kit!
Those who get this kit will also have the privilege of getting wholesale pricing on any Young Living products they purchase in the future, and it is the first step to take for those who are concerned with the economic trends in our country, and would like to explore the Young Living business opportunity. This kit costs $160 ($170 with the Bamboo diffuser, $205 with the Raindrop diffuser, or $260 with the Aria diffuser), and either you will see dramatic results in your home and with your family with these essential oils and save money by not having to purchase a ton of new chemically-manufactured products for your body and home, or we will give you your money back! Alternatively, essential oils may be purchased individually at the full retail price.
No matter what we say, there are 3 types of people reading this post. The first type is thinking "NO. Thanks, but no thanks, this probably isn't for me". We understand – don't feel bad about saying no. We want to thank you, regardless, for taking time out of your busy schedule to be here tonight! You still want to feel better, look younger, and live longer right? I recommend that you test out an essential oil as a NEW CUSTOMER to Young Living and I promise you that if you don't get the results you expect, you will get your money back.
The second type of person is not only serious about using natural solutions for their home and body, but is ready to try our products risk-free right now! If this is you, then congratulations! And we want to help you get the most out it. You will want to get our Premium Starter Kit. Again, this kit comes with each oil that we talked about tonight. You will also have the privilege of getting wholesale pricing on any Young Living products you purchase in the future and earning an income with Young Living if you so choose. When you purchase this kit, not only will you receive detailed information on how to use each oil, but you will receive the FREE bottle of Stress Away oil and essential oil diffuser!
The third type of person KNOWS you want to try the oils and become a member, and you'd like to order on a regular basis to keep your family well and healthy for the long term. If that's you, then I recommend the Essential Rewards program! You may also be interested in the business side of Young Living, and if that's the case, then you can join my team. I'm making a full-time income on a part-time salary and it is greatly helping my family's monthly budget!
So, what exactly is this program?
Young Living's monthly program where you order 50 PV per month or more and earn 10-20% of your order total back in points AND get reduced, flat-rate shipping. Use those points as cash to get free oils!
How to Earn Points Back
When you're with the company:
1-6 months, you get 10% back in points

7-12 months, you get 15% back in points

13+ months, you get 20% back in points
I have literally gotten more than $1,000 of products for FREE using my essential rewards points! Crazy!
That's all folks! Thank you for joining me on this green and clean adventure!
To get started with Young Living and to join my team, read more here or click right through to Young Living!