How to Use Essential Oils to Survive Spring and Pollen Season – Webinar Notes
Spring is such a wonderful time of year! Flowers in bloom, sports starting, being able to open the windows….achooo! Tulips, and daffodils, grass….achooo! If this is how your spring feels for you and your family, then you are reading the right post on how essential oils can help you ENJOY being outside. We will also cover how you can use the oils for sports bumps and owies!

What are Essential Oils?
Essential oils and essential oil infused supplements help antioxidant support in our body.
Essential oils are steam distilled or pressed from plants – from the leaves, roots, bark, stems, rinds or seeds.
They are much more concentrated, and therefore, more potent than dried herbs. 1 drop of peppermint oil is the same as 26 cups of peppermint tea! 1 drop of lemon oil is the same as 16 lemon rinds!
They are the lifeblood of the plant that initiates regeneration into the cells. They support the immune system of plants, and they work the same for humans. Anything that our blood does for us is what the essential oils do for the plant.
Essential oils can quickly penetrate the tissues of the skin, and from there diffuse throughout the body in the blood and tissues
They can affect the body at the cellular level by supporting cellular health and normal cellular regeneration and by supporting the immune system.
Essential oils work synergistically with the body to support normal body processes because they are recognized by the body as nutrients.
Three Ways to Use Essential Oils
AROMATICALLY
Fragrance is the substance of memories. Research shows that when inhaling the pure constituents in these essential oils, it can stimulate the olfactory receptors and activate regions in the brain's limbic system associated with memory, emotion, and state of mind. This is the brain's center of emotion and memory.
Hence, in less than a second, a scent has the power to activate a number of physical and emotional responses. Essential oils can be your key to a more fulfilling and balanced emotional life. To help you rediscover peace, balance, and joy, use these essential oils and blends for diffusion, soothing baths, massage, inhalation, or topical application.
You can smell directly from the bottle. I love to do that when I need some emotional balance or respiratory support.
Diffusing is my favorite way to use essential oils. I love to fill up the room with my favorite scent, like Peppermint, Stress Away, Lavender, or Cedarwood. It adds beauty and can instantly set a mood or change a mood.
You can also place a drop or 2 in your hands or on a cloth and cup over your nose and mouth.
TOPICALLY
Due to their molecular structure, essential oils are rapidly absorbed by the skin. Applying the oils to the Vita-flex points on a foot that relates to organ system will activate their reflex (that foot chart is shown here in the slide. You can see the chart in the guidebook that I give to all of those who sign up as a member underneath me). Applying the oils to your feet is a great way to absorb the oils into your body. With over 2,000 pores in each foot, they have some of the largest pores on your body.
Takes just 2-3 sec for oil to reach bloodstream when used topically.
Takes 20 min for an oil to reach every cell in the body.
2 ½ – 3 hours to fully metabolize
This is a powerful and effective way to use oils!
Use vegetable carrier oils, organic is best, like Sweet Almond, Olive, Jojoba, Coconut, Fractionated Coconut, etc. to dilute the oil.
Do a skin patch test first to make sure you won't have a reaction, especially when new to oils.
INTERNALLY
If the oil bottle label indicates it can be used as a dietary supplement, then it is safe to take internally.
Can add oils to food for flavor (just need a drop or two – lemon, basil, oregano, thyme, etc.)
Put a drop of lemon in water, or dilute in coconut oil and add to herbal tea
Put in enteric coated gelatin capsules (doesn't dissolve until it's in the intestines, safer), Young Living sells these capsules.
Not recommended for children.
How Do I Dilute The Oils?
Okay, now I want to show you how to dilute your oils safely and effectively for topical use, as this is probably the most common question people have when they first start. This is advice I've learned from both Young Living's guidebooks and aromatherapy experts.
First, let's talk about carrier oils. The are vegetable oils that are used to dilute the essential oils and "carry" them over your skin. It is an economical way to use your oils and it's also safer, especially for children and infants. Those include any cold pressed vegetable, nut or seed oil like sweet almond, coconut, fractionated coconut, jojoba, grapeseed, and even olive oil!
When you're new to oils, I suggest to always start with diluting because your body isn't used to the oils and it could have a detox effect, which results in a rash, itching, headache or nausea. So, I say, start slow to be safe.
For babies to age 5, dilute 1 tablespoon carrier oil to 2-3 drops essential oil.
For children ages 5-10, dilute 1 tablespoon carrier oil to 3-6 drops essential oil.
For teens and adults, dilute 1 teaspoon carrier oil to 2-6 drops essential oil.
Remember, these are general guidelines. Use your best judgement and the more accustomed you body becomes to natural living and oils, the better it can handle them and use them!
FREQUENCY is also very important as the oils metabolize after 2 1/2 to 3 hours.

Basic Oil Usage and Safety Guidelines
Do not put inside ears or eyes
Use carrier oils to dilute if an oil feels too hot on the skin
Pregnant women, and people with high blood pressure or epilepsy should consult their doctor first as some oils need to be avoided.
Avoid use of oils without doctor consent if undergoing chemo or radiation
Avoid peppermint, rosemary, sage or eucalyptus for children under 5, and wintergreen under age 12
If currently taking a medication, ask your doctor first before using.
Store oils in glass containers and in a dark bottle or cabinet. Sunlight and heat will cause them to oxidize and lose potency (but not go bad or rancid). Oils will last several years if cared for properly. Can also store in the fridge.
Why Use Young Living Essential Oils?
So, there are a lot of essential oil brands out there. What makes Young Living so special?
I have been using essential oils for many years now, but for most of the time, only used them in cleaning supplies. I bought the cheapest oils I could find on Amazon and online, they smelled nice for my homemade cleaning supplies but didn't work to when I used them on my body or my kids. I thought all essential oils must be a quack.
That all changed when I started buying Young Living.
Now, essential oils are not regulated by the FDA, so you do have to do your own research to make sure you're buying a truly pure oil. Their only requirement is that 5% of the oil be pure therapeutic grade oil for it to be called, "pure, therapeutic grade." Companies are allowed to add fillers, water, synthetic chemicals and more!
Young Living was founded in 1993, and is the oldest, most trusted essential oil company in the world. Young Living has 20+ years of research and experience, and is the only company that has the Seed to Seal® guarantee. Our proprietary Seed to Seal® process is the heart of our commitment to purity and authenticity. You deserve products that are genuine, free of synthetic chemicals, and of unmatched purity, and that is what you get with the Young Living. Seed to Seal® is both a promise to you and a reflection of our sense of global stewardship. Through each step of our production process on both our own farms and partner farms, we use the highest standards possible to make our products, your life, and the earth better. From the time the seed is sourced until the oil is sealed in the bottle, we apply the most rigorous quality controls possible to ensure that you are receiving essential oils exactly the way nature intended. Only one company can make the Seed to Seal® promise, and that is Young Living.
They are the world leader in producing and guaranteeing 100% pure and potent, genuine therapeutic grade essential oils. Gary Young, the founder, has built 8 farms around the world, not including their partnered farms that also uphold the Young Living Seed to Seal standard. Young Living loves for their members to be a part of the farming process from seed plantings, all the way to the harvest and distillation process. Young Living uses its own internal labs, in addition to third-party audits, to verify that international purity and potency standards are met and surpassed. There are no pesticides or chemicals used on their farms.
Young Living completes 8 different tests on every batch of oil that is made.
Young Living owns all their own farms and they are located all over the world, near the plants' native environment. Anyone can visit these farms and watch the planting, harvesting and distillation processes, and many folks in the business I know have seen it first-hand!
What Causes Irritation In the Body?
So what exactly causes our bodies to go into fits once spring starts? Well many natural practitioners believe that everything begins and ends in our guts. A healthy gut leads to wellness.
The annoying symptoms we experience are caused by the chemicals our bodies release in response to foreign substances. Histamine, among other chemicals, is released and the immune system goes into overdrive to fight off the foreign substances and that is what causes the typical symptoms. If you'd like a more in-depth description of the science on this, visit – https://articles.mercola.com/sites/articles/archive/2013/04/18/allergy-season.aspx
Now, what is leaky gut syndrome? According to Dr. Mercola, leaky gut is a condition that occurs due to the development of gaps between the cells (enterocytes) that make up the membrane lining your intestinal wall.  These tiny gaps allow substances such as undigested food, bacteria and metabolic wastes that should be confined to your digestive tract to escape into your bloodstream — hence the term leaky gut syndrome. Once the integrity of your intestinal lining is compromised, and there is a flow of toxic substances "leaking out" into your bloodstream, your body experiences significant increases in inflammation.
It causes your immune system to go into over-drive, which weakens it and your body cannot effectively fight off foreign substances. Exercising helps the body release toxins, so it is vital to overall health. Eating a traditional diet, which is high in vegetables and fruit and good fats found in butter, coconut oil, eggs, among others helps a great deal. For many of us, however, our guts are so damaged we need even more help than the average person.
Lavender, Lemon and Peppermint Are Your Best Friends!
Enjoy the flowers with this springtime essential oil blend! These three oils really support your immune and respiratory systems so you can enjoy the new plants growing outside. We like to call it LLP!
Here's how many use it effectively:
3 drops of each in a capsule and swallow
Or 3 drops of lemon on the liver, 3 drops lavender on the stomach, 3 drops peppermint on the bottoms of feet, all twice a day
Diffuse, diffuse, diffuse
Other helpful oils for this time of year are Eucalyptus Blue, Dorado Azul, Palo Santo, Breath Again, R.C., Idaho Balsam Fir, Blue Cypress.
Springtime Diffuser Blends to Support Your Respiratory System
Diffuse these blends in your house to help support your respiratory system and welcome spring! Scent affects the limbic part of the brain, which controls emotions and memory, so scents can be very powerful. They can also really support the respiratory system and open it all up. It's also perfect to freshen up the house after being closed up all winter.
Bright and Fresh – 3 drops Wintergreen, 3 drops Peppermint
Breathe Deep – 3 drops Eucalyptus Globulus, 3 drops Purification
Spring Cleaning – 3 drops Purification, 3 drops lemon
Clear the Air – 3 drops Citrus Fresh, 3 drops orange
Dorado Azul – A Pollen Blaster
Give your respiratory system major support with Dorado Azul! This is a newer essential oil – Gary Young, the founder of Young Living, discovered it in Ecuador in 2006. It was previously only thought of as a weed, but he analyzed and distilled it and found it to be quite the powerhouse!
Great to use during pollen season – aromatically or topically to give your nose and lungs a break. For kids, try Sniffle Ease, which contains Dorado Azul and is formulated and already diluted for children.
Support Your Nose & Lungs with Eucalyptus Blue
I've been using this one a ton this spring, and I love how when I smell it straight from the bottle, it opens up my nasal passages and sinuses and is very mentally invigorating.
This particular species of Eucalyptus comes from Young Living's farm in Ecuador and is grown by blue gum trees. The leaves of the blue gum tree have been used in the Andean Mountains by the native people to cover wounds and repel insects.
It supports respiratory function to promote normal breathing, relieves sore muscles, is calming and invigorating. It is found in Breathe Again Roll On and in the kids-safe version, Sniffle Ease.
It has a fresh, balanced, invigorating aroma. For topical and aromatic use only, not to be used internally.
Essential Oil Blends for Active People and Athletes
These are fantastic blends for athletes and active people, my favorite being Deep Relief. It not only smells wonderful, but leaves a tingling, heating sensation on my skin for up to 30 minutes after applying that really relieves muscle soreness and tension after active days or workouts.
Deep Relief Roll-On is a proprietary blend of oils specially formulated to relieve muscle soreness and tension. Peppermint, Wintergreen, Copaiba, and Palo Santo essential oils as well as others play an integral part of healing in this blend. Deep Relief is offered in the portable convenience of a roll-on application.
Aroma Siez™ is a relaxing blend that is excellent for massaging away life's little discomforts. Well suited for use after exercise or at the end of a trying day, it also provides soothing comfort for the head, neck, and tired feet. It contains basil, marjoram, lavender, peppermint, and cypress.
Relieve It™ is a deeply relaxing, warming blend of therapeutic-grade essential oils that feels soothing and comforting to muscles and joints following exercise. It contains spruce,, black pepper fruit oil, hyssop and peppermint.
Single Oils for Active People and Athletes
All of these oils help to support the musculoskeletal system and have a cooling and warming sensation on contact. Great for active people – use before, during and after workouts, games, gardening, manual labor, etc. All are very strong oils and will need to be diluted for most people. Apply on location to find relief or rub on the VitaFlex point on the bottoms of the feet for the corresponding area.
Ortho Sport Massage Oil for Sore Muscles and Joints
A stronger version of Ortho Ease, Ortho Sport Massage Oil is designed for both professional and amateur athletes, as well as anyone who works or plays hard. Ortho Sport Massage Oil has a higher phenol content, which has been used traditionally to produce a warming sensation and provide relief to tired muscles.
It contains wintergreen, peppermint, Eucalyptus Globulus and thyme essential oils diluted in a blend of carrier oils including fractionated coconut, sweet almond and olive oils.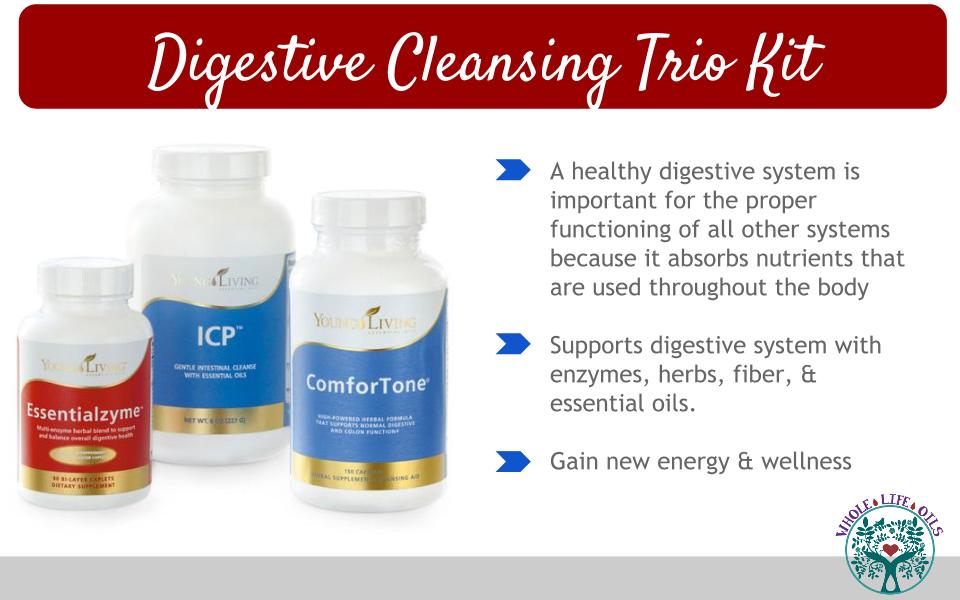 Digestive Cleansing Trio Kit to Help with Leaky Gut Syndrome
Get help to survive springtime so you can enjoy being outside from the inside out. Remember, true health and wellness begins in the gut, and this Cleansing Trio Kit can help your body properly digest and absorb food. A healthy digestive system is important for the proper functioning of all other systems because it absorbs nutrients that are used throughout the body
Cleansing Trio™ Kit contains the products you need to begin improving your health through cleansing your system and eliminating waste by specifically supporting normal liver function.* Augmented with herbs that are rich in vitamins, minerals, enzymes, amino acids, fiber, and essential oils, the Cleansing Trio will give you new energy and an improved sense of well-being.
(Enzymes for digestion) Essentialzyme™ is a bilayered, multienzyme complex caplet specially formulated to improve and balance digestive health and to stimulate overall enzyme activity to combat the modern diet. Essentialzyme contains tarragon, peppermint, anise, fennel, and clove essential oils to improve overall enzyme activity, reduce pancreatic stress, and support healthy pancreatic function.
(Colon Support) ICP™ helps keep your colon clean with an advanced mix of fibers that scour out residues. ICP provides ingredients such as psyllium, oat bran, and flax and fennel seeds to form a combination of soluble and insoluble fibers. Enhanced with a special blend of essential oils (fennel, anise, tarragon, lemongrass & rosemary) the fibers work to decrease the buildup of wastes, improve nutrient absorption, and help maintain a healthy heart.* ICP provides three grams of soluble fiber and one gram of insoluble fiber per serving.
(Liver, Gall Bladder, and Stomach Support) ComforTone® (capsules) is an effective combination of herbs and essential oils (licorice, cayenne, tarragon, ginger, tangerine, rosemary, anise, peppermint, ocotea, German Chamomile) that support the health of the digestive system by eliminating residues from the colon and enhancing its natural ability to function optimally.* Because it supports normal peristalsis (the wave-like contractions that move food through the intestines), ComforTone is ideal for strengthening the system that delivers nutrients to the rest of the body.* It also contains ingredients that are beneficial to liver, gall bladder, and stomach health.*
The Premium Starter Kit – the Best Way to Get Started with Oils!
Now, I want to share with you how you can get these oils, because they are not sold down at Whole Foods or your corner Walgreens. The oils sold there are much less potent, and some are even adulterated. But Young Living's oils are very high quality, therapeutic grade oils.
The way that Young Living has decided to sell them is through individual members sharing with others – they don't pay for an advertising department and use us instead so we can offer you support. When you buy oils in store or online from just anywhere, you won't get a team of support helping you learn how to use the oils. And especially when you join my team! We offer monthly Facebook classes, webinars, promotions, giveaways and blog posts so you are always learning!
Okay, you can purchase the oils we just discussed for $163 and that would be the retail price. No sale or discount. But there's a much cheaper way to get them. I know I'm always looking for a deal, and this is definitely it!
And this is the way I started with Young Living and I highly recommend it. You can actually get this set, plus a home diffuser, PLUS this little starter kit with an extra oil in it, Stress Away, Ningxia Red samples, and little sample sachets you can share or throw in your purse, all for $150! You save over $150 this way. At the same time, you automatically become a wholesale member which means you get 24% off everything!
Now, don't let the term member scare you. There are no monthly minimums or order requirements. In order to keep your membership after one year, you just need to purchase about $50 worth of products the next year. If you don't want to, that's fine! No one is going to hunt you down – there are no penalty or cancellation fees and you could reinstate your membership at any time. AND there are no monthly minimums you have to order or a requirement to sell.
Plus, I will send you a 450-page guidebook that lists every ailment known to humans and the oils it suggests to use with it!
The Essential Rewards Program
Once you're a member and find you've really been able to replace your medicine cabinet and cleaning supplies with essential oils, it really makes sense to join the Essential Rewards program and anyone who does gets a free silver-plated diffuser necklace!
So, what exactly is this program?
Young Living's monthly program where you order 50 PV per month and earn 10-20% of your order total back in points to use as store credit AND get reduced, flat-rate shipping. Use those points as cash to get free oils!
How to Earn Points Back
When you're with the company:
1-6 months, you get 10% back in points
7-12 months, you get 15% back in points
13+ months, you get 20% back in points
Design Your Own Program
You can change your order every month, it does not have to be their recommended kits or products. You can change your ship date each month, too! Can't do it one month? Get a grace month! No contract, no fees, no penalty fees.
Since last year, I have been able to use more than 800 points, which means I've gotten more than $800 of free oils and products! I love the program.