DIY Natural Clarifying Shampoo with Apple Cider Vinegar
A DIY natural clarifying shampoo with apple cider vinegar and hair tonic recipe that gently cleanses dirt, product buildup and grime from your hair and scalp. This is especially good for curly, kinky and dry hair as clarifying shampoos on the market can be extremely drying and damaging to hair.
Why I Love Apple Cider Vinegar for My Hair and Skin
I like it so much I wrote an entire post just about it! Read it here. I also wrote about how I use it as a conditioner on the most popular post on my blog – DIY Baking Soda Shampoo and ACV Conditioner. Apple Cider Vinegar helps to restore the pH balance of hair, like conditioner does. My hair is so dry that I still need a super moisturizing conditioner, so ACV alone was not enough moisture for me.
ACV also has many health benefits, and is a wonderful way to restore the pH balance in your body. Our bodies can become acidic by eating processed foods, stress, lack of exercise, drinking soda and alcohol, etc. Just make sure you dilute it – 1 tsp to a cup of water or in juice to start!
Helps to remove product buildup
I do the Curly Girl Method to take care of my curls. As you may know, that method calls for using sulfate-free shampoos. This really helps to keep curls hydrated – which means much healthier, more beautiful curls. However, there is also a drawback as the sulfate-free shampoos don't always do a fantastic job of removing all product buildup, dirt and grime.
So I have clarifying my hair once or twice a month to keep my hair free of buildup. I can tell it's gunky and needs clarifying when my hair gets dry and frizzy and no amount of deep conditioning helps.
My favorite hair products are from InnerSense Organics – Hydrating Hair Bath Shampoo and Hydrating Cream Conditioner. I use my own recipe as scalp massage oil, and then InnerSense Inner Peace Whipped Cream Texturizer for hold and definition.
Apple Cider Vinegar Gently Clarifies
I have been using Apple Cider Vinegar for my hair for many years and have loved how to makes my curls bouncier and shiner. It also supports the skin of your scalp to relieve irritation and inflammation (see my DIY natural scalp scrub recipe here).
It Does Not Remove Chlorine or Hard Water Buildup Well
One thing I have noticed is that apple cider vinegar is a wonderful GENTLE clarifying rinse. It does not remove heavy product buildup, hard water buildup or chlorine well at all. There are three other clarifying shampoos I recommend for heavy product buildup: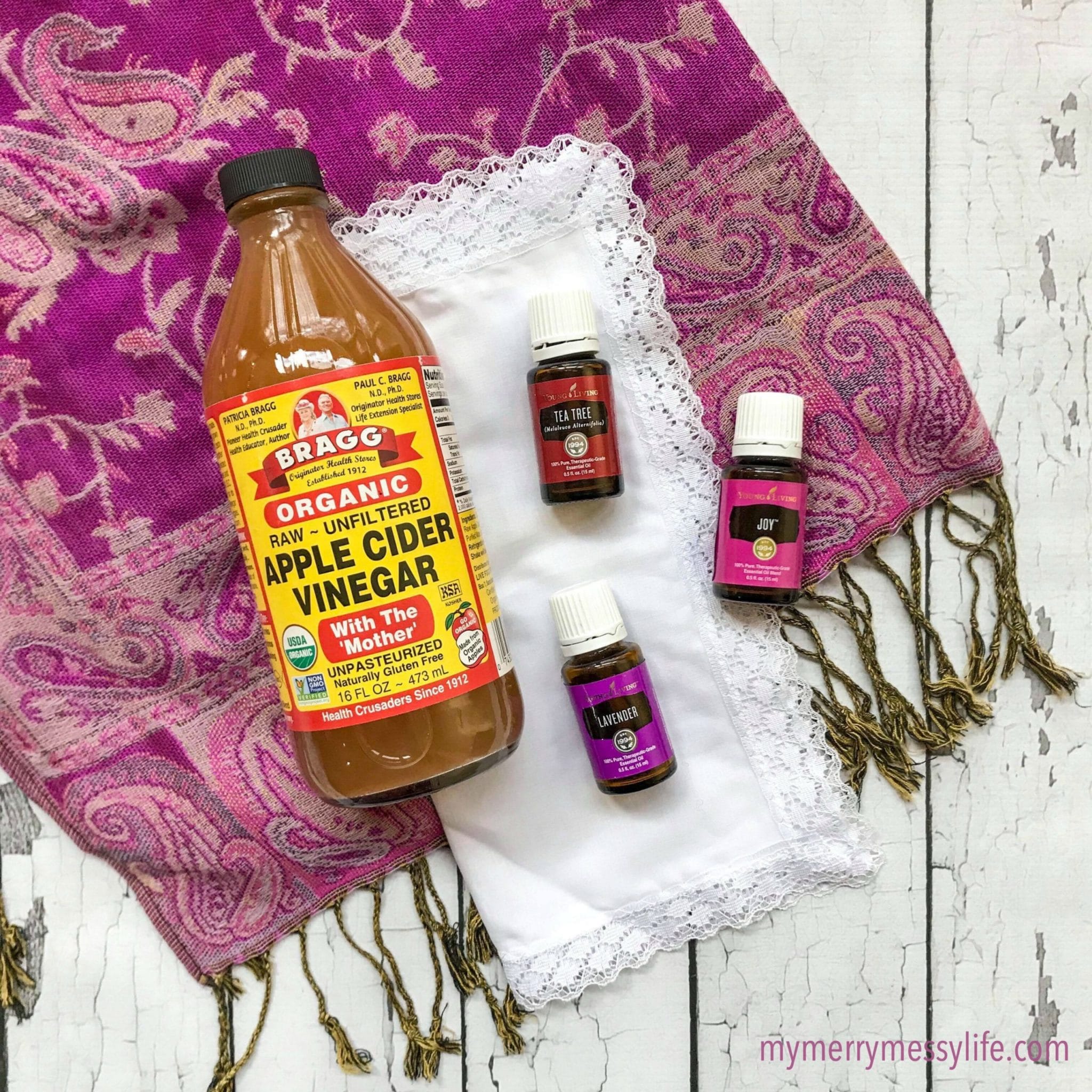 I promise it doesn't make your hair stink!
I know, I know. You're thinking EWWWWW! My hair is gonna smell like vinegar all day! Nope, it doesn't. Believe me, I've been using ACV for years on my hair and I never smelled it and I have the nose of a mama wolf, so if there was a smell to be smelt, I'd smell it!
Print
DIY Natural Clarifying Shampoo with Apple Cider Vinegar
DIY natural clarifying shampoo rinse with apple cider vinegar and essential oils to gently remove product buildup, dirt, and grime. Also balances the pH of the hair after shampooing.
3

–

4

tablespoons Apple Cider Vinegar (I really like Bragg's ACV)

2 cups

water
Optional – add essential oils to boost hair health and for added scent (since ACV doesn't smell great!)
Instructions
Pour all of the ingredients into a 16 oz. bottle. Gentle shake to combine. Pour over hair after shampooing and massage or comb in. Rinse, and then condition.

Essential Oils to Use
I only use Young Living essential oils – they are my fav! They are the highest quality and most effective oils I've ever used, and believe me, I've used a ton of other brands! They are good for waaaay more than making things smell nice or having healthy hair. We use them daily to support our immune systems, emotions, spiritual journey, concentration, focus, relaxation, and more! You can get them through me as a wholesale member or as a customer, here.
See all of my curly hair posts here!