DIY Montessori Practical Life Trays
Montessori materials are beautiful but also expensive, so here is a way to have DIY Montessori practical life trays of your own using materials found in most kitchens and in the dollar stores! I get these trays out for my kids all the time as they are also perfect boredom busters and rainy day activities.
What are Montessori Practical Life Trays?
When my two eldest boys were toddlers, I really enjoyed learning and implementing the Montessori philosophy into our home. One example of the Montessori philosophy in action is in the kitchen. I set up a cabinet they were allowed to access that housed their plates, cups, and eating utensils. From a very young age, they were able to get their own simple snacks, pour their own drinks, and sit at their own small table. It gave them a sense of autonomy and confidence that benefited us all!
They Teach Practical Life Skills
One way to teach them practical life skills is through Montessori practical life trays. They are a fun way to help children develop:
Hand-eye coordination
Muscles for preparing their own food and drinks
Muscles for handwriting
Concentration
Focus, and more
Gross and fine motor skills (needed for handwriting, tying shoes, getting dressed, etc).
The best part it is, young children love pouring and scooping, so they learn without knowing it, without pressure.
An important thing my children have learned from doing these kinds of activities is how to clean up after themselves. It's a very big part of the cycle in Montessori classrooms and works well at home, too! They now take pride in keeping their areas clean on the table.
Some Basic Montessori Principles To Keep in Mind
The teacher/parent is just there when needed, but is not the center of attention. Demonstrate the activity, then step back and let your child take the lead.
Practical life activities like these are to develop fine motor skills needed for, well, practical life. So get creative with kitchen utensils and food!
Child-sized objects work best as they cause less frustration.
Give your child something they can tackle and master to build confidence.
Provide a sponge and/or a towel for the child to keep their space clean.
It is customary to use glass or porcelain instead of plastic materials to teach children to be gentle and to take care of their things. However, it's not always practical for me, so I do it when I can be right there with them.
If you're worried about a mess, do it in the garage or outside. But also know that spilling is okay – we all learn best from our mistakes. Have a child-size broom like this one in the kitchen so the children can learn to clean up after themselves.
Important Notes About All of the Trays
The Trays

– the trays you seen the pictures are 9×13 inch aluminum baking trays. They were cheap, but if you use them for water pouring, they rust easily. They were perfect for pouring the dry goods because of the nice high sides prevent spilling onto the floor. True Montessori stacking trays (see them here) are expensive, but I found, long-term they do make more sense. Here is a cheaper alternative.

Glass Ramekins

– I do prefer to use the glass ramekins because they make sounds when the children are using them – they're almost musical! You could also use metal pouring spoons to add to the fun.

Pure Montessori

– if you really want to stick to the pure Montessori method, use porcelain or glass cups and bowls. The idea is to teach children how to handle breakable objects gently and have respect for household and classroom items. I chose to use some plastic items at first until we all got used to the Montessori way.
DIY Montessori Rice Transfer Tray
This one is for more for preschoolers who are able to pour the items into smaller spaces (the individual ice cube trays). It's important they learn to clean up any rice that spills in the tray, so they learn the bigger skill of cleaning up after themselves.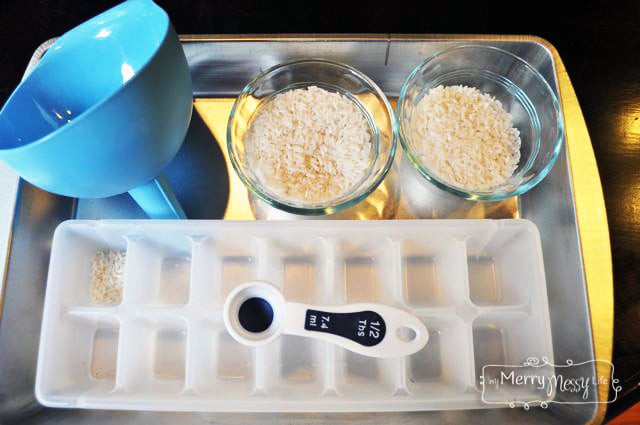 Supplies for Rice Transfer Tray
Click on the links to purchase from Amazon.
Funnel with a large enough hole for the rice
About a cup of rice, lentils, popcorn kernels, etc.
9×13 inch Tray or baking dish (I started off with aluminum ones but they rust if there is any moisture or water pouring, so I don't recommend the ones seen in the pictures).
DIY Montessori Popcorn Transfer Tray
This tray helps toddlers and preschoolers develop gross motor skills, concentration and focus. I was amazed how they'd sit still for 15 minutes transferring the popcorn from one bowl to another. Also, it's important they learn to clean up the kernels that spill into the tray.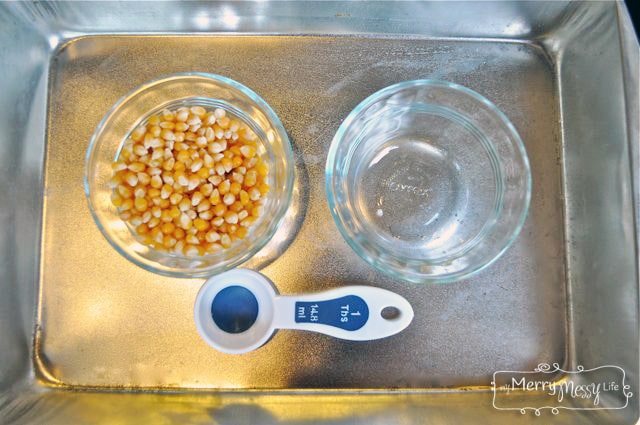 Supplies for Rice Transfer Tray
Click on the links to purchase from Amazon.
1 tablespoon measuring spoon
Popcorn kernels or lentil beans. For an even younger child, you might try larger beans. Of course, rice would work here, too.
DIY Montessori Water Pouring Tray
This is by far my kids' favorite one – water transfer. I have another post showing some Montessori water transfer trays I put together using turkey basters, ice cube trays and more. I have since purchased two water transfer sets from Montessori Services.
The idea here is to teach kids the gross motor skills of pouring liquids and how to clean up after themselves if they spill water. They use the sponge to wipe up messes. For a pure Montessori experience, you would use all porcelain or glass cups so the children also learn to be gentle with breakable things.
I chose to start with plastic first for my own sanity's sake – do what works for you and your family!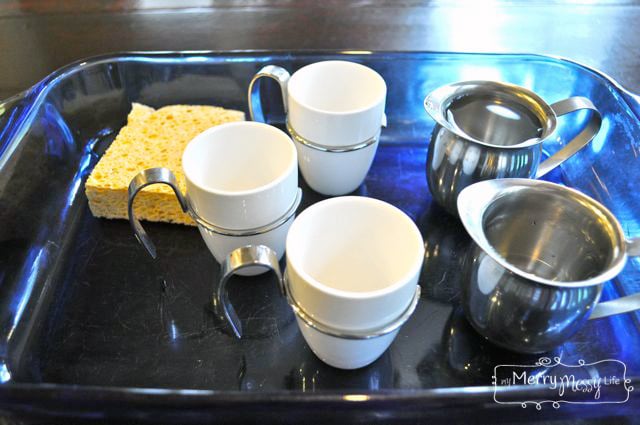 Supplies for Water Transfer Tray