Larsen Toy Lab Blocks – Sustainable & Non-Toxic!
It's hard to find toys that are truly non-toxic and made from sustainable materials like wood, so I love when I come across a toy company with a conscience. Larsen Toy Lab is one of those companies! They sent me these blocks to review and to offer you a giveaway for your own engraved set! Enter the giveaway here, now through 5/24/2013.
Alex Larsen and Courtney Larsen Keller are a brother and sister team who started this family business because they were tired of seeing toxic plastic toys lining shelves of toy stores. They set out to craft wooden toys that are educational, sustainable, made in the USA, non-toxic and fun!
Here's their story, in their own words:
When Courtney and Alex were little their dad made a beautiful set of building blocks from spare wood in his shop and it quickly became a treasured toy.  Inspired by his ingenuity and relentless standards of quality they set out to rediscover the power of building blocks.  How do we make them fun for all ages and how do we provide more opportunities for creative play?

First, we compliment each of our block sets with custom engravings, original stories, games, or puzzles to create a completely new experience.  Next, we give the same amount of love and care into each block as our dad did for our first set; and we only partner with people that care as much as we do for the health of the planet and safety of your children.  Plain and simple, our mission is to provide you with unforgettable toys that will last for generations.
My boys, especially our oldest, Gabriel who is 3.5, love to play with blocks. So I got really excited when Alex contacted me and told me his blocks are made from solid wood from Vermont trees! Not only that, the boxes and printing company for the business are local, small businesses. As soon as the box arrived, Gabe was chomping at the bit to play with them.
These blocks come in two varieties – naked and cherry. No polyurethane or paint coat these puppies – the cherry is created from natural beeswax! They sand down all the edges, some by hand. And what's so special about blocks? This diagram from their website says it all.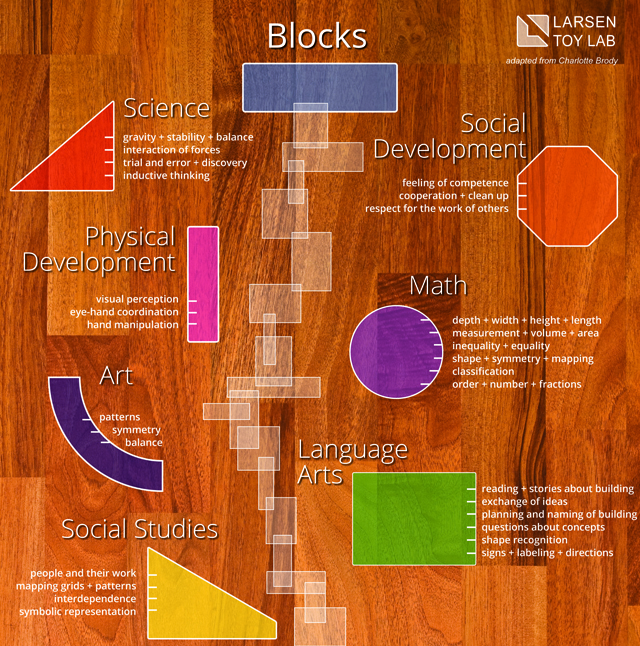 We got the "Toys with a Story" set where you can build along with the book! It's so neat, and the illustrations are done by their mother who has a very childlike style. Gabe was fascinated by the block diagrams and spent about an hour trying to make his blocks look just like the pictures. He was focused, determined and persevered – all because of blocks! Several months later, and he still plays with these blocks daily. I love to watch his creativity and imagination come to life as he builds and creates. All with non-toxic, sustainable, wooden blocks.