Merry Messy Mondays – Fall Thankfulness
It's about time for another edition of "Merry Messy Mondays," dontcha think? Last time I shared with you, I wrote about our move from the northeast to the southeast USA and all the challenges and joys we encountered along the way. Now we're quite settled back in my hometown, and back living with da rents while we search for our own place.
With the housing market still so depressed, and even more so in the south, we've been able to grab the house of our dreams. Only snag is that it's a short sale, which really means, long-nail-biting-taking-forever-annoying-ridiculous-test-of-all-the-patience-you've-ever-had sale! We put an offer on it in September and here it is almost Thanksgiving and we are still waiting, hoping and finger-crossing. The bank moved our closing date from November 28 to December 19, so I'm a-prayin it'll actually happen by that date so we can have Christmas in our new house! It has almost enough land to have chickens, but not quite, which is the only drawback (it has over two acres, but laws in the county are that your property has to be at least 400 feet across, and this one is not). But, there is a huge. open backyard where we can plant a giant vegetable garden and fruit tree patch. Hard to have everything unless you can spend a million bucks.
In the meantime, life with my parents has been wonderful. It really has! I've noticed that I suddenly stopped needing to spend so much time out in the public at various events with mom's clubs. Why? Because I'm getting my social needs (which are great since I'm quite a people-person) at home with my parents as added support. They have been so hospitable, accommodating, and generous to us and it will be hard to leave. Thankfully, we'll be just a mere 15 minutes away! It's funny because my hubby is one of the most amazing guys I know and continues to be my number one, best friend. He is so supportive and really a super dad, and so involved in helping to raise the boys. Even with all of his love and support, I so desperatley needed more support during the day when we lived up north. The mom's clubs I was part of (MOM's Club and MOPS) were fantastic and were really life savers, but since I was so used to having family nearby, something was missing. Now it's not!
So far, I can say that moving back to be close to family was most definitely the right decision and I'm SO thankful we had the opportunity to do so. Family is number one, and I want my children to grow up with a heavy dose of extended family lovin' like I did. I cherish the memories I have of regular visits to grandmothers' houses, lots of birthday parties for each cousin, aunt, uncle and grandparent,  and all holidays celebrated together. My mom is super close with her two siblings who live no more than 10 minutes away! They made a promise to each other when their parents passed away that they would stay close, keep in touch and grow old together. And they have stuck to that promise, so I get to reap the benefits and see my aunt and uncle on a regular basis, too! My paternal grandparents are just 15 minutes away and only five minutes away from our new house. Unfortunately, the family in-laws are spread out all over the country and we aren't able to see them (cousins, brothers, sisters, parents) nearly as often as we'd like. We do enjoy our family reunions each July, but boy, I'd love for my kids to see their cousins more often. Can't have it all, all of the time, I 'spose.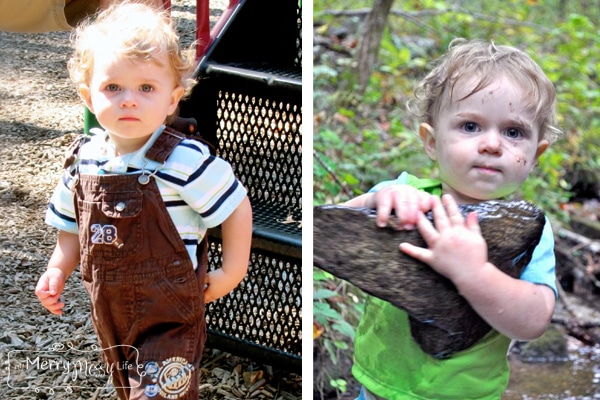 Gabriel (our three-year-old) has said quite a few entertaining things now that his vocabulary is quite extensive. Here are a few to enteratain you!
"Do elephants drill people?" (referring to their noses – he thinks they are drills!)
Gabe: "Mama, the baby can come out whenever it wants, to? (I'm pregnant) Does that man have a baby in his belly?" Me: (giggling) "No, honey, he just eats too much."
He talks NONSTOP about excavators, trains and construction equipment. The boy is obsessed!
Me: "We might get to go to the mountains and let daddy teach you how to ski this winter."
Gabe: "Will you come, too, mama?"
Me: "Well, I will come but won't be able to ski because of the baby in my belly."
Gabe: "We have to wait till the baby comes out? And you'll get it out like this (scrunches face and grunts really loud!)."
Scary part is, I have no idea how he knows that!
He scoots around on his knees like an excavator with tracks (since they slide and don't roll) and turns his arm upside-down to look like an excavator boom. Then he cups his hand like the bucket. It is too cute! Gotta get a picture of that.
He runs up the stairs every morning (from the basement where we live in the mother-in-law suite) and shouts to grandma "Gee-booooooo! Gee-boooo!" My mom just eats it up! (He calls her Geeboo because that was the only way he could say "G-Mama" when he first started talking.)
Life is so all-consuming with the two balls of energy we already have that I haven't thought so much about the third one that's coming in just three months! ACK! Thankfully, part of that forgetfulness is also because morning sickness has finally passed. Now I'm just big, clumsy and terribly ungraceful. I'm quite short-waisted so my babies just stick straight out – I am one of those who literally looks like I've swallowed a basketball at the end. I get all kinds of comments from strangers once I'm about seven to eight months – I mean, come on, people. Do you not think I don't already feel like a giant blueberry (like from Willy Wonka)? I've had to suffer through public idiocy through two pregnancies now, and this time, I'll be damned if I can't come up with a clever come-back. A woman never, ever wants to hear that she looks big, and especially not when he's about to burst and so ready to have a baby! Help me out in the comments if you have some good one-liners!
Well, that's all for now. I suppose the next one might be a a wrap-up of 2012, or some pictures inside our new house (fingers-crossed-till-they-bruise)! Hope all you Americans have a wonderful, thankful Thanksgiving this week!