Laundry Hacks for Busy Moms and Families
Here are my best laundry hacks for busy moms and families as a mom of four. They're how I keep laundry from piling up and stay on top of it instead of drowning under clothes. Believe it or not, I've actually been able to make it a chore that I actually don't hate anymore. Can you even believe that's possible?
We Were Drowning Under Mountains of Clothes
When I became a mom and we had our second child, Grayson, I really started to feel like I was drowning under mountains of clothes. Laundry became this chore that was so overwhelming and annoying. I dreaded doing it all and would procrastinate it as often as I could.
I'd post pictures on Facebook and Instagram of the clothes all over our couch and the overflowing hampers to make light of it, not realizing I could do a few simple things to make it better!
Started Washing Only on the Weekends
Since I hated the laundry chore SO much, I decided that maybe it'd be easier to wash only on weekends. That way, I could avoid it during the week.
Well, that worked for a few weeks. But then I found that the laundry would pile up SO much that I'd literally spend most of the weekend in the laundry room. I didn't get to enjoy or relax on my weekends with my family because I was swimming in laundry!
When our two oldest boys began to be involved in sports, this routine REALLY didn't work at all because we were gone all morning and most of the afternoons on Saturdays attending their games. That just set me back even further.
So, then I went back to just washing clothes when a hamper would fill up. It did work pretty well, but hampers would continue to get neglected and laundry would still pile up.
Laundry Hacks with the Flylady System
Then, in the fall of 2020, I was introduced to the Flylady system, and that has helped me SO much to be able to stay on top of laundry!
This Laundry Hack is SO SIMPLE You May Not Believe it Works
And here's the secret – the hack is SO SIMPLE you probably won't believe it even works. It's the same hack my mom, sister, aunt and grandma use – should've paid more attention to them! Haha, but they're all much more naturally organized than I am. Anyway, here's the secret…
One Load of Laundry a Day
You commit to doing one load of laundry a day as part of your morning routine (learn about the Flylady's amazing daily routine system here – another game changer for me!).
That's it! One load a day that I start in the morning. Now, for a larger family like our's with four kids, I need to do 2-4 loads a day. But here's the kicker – it's a mental mind game. My only daily goal is one load. So I feel GOOD and accomplished if I only get one load done. If I do more, they're bonus loads that make me really feel like I'm on top of things.
The Rest of My Laundry Hacks for Busy Moms
Now, besides doing one load of laundry in the mornings, here are some other things that keep laundry running smoothly in my home – and how I've actually come to enjoy the chore. My mom and grandmother always enjoyed it! But I didn't until I figured a few things out.
1 – Wash Our Sheets and Towels on Thursdays
Thursdays is the day I wash the sheets and towels from the master bedroom. I got this idea from the Flylady's Daily Focus concept – yet another thing I love from her system!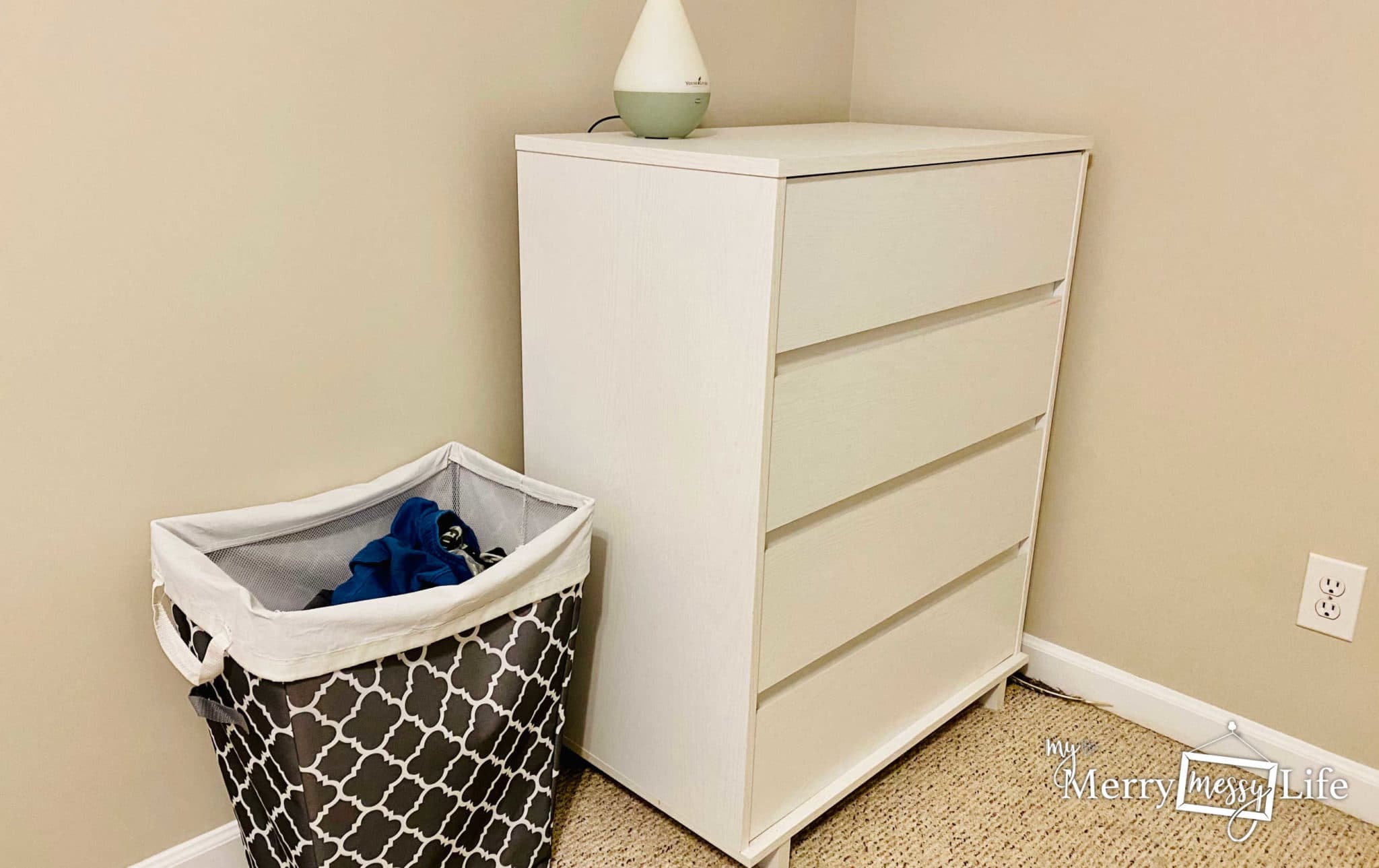 2 – Each Bedroom Has a Hamper
My second of five laundry hacks for busy moms is to keep a hamper in each bedrooms. Right now, all of the kids have their own bedrooms. When the hampers are full, the three oldest kids (ages 7 and up) are able to bring their hampers to me and I wash them that same day if I can. Ella's four and isn't able to carry her hamper down the stairs, so I get her's once a week.
A full hamper is one load of laundry, so that works out really well for me. I have enough clothes in the kids' dressers for them to only have to wash their clothes once a week.
Of course, there are exceptions. In the summertime they get a lot dirtier, playing with water and outside more and often soil more than one outfit a day. Also, when they have more than one baseball game or other sports games a week, I'll need to make sure I wash their uniforms and practice clothes more often. Those clothes I have them give to me and store in the laundry baskets in the laundry room instead of in their bedroom hampers so I won't forget to wash them.
After I wash the clothes from their hamper, I do fold them and then put the hamper with clean clothes inside at the bottom of the stairs for the child to take back to their rooms. They have to put their clothes away that day before they can have any screen time. The kids are super motivated to do whatever it takes to get that daily screen time, so this incentive works very well for them!
4 – I Change the Kids' Sheets Every 2 Weeks
My kids are still young, no teenagers yet, and they all take baths or showers before they go to bed. So their sheets don't get all that dirty unless they have an accident. So, I stopped washing their sheets every week and started doing it every other week. Since I have four kids, I do 2 kids a week.
3 – I Commit to Starting and Finishing One Load a Day
So the part that I left out in my earlier laundry hacks for busy moms is that I commit to not just starting one load of laundry in the mornings, I also discipline myself to finish that load of laundry in the same day in which I started it. It took me a week or so to really get into this habit, but it's worth it because I no longer have laundry siting in the washer for days on end, growing mildew and getting so gross! It saves me stress, time, and energy and saves our water and electric bills, too!
Again, there are exceptions like if I get sick, or life gets super crazy! But I don't sweat it. I pick back up where I left off and catch up by doing 2-4 loads for a few days when things calm down again.
4 – I Watch YouTube Videos While I Fold
This is the laundry hack for busy moms that has helped me the most! Because it changed my attitude towards doing laundry.
I found the thing I like the least is the folding process so I began to brainstorm ways to make it more enjoyable. So I started watching my favorite videos on YouTube, Netflix, Hulu, etc. while I fold. This makes the time go by SO fast! And now I actually look forward to folding because I get to treat myself to a video.
It may sound silly, but it has worked so well, for me. Try it and tell me what you think!
5 – I Simplified My Laundry Products
The last hack of five laundry hacks for busy moms I have for you is to simplify your laundry products. I make my own nontoxic laundry products and many of the same ingredients are used in each of the products, so that simplifies my process. I order the supplies in bulk from Amazon every 6 months or so, saving me a lot of time, energy and money.
Here are the laundry products I have and make myself, which saves me a LOT of money (click on the links to see my recipes):