My Favorite Real Food Kitchen Tools
Kitchen gadgets, tools, contraptions, dust collectors, etc.  Whatever you call them, they are (or should be) things that help you get real food preparation done quickly and efficiently.  As you may know, cooking traditional, real foods takes a bit of work.  Let's just be real.  It be more time consuming than pulling a box out of the pantry or thawing out a frozen dinner.  But of course, the resulting food (both in taste and health) is vastly different.  Real food wins all around!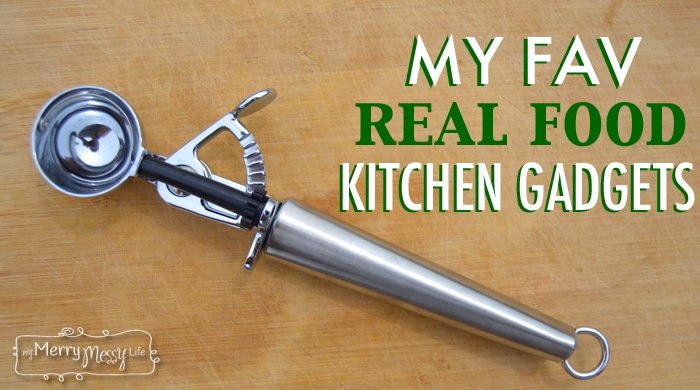 Today is the first part of a series in which I'll be sharing my favorite and most used kitchen tools to help make your life in the kitchen easier and less time consuming.  Here are a few criteria that I go by to help me choose the tools I'll be sharing with you.
Inexpensive but not cheap.  It's not necessary to spend a ton of money on kitchen tools, but I also try to purchase only quality pieces that will stand the test of time.
Simple to use.  I like simple.  If I have to read the instruction manual to figure it out, I probably won't use it more than once.  If you're into techie type gadgets, you may find my "favorite kitchen tools" posts a bit bland but I always find myself coming back to the simple stuff.
More than one use.  This may not always be the case, but I am a sucker for a kitchen multi-tasker.  Not only does this save space in your kitchen but it helps save money by not having to purchase multiple tools to do separate jobs.
Something that gets

a lot

of use in my own kitchen.  This sounds silly, but think about your kitchen.  Do you use every utensil that you have or do you find yourself always reaching for a few favorites?  I've recently donated a big box of kitchen gear that I just didn't use.  This has allowed me to save a lot of time because I'm not digging through drawers looking for my tools and I'm using the ones that I have a lot more often.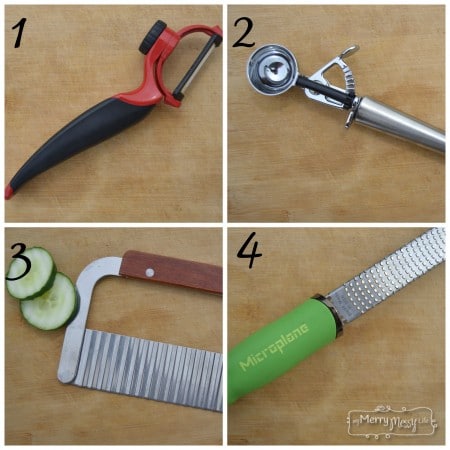 1.  Peeler.  I've used several different styles of vegetable peelers but this is by far my most favorite!  I didn't know what I was missing until I tried this one.  My favorite feature is the rotating head so that you can peel with it vertically or horizontally.  I find myself constantly switching it depending on what I'm peeling and would be perfect for someone who is right or left handed.  Also, the blade is super sharp and cuts really smoothly.  It's made of ceramic which will stay sharp for a very long time and never rust.  I love using this to make wide vegetable nooodles out of carrots, squash or zucchini.  The only peeler you'll need in your arsenal.
2.  Trigger Scoop (Cookie Scoop).  This is a wonderful multi-tasker for any real foods kitchen.  I use this scooper to easily make everything from paleo cookies to Italian meatballs.  It makes the process much faster and more consistent than doing by hand.  The trigger helps release the food material easily and helps keep your hands less messy.  This is a perfect tool to let your kiddos use as well!
3.  Crinkle Cutter.  This is actually not a totally necessary tool but it's one that I've really grown to love!  There's just something super fun about eating crinkle cut foods.  I use this to cut cucumber slices for dipping in hummus and cutting up sweet potatoes into fry shapes for baking.  This is a really sturdy and easy to handle cutter so it makes cutting simple and for less than $6 it's hard to beat.  And what kid doesn't love a crinkly cut veggie!?
4.  Microplane.  This is probably my hardest working kitchen tool aside from my chef's knife (hint for the next installment of this series).  Instead of a drawer full of zesters and graters, simplify with one tool.  I use this to grate ginger into hot tea, soups, curries (tip:  keep your peeled ginger in the freezer to make it really easy to grate), mince garlic, finely grate hard cheeses, and zest citrus fruit.  I love using this to zest lemons as it doesn't get much of the white pith like a traditional zester.  It's really easy to clean and comes in a few fun colors.
I hope you enjoyed the first installment of my favorite real food kitchen tools.  I am confident that these will help make your food preparation easier, faster and maybe even fun!  Have you used any of these tools?  What is your favorite real food kitchen tool?
What are YOUR favorite things to use in your kitchen? Share with us in the comments below!